NOT a few Spin.ph readers noticed the stark difference in April Manganang's looks and appearance when the Indonesian volleyball player showed up for the match against the Philippines in the 28th Southeast Asian Games.
The Manganang who appeared on court during the Indonesians' comprehensive win on Wednesday looked nowhere like the player who raised questions over her gender, prompting a Philippine protest on the eve of the match.
The Indonesian, in fact, looked completely different from photos posted by her fans on Facebook, which started appearing in Philippine social networks as soon as questions over her gender started circulating.
A closer look will tell us why.
Manganang herself told reporters that she is used to dealing with the gender issue, and it was apparent there was an effort to make her look 'lady-like' during the match against the Filipina spikers.
[See April Manganang says Philippine gender protest 'fired me up']
If you look at the photos above, you can see that the slight mustache is gone from her face and her hair was all done and brushed up, much like any girl would.
Even her eye brows were more defined, or threaded going by the cosmetic term.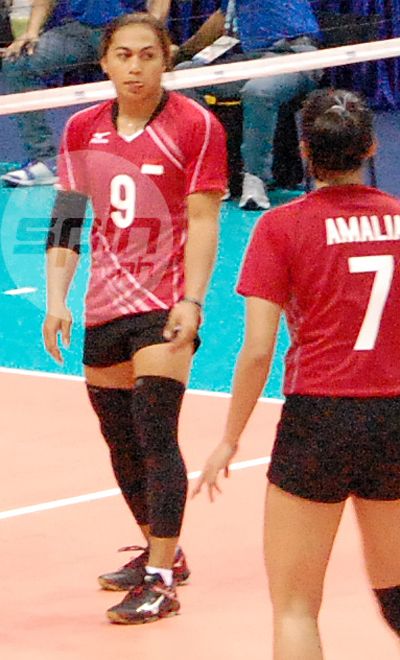 Continue reading below ↓
Recommended Videos
Spin.ph's man on the beat, Reuben Terrado, said he, too, was surprised by the Manganang he saw on Wednesday, saying it took a while for him to identify the controversial player from the Indonesian ranks.
But what eventually gave Manganang away, Terrado said, is her physique.
"Maskulado talaga," said Terrado. "Para na ngang basketball shorts na maiksi yung suot n'ya."
There was also no mistaking Manganang's talent, said Terrado who was left amazed by the power in April's spikes as well as her vertical leap.
"May hang time pa," raved Terrado.
[See PH protest seeking gender test on Indon junked by organizers]