CEBU CITY - Basketball legend Ramon Fernandez has expressed interest in becoming the next head of the Philippine Sports Commission (PSC), but made it clear he won't in any way lobby for the position.
Speaking to Cebu-based scribes on Monday, Fernandez, a four-time PBA MVP and one of the first sports heroes to support the candidacy of President-elect Rodrigo Duterte, said he is open to the challenge of making a difference in Philippine sports through the government agency.
The PBA icon, however, said he will never seek the PSC job as a favor after backing Duterte's candidacy.
"I don't want to ask for that post because in the first place, I helped and supported him not looking at what I can possibly ask from him. I want nothing in return," said Fernandez, who is now based in Cebu and living a comfortable life as a businessman.
"The thing is with Digong, ikaw dapat ang makipagkita sa kanya and present to him your vision and the things that you can and are able to do for that position. You really have to apply for the job. I will not do that. I won't apply," he added.
[See Who will be the next PSC chairman under Duterte presidency?]
Continue reading below ↓
Recommended Videos
A curious mix of candidates for the PSC chairmanship and commissioners' post has emerged following Duterte's landslide victory in the May elections, with the names of current PS executive director Guillermo Iroy and current chief Richie Garcia among those floated.
Not a few believe Fernandez is perfect for the position after a legendary basketball career that he followed with stints as commissioner of the MBA, Collegiate Champions League and the United Regional Basketball League.
"He is the best person to handle the PSC from among the many candidates," said sportsman Atty. Baldomero Estenzo, team manager of the University of Cebu Webmasters and one of the founders of the Cebu Schools Athletic Foundation Inc. (Cesafi).
"Being an outstanding athlete himself, he has actual knowledge of what ails Philippine sports. He also knows what needs to be done to improve the country's performance in the sports arena. Also, he is independent minded and can say 'no' to politicians who may interfere in his functions."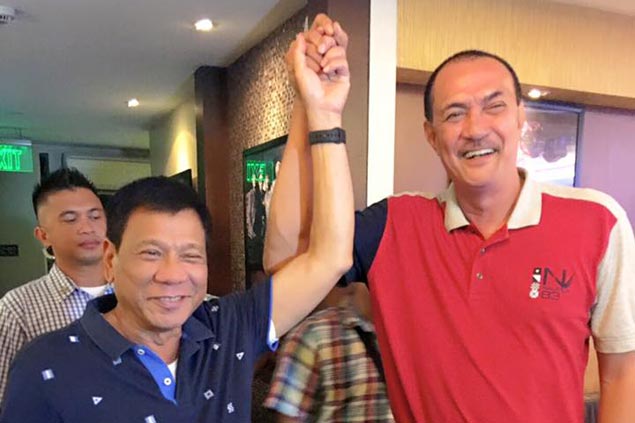 Though Fernandez has made it clear that he will not apply for the PSC post, he added that he might have to reconsider should the incoming president come calling.
"We've known each other for a very long time, during the MBA days pa when the Davao Eagles used to play, he was already a mayor by that time. Should he insist on giving me the position, I might have to pose a condition that I will hold office here in Cebu," said Fernandez with a hearty laugh.