THE Philippine Olympic Committee (POC) said it will hold another election for president and chairman on Friday, February 23, but it is unclear if the candidates of the group challenging incumbent Jose 'Peping' Cojuangco will be allowed to run.
The POC general assembly approved the holding of another election on Monday during an extraordinary meeting a the Wack Wack Golf and Country Club, but left it up to an election committee to oversee the conduct of the Feb. 23 poll.
POC spokesperson Rep. Prospero Pichay said the election committee will be led by former International Olympic Committee (IOC) representative to the Philippines Frank Elizalde, with Bro. Bernie Oca of La Salle and election lawyer Alberto Agra as members.
Curiously, it was the decision of an election committee led by Elizalde to disqualify boxing head Ricky Vargas and cycling's Bambol Tolentino from running against Cojuangco and triathlon's Tom Carrasco for the president and chairman positions that started the protracted controversy.
"We are going to hold and election on the 23rd. But we have to follow the by-laws as far as the conduct of the elections is concerned." said Pichay at the end of a chaotic three-hour meeting that saw Philippine Sports Commission officials led by Commissioner Ramon Fernandez disallowed from attending as 'observers.'
Officials of shooting and weightlifting were also not allowed to attend the meeting due to 'technical matters.'
Already, the camp of Vargas already smelled something fishy, saying the process is leaning toward him being disqualified again on Friday.
"They are saying that there will be an election. But at the same time, they are saying that they will disqualify me for the same reason that we went to court for," said Vargas.
"The process they are leading to was towards disqualification. Strongly, they might," he added.
Vargas took to court after he and Tolentino were disqualified from running for the POC posts by the election committee that ruled the two were not 'active members' of the POC general assembly - and subsequently got a favorable ruling that declared the election null and void.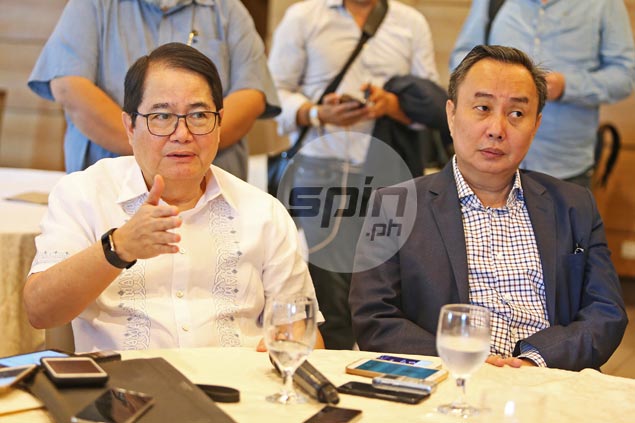 Pichay made it clear Friday's elections is not in compliance with the decision by the Pasig Regional Trial Court to hold new elections. 
"The decision to hold an election was not in accordance to the RTC decision but that was the decision of the POC assembly as recommended by the IOC," Pichay said.
Pichay said it will be now be up to the Comelec if Vargas is qualified to run in the re-election.
"It will be up to the Comelec to find out if they are qualified. Maliwanag na 'yung active member is you have been attending physically, not the NSA but the person," he said.
Still, Vargas said he will attend and vote in the election regardless of the decision on his candidacy.
"I'm happy that there will be an election. They will go through the process and we will be there for the elections," he said.