THE election committee of the Philippine Olympic Committee has told the group of Ricky Vargas that a decision on its protest over his controversial disqualification from the POC elections will be handed out within 24 hours.
The POC election committee headed by Abono party list Rep. Conrado Estrella met with Vargas on Thursday in Pasig City, where the Association of Boxing Alliances in the Philippines (Abap) president along with his lawyers laid out the group's appeal point for point.
"They said we will get a decision within 24 hours. So hopefully, they do that. The longer it takes, the more uncertain the situation," said Atty. Jake Corporal, one of the lawyers of Vargas who attended the meeting.
Vargas submitted a protest after he was disqualified by the POC election committee for not qualifying as an "active member" under Article 7, Section 11 of the POC charter, saying that the term "active member" is vague.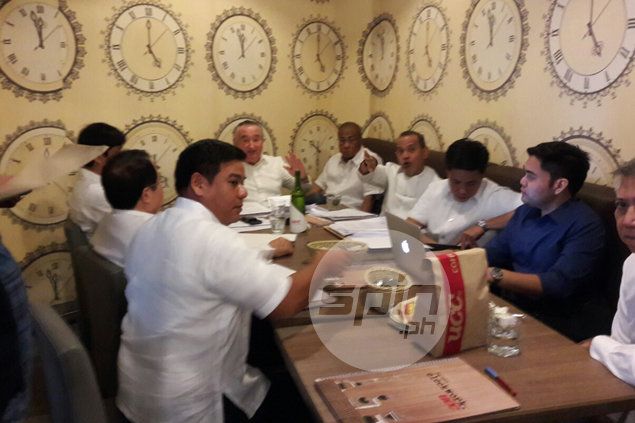 Vargas said he is glad the POC election committee gave him a chance to hear his side, and remained hopeful that the disqualification will be reversed
"They gave us a chance to go through the process. If the rule is vague, then go for the common good and the common good is to allow a democratic process," said Vargas after emerging from the two-hour meeting.
The POC election committee deemed Vargas didn't qualify as an active member as he only attended one general assembly within two years, although the Vargas camp interpreted that 'active member' pertained to the national sports association and not the individual.
As of posting time, the POC election committee is also hearing the side of Philcycling president Rep. Abraham 'Bambol' Tolentino, who was also disqualified for the same reason.
As per the POC election committee, Tolentino only attended three out of the 12 general assemblies over the past two years.
Corporal said the provisions that defined active membership, as per the interpretation of the POC election committee, is void and unenforceable.
"The term active member can be interpreted in different ways. It can be interpreted differently today, it can be interpreted differently in the next elections. So there is no standards, and unless those standards are in the by-laws, you cannot disqualify Mr. Vargas on the basis of what you think it should be today, and the next time, it will be something else," said Corporal, who is from the Accra law firm.
Corporal reiterated allowing Vargas to run for POC president is the "most democratic solution."
"We are saying that he should be allowed to run because it is for the good of sports and it is the most democratic solution. I hope they are reasonable enough to understand that if those other scenarios are not indicated in the by-laws, they can't use it to disqualify Mr. Vargas," said Corporal.