JAPAN solidified its reputation as Asia's triathlon powerhouse by ruling six of the eight classes contested even as the Philippines took first place in both divisions of the Junior Elite category of the Mt. Mayon ASTC Asian Paratriathlon Championships held for the first time in Legazpi City, Albay on Friday.
Cebu natives Kim Remolino and Karen Manayon gave locals reasons to rejoice by topping their respective categories in the Junior Elite.
Remolino beat two foreign bets by clocking one hour and two secondsfollowed by a pair of Macao entries, Chin Wa Wong, 1:00.15 and Yiu Fung Ng, 1:02.45.
"I was first in the swim and then together with Wong and Joshua ( Ramos ), we alternated in pacing the bike leg, We left Josh nearing the end of the bike while I left Wong at the halfway mark of the second loop in the run leg for a solo finish, " said Remolino, a 12th grader at Springdale in Cebu.
Manayon, on the other hand, finished almost a minute ahead of national teammate Lauren Plaza, clocking 1:08.58 to Plaza's 1:09.49 while in third was Jacqui Lamparero at 1:14.45.
"Naghabol ako sa run, inabot ko si Karen after 300 meters tapos umuna na ako, biggest win ko ito so far," said Manayon, a native of Daraga, Albay.
Continue reading below ↓
Recommended Videos
Kaji Tetsuki, a silver medalist in the World Cup race in Magog, led the Japanese charge as he took line honors, crossing the finish line first among paratriathletes from eight countries, clocking a fast 1:04 .40 for the 750m. swim-20K bike-5k run distance to win the Men-PT55 category.
It was a close race with runner-up Sato Keichi just five seconds behind, 1:04.45, while in third place was Korean Jong Kwan Kim who negotiated the distance in 1:16.17 in the race described as the most scenic triathlon experience in the country with majestic Mt. Mayon serving as backdrop.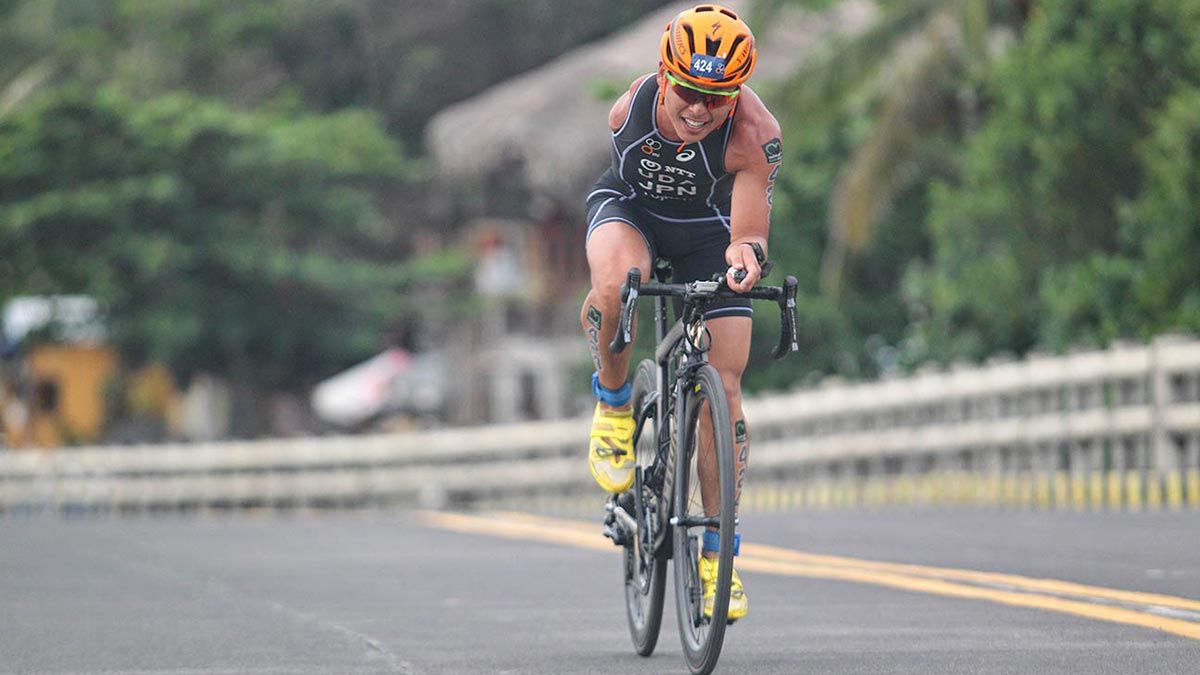 Jumpei Kimura won the Men- PTWC class with an even faster time after adjustments as he crossed the finish line at the Legazpi Boulevard in 1:03.20, sparking a Japanese sweep of the category as Ryota Yoshida finished more than two minutes behind him in 1:05.41 while Seiji Tanaka was a distant third at 1:10.36.
In the Men-PTVI where the Philippines fielded blind twins Joshua and Jerome Nelmida, Hong Kong's Kim Wa Chu broke the Japanese streak as he finished in 1:05.18 for the gold, followed by Zhaladin Abduvaliev who clocked 1:07.23 and Japanese Satoru Yoneoka in 1:08.41.
Jerome Nelmida was the best placed local entry in seventh place with a time of 1:19.26 even as he and brother Joshua got the biggest applause along the race route despite the latter finishing last at 1:26.38.
"We gave it our best and for me, this is my biggest race, just hearing the people cheering us in the bike lap really touched me," said Jerome who will be eyeing to participate in the 2020 ASEAN Paragames with his twin brother.