RIO DE JANEIRO — They say love conquers all, and that is very much true for couple Delfin Llagas Jr. and Ann Sophie Nepomuceno.
Llagas and Nepomuceno got married on Monday (Tuesday Manila time) at the famed Christ the Redeemer here under the bright lights of the Olympics in this Brazilian city.
Mr. and Mrs. Llagas said they made the decision to get married here about five to six years ago to make their wedding a memorable one.
"Kasi fan kami ng sports and we wanted to have something memorable and historic at the same time. I found out 'yung Rio Olympics will be the first in South America. Sabi ko, it will be a good chance to make something memorable para sa amin and may significance on a global scale," said Llagas.
Llagas and Nepomuceno started preparing for their wedding four years ago, opting to have their barong and wedding dress designed with the Olympic emblem as well as the three stars and the sun of the Philippine flag.
But getting to Rio turned out to be the hardest part for the couple. They left Manila on August 1 and arrived here just last Sunday (Monday Manila time), a day before their wedding date.
Continue reading below ↓
Recommended Videos
Upon their arrival at New York's JFK Airport, the couple was supposed to fly immediately to Orlando for a connecting flight to Rio. But their flight got so delayed that they were forced to take a different route with layovers in Colombia, Peru, and Buenos Aires.
"Walang change of clothes," recalled Llagas of their journey, "kasi 'yung gamit namin, napunta sa Orlando. Hindi namin na-meet 'yung luggage namin until three days after."
"Pero 'yung barong and wedding dress, hand-carried namin all throughout this ordeal. When we were calling the airlines, 'yung iba hesitant sila na bigyan kami ng earlier flight kasi mahirap kumuha ng flight. But when we told our story on how we prepared for (the wedding), naging sympathetic sila to find ways to get us in," said Llagas.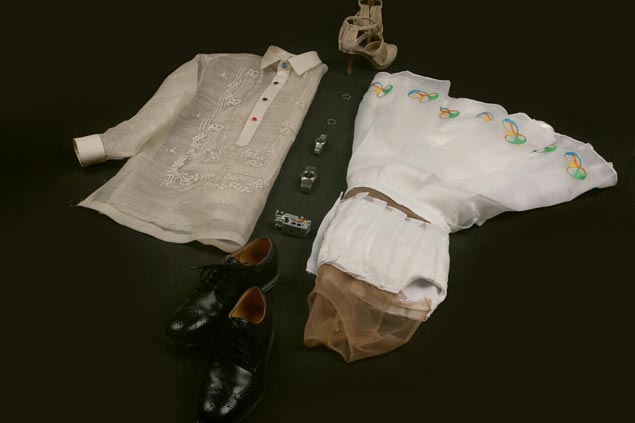 Looking back, Llagas said the tiring trip to marry his one true love was well worth it, comparing their experience in making the wedding possible to the sacrifices of an Olympic athlete.
"In hindsight, 'yun ang triumph of the human spirit," he said. "Ni-relate ko sa Olympics na we wanted to live our passion, this is our passion. 'Yung sacrifices, pareho din sa mga atleta na nag-sacrifice, nag-prepare, kahit may heartbreak, you still try to move on and be positive.
"'Yun 'yung triumph ng human spirit. We are here now and I think everything should turn out okay from now on."
Now that the wedding is done, the couple look forward to enjoying the Olympic experience. They plan to watch Usain Bolt's final appearance as well as basketball and badminton matches. Prior to the wedding, they saw Tony Parker at the Athletes Village when they claimed their tickets at the Philippine secretariat.
Llagas and Nepomuceno will also be supporting the Filipino athletes seeing action in the Olympics.
"Just talking to them under one banner of the Olympics, parang united lahat. Walang superstar. You are here for the passion," said Llagas.
"We are rooting for them," said Llagas, referring to the Filipino athletes.