TWO Filipino swimmers once beat new world swimming sensation Joseph Schooling back in their age-group days.
National swimmers Gabe Castelo and John Resty Rellama submitted a better time than Singapore's first ever Olympic gold medalist during the finals of the 12-and-under 100-meter butterfly of the 31st Southeast Asian Age-Group swimming championships in Singapore in 2007.
Incidentally, it was in the same category that Schooling would later excel, stunning the world by beating sensational American swimmer Michael Phelps to win for the island nation's very first Olympic gold medal during the Rio De Janeiro Games.
"Yun ang malakas niyang event talaga, yung 100-meter butterfly," said veteran People's Journal sportswriter Theodore Jurado, who has long been keeping tab of various swimming competitions both here and abroad.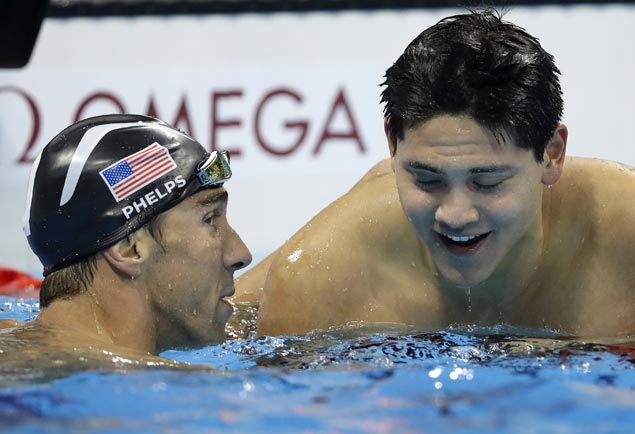 ADVERTISEMENT - CONTINUE READING BELOW ↓
Schooling is now an Olympic champion but at least on that day almost a decade ago, Castelo and Rellama had the distinction of finishing ahead of the 21-year-old Singaporean.
Castelo finished sixth in the race won by Dzulhaili Mohd Kamal, also of Singapore. He clocked 1:04.05.
Rellama came in seventh with a time of 1:04.85, followed by School in eighth with 1:04.89.
[See Hundreds turn up to welcome golden boy Schooling in Singapore]
The rare experience wasn't lost on Castelo, who made a post on his Facebook timeline just a few moments after Schooling denied Phelps of another gold in Rio.
"9 years ago in Singapore..I went against a small kid in the 100 butterfly in my first ever international competition," recalled Castelo.
"I beat that kid by almost a second. Today, he beat Michael Phelps. Wow."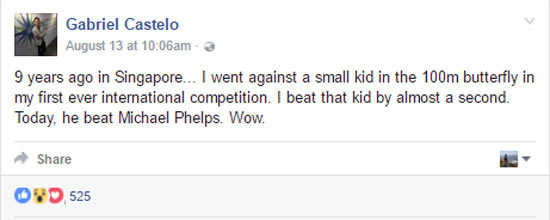 Schooling however, ended up winning the gold medal in the 200-m butterfly in the same age-group meet, finishing with a time of 2:17.64.
Rellama came in fifth (2:25.14), while Castelo was at eighth (2:35.88).
Castelo, a former star of the Ateneo juniors swimming team, has become a bemedalled athlete for the powerhouse University of the Philippines squad in the UAAP, while Rellama donned the colors for the University of Santo Tomas side.
The two are no longer part of the national team today as they concentrated instead, in their swimming campaigns in the UAAP.