THERE is a compelling reason for Davao, and the whole country for that matter, to root for this young American athlete in London.
Lee Bacani Orpilla Kiefer is the United States' top female foil fencer and its best bet for gold in the 2012 Olympics in London. Most significantly, she is half-Filipino or, to be more specific, a certified Dabawenya, her mother Teresa Ann Orpilla being a native of Tagum City in Davao.
Kiefer, who has just turned 18, is the reigning American women's foil champion and is currently ranked no. 7 in the world. She is in the final stages of her buildup in London and she will begin her quest for the gold medal in the women's foil event on Saturday (July 28).
Dr. Janice Bacani-Carandang, Lee's aunt, told Spin.ph in an exclusive interview that Teresa, her first cousin, migrated to Louisville, Kentucky in 1973. Teresa is now a psychiatrist practicing in Lexington, Kentucky and is married to Steven Modlin Kiefer, a neurosurgeon from Cincinnati who is also practicing in Lexington.
Teresa, who studied at St. Mary's College in Tagum, is the younger of two kids of Dr. Teresita Bacani-Oropilla, a US-trained pediatrician who practiced in Tagum in the 1960s up to 1973, when she trained and practiced as a psychiatrist in Louisville, Kentucky until her retirement. She was also a professor at the University of Louisville.
Continue reading below ↓
Recommended Videos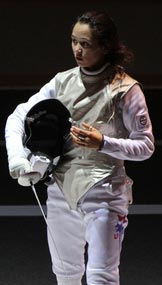 When Lee was formally announced as a member of the US Olympic delegation last April, Carandang said the fencing phenom asked her family in the Philippines to root for her and pray for her triumph in London.
"Being an Olympian is already a big accomplishment, and bringing home a medal would already be a bonus. We just want Lee to do her best and we want her to know that we are very proud of her," Carandang said.
"She is definitely an improvement of the race, and I in particular am very proud that we share the same gene pool. Her family in the Philippines is very proud of her and we want the world and the Filipinos in particular to get to know this amazing girl."
Lee is the middle child in a brood of three. She is sandwiched by elder sister Alexandra (second year college at Harvard) and brother Axel (high school student).
The Kiefers learned the sport from their father Steve who is team captain of Duke's fencing team in the mid-eighties. Their dining room served as their first training area. Lee did not like fencing at first because she found the bag too heavy, but she has since fallen in love with the sport, relatives said.
Lee has risen swiftly in the world rankings. She is now ranked seventh in the world in foil, and has won 14 gold medals at various events, including the top spot at the 2010 Cadet World Championships. She was also a member of the US team that won gold at the 2009 Junior World Championships.
The first and only time Lee was in the country was in 2004 when she was 10. She stayed with her family in a Davao hotel but spent nights in her grandfather's house in El Rio Vista and travelled to her mother's hometown in Tagum.
"When she was in Davao, Lee would just go with the flow, never demanding too much attention. And while they were billeted in a hotel for most of their stay, Lee loved to sleep over in her Lola's house, on the floor with her siblings," Carandang recalled.
Carandang recalled Lee as a talkative and cheerful as a child. "She was a sweet child who was very affectionate to her family, even to relatives she would meet for the first time."
She said Lee does not speak Filipino but she understands some words because they had a constant stream of Filipino visitors in the US. She calls her cousins ate or kuya and loves to eat adobo, tocino and rice. "When she was young, she even eats with her bare hands—very Filipino."
Her aunt recalled that she once tried to teach Lee the popular song Bahay Kubo while on a camping trip when she was six years old, but she laughed and gave up after a while because there were too many new strange words to memorize.
Her family in Davao hopes Lee will have the chance to return to the country again when her Olympic stint is over, hopefully with a medal around her neck. But for now, the teenager is hoping for the best in London but believes her best shot at gold will come in 2016.