LONDON — Sweat dripping off his face after a workout, Mark Anthony Barriga of Team Philippines smiled at his coach and gave him a fist-bump as he prepared to head to his room next door, a picture of a young fighter ready to take on anyone at any day.
"Look at him, he's happy and in good shape,'' said coach Roel Velasco in Filipino, nodding approvingly at the end of his boxer's one-hour training inside an empty room ahead of his opening bout on Tuesday in the 30th Olympic Games.
At around 2:30 on Tuesday afternoon at the 10,000-seat Excel arena east of the city, the 19-year-old Barriga takes on Italian Manuel Cappai in a light-flyweight bout as he kicks off his campaign in search of the ultimate prize in his craft.
"I'm ready, sir,'' said Barriga, a towel on one hand and a gift from a countryman on the other as he was about to leave. "I've trained for almost two years and I must say I'm ready.''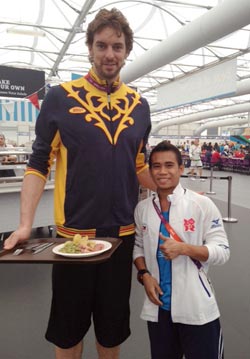 Continue reading below ↓
Recommended Videos
Barriga, considered the smallest Filipino fighter to grace the lightest of the 10 divisions at 5-foot flat, will give away six inches in height when he climbs the ring to face the Italian whom his coach said moves, fights and depends like defending champion Zou Shiming of China.
The Italian champion may not be as good as the Chinese's first-ever Olympic gold medalist in boxing, but Cappai should be a hell of a problem for the Filipino given his advantage in height.
"That's a worry for us (Barriga's height disadvantage), but Mark is definitely a faster boxer. It should be an interesting fight,'' said Velasco, a bronze medalist in the same division during the 1992 Barcelona Olympics.
If the Panabo, Davao del Norte native gets past the son of a former Italian featherweight champion, that's only be one worry less for Barriga since his next assignment will be against the rated Birzhan Zhakypov, who is heavily favored to beat Jeremy Beccu of France.
And if the gods of the game smile on him again in his second round outing,, Barriga will definitely have a higher mountain to climb in the quarterfinals since no less than Shiming or Cuban Sosbany Soto — heavily picked over their respective foes — is waiting in the wings.
Velasco, an older brother of Atlanta Olympics silver winner Mansueto, is aware of the enormity of the challenge ahead in a division teeming with talents.
But he is aware, too that his ward will be up to the task given the long period of time and money spent as they built up in a serious bid to give the country its first medal after humiliating campaigns in the last three Olympic Games.
''It's a tough group. But I have confidence in Mark. He worked hard to earn this one. I know he'll not disappoint us,'' said Velasco, adding his boy spent nearly two years preparing since qualifying for the Games.
With money the least of his worries, his chief benefactor being a group allied with business tycoon Manny Pangilinan, Barriga rounded the world competing and training after getting an Olympic ticket as a wild card.
Barriga made it here only because Shiming, the eventual champion in the world tournament in Baku, Azerbaijan, beat him decisively in their quarterfinal round meeting, 12-5. Had the Chinese lost, Barriga would be cooling his heels in his native Panabo City instead.
In his workout on Sunday afternoon, Barriga shadowboxed, skipped ropes and did some stretching, the same regimen he went through in the morning in the same vacant room in one of Team Philippines' units at the Olympic Village.
On the morning of fight day, Velasco said Mark will join the general weigh-in before heading to the dining hall for breakfast. After lunch, he will proceed to Excel for his date with Cappai.
The four seeded players, namely, Shiming, No. 2 Shin Jonghun of South Korea No. 3 David Ayrapetyan of Russia and No. 4 Serdamba Puevdorj of Mongolia, drew opening day bye in the 26-man division.
If the name Ayrapetyan sounds familiar, it's because he is the same boxer whom Barriga beat for the gold medal in the Sydney Jackson Memorial tournament in Tashkent, Uzbekistan a few months before the Olympics.
Olympic notes: Heading into the dining hall on Sunday noon was Isidro del Prado, one of the finest runners the country had produced during the days of Project: Gintong Alay, the program that gave us former Asian sprint queen Lydia de Vega. He was in the company of athletes and officials from Brunei, where he's coaching for two years now...Filipino athletes and officials attended a night mass in a small chapel inside the Village...Team PH is backed by ICTSI, Bank of Philippine Islands, Mizuno, Samsonite, Philracom, Petron, Procter & Gamble, Smart Sports, TV5 and PSC...Barriga's Olympic debut will be aired live on Tuesday (July 31) beginning at 8:30PM over IBC13.