LEBRON'S YEAR
Lebron James is having a great 2012.
Consider the past few months: he was named the NBA regular-season MVP for a third time, the NBA finals MVP and he won the elusive championship he needed to validate his place among the greats.
Now he is only two wins away from adding to his collection of awards.
The Americans, who play Argentina in the semifinals on Friday, are the favorites to take home their second straight Olympic gold.
James' stellar year comes two years after his infamous decision to broadcast that he was leaving Cleveland and taking his "talents" to Miami.
He says negative backlash from "The Decision" has changed him, but that he's never felt better.
MEDAL COUNT
With only a few days of Olympic competition left, the United States and China are neck-and-neck in the hunt for gold medals.
Powered by big wins in swimming, gymnastics and track and field, American athletes have hauled in 39 gold medals. The Chinese have 37 golds thanks to strong performances in diving, gymnastics, swimming, table tennis and weightlifting.
Overall, the Americans have won 90 medals while the Chinese have 80, according to the latest count on london2012.com, the London Games official website.
The closest competitor for gold is the home team, Britain, with 25 golds and 52 total medals. Russia has 12 golds and 56 medals overall.
There are plenty of medals still up for grabs. The final days of competition include: basketball, canoe sprint, wrestling, water polo, boxing, sailing, taekwondo, synchronized swimming and many other sports.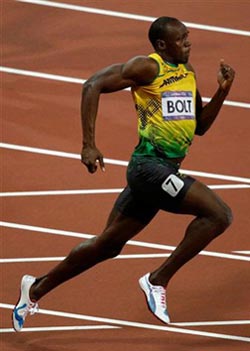 UNHAPPY WITH CARL
They are both Olympic greats, but Jamaican sprinter Usain Bolt made clear he doesn't have nice things to say about American Carl Lewis, a top track athlete in the 1980s.
Bolt strayed from his usual cheerful and charming demeanor after winning the 200 meters on Thursday, a feat that gave him a sweep of the 100 and 200 for the second consecutive games.
When asked if the Jamaican runners are clean, Bolt said they were and then talked about Lewis.
"I'm going to say something controversial right now -- Carl Lewis, I have no respect for him," Bolt said. "The things he says about the track athletes is really downgrading for another athlete to say something like that. I think he's just looking for attention, really because nobody really talks much about him."
Asked what Lewis did to upset him, Bolt said, "It was all about drugs. Talking about drugs."
While not making any direct accusations, Lewis, himself a former 100 and 200 Olympic champion, has said in recent years that Jamaican drug testing procedures might need to be tightened.
USA VS. ARGENTINA II
Manu Ginobili and his Argentine friends better have had several great practices recently.
Argentina lost by 29 points to the American men's basketball team in pool play five days ago. The teams meet again in the semifinals on Friday, with a berth in the gold medal game on the line.
The Americans say they're not taking this one for granted. In Beijing, they beat Spain by 37 points in pool play, then had to fight to scrape by them in the medal round.
"It's never a sure thing," U.S. coach Mike Krzyzewski says.
ABBEY ROAD
It's a well-trod path to Abbey Road.
One of the world's most famous crosswalks is drawing hordes of Olympic visitors. The three-block walk between the St. John's Wood Tube stop and Abbey Road is filled with pedestrians from Japan, Canada, the U.S. and other countries either coming or going from the busy landmark.
Once there, they dodge cars, trucks, motorcycles, buses and bikes zooming through the white-striped crosswalk to recreate the Beatles' famous 1969 "Abbey Road" album cover featuring John, Paul, George and Ringo walking away from Abbey Road Studios. The band broke up the following year.
Tourists take turns posing in the crosswalk, asking other visitors to snap their photo, which requires risking one's life to stand in the middle of the road for the best angle.
Some motorists screech to a halt and wait until the photos are taken. Others impatiently honk their horns.
Another popular photo spot in the elegant residential neighborhood is the front of the recording studio, where graffiti covers the fence posts. Unlike other street signs hung low, the Abbey Road signs are positioned high on the walls of buildings to discourage souvenir hunters.
BOLT'S TWITTER RECORD
When Usain Bolt won the 200 meters, the Twitter world went nuts — so much so that the Jamaican speedster generated another kind of Olympic record.
"Record alert!" Twitter said in a tweet. "(at)usainbolt sets a new Olympic Games conversation record with over 80,000 TPM for his 200m victory."
TPM is Twitterspeak for tweets per minute.
Bolt, who became the only man with two Olympic titles in the 200, has never been shy about his skills.
His Twitter profile says he is "The most naturally gifted athlete the world has ever seen."
Now he has a Twitter record of sorts to add to his "living legend" contention.