A FEW days before the start of the world's grandest sports spectacle, Fil-American fencing sensation Lee Kiefer is looking relaxed but ready to take a stab at Olympic gold.
Lee practiced with Japan's Kyomi Hirata and looked sharp as her date with Olympic destiny nears. The 18-year-old, whose mother Teresa is from Tagum City in Davao, is the reigning American women's foil champion and one of the top US bets for gold when fencing competitions begin on Saturday.
Off the battle field, the world No. 7, the second known US athlete with Filipino blood after swimming superstar and 11-time Olympic medallist Natalie Anne Coughlin, is enjoying her time at the sprawling Olympic Village, according to her aunt Martz Angeles Coleman and husband Bill.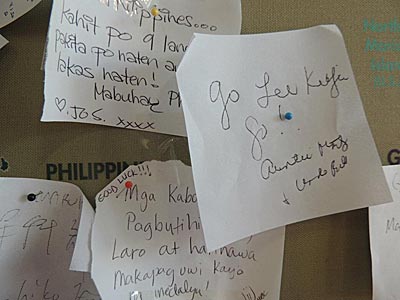 Continue reading below ↓
Recommended Videos
Kiefer's Davao-based aunt Janice Bacani Carandang said she hopes the country will pray for Lee when she goes for the gold medal on Saturday.
"We hope the country will pray for Lee, she is proud of her roots," said Carandang of Kiefer, who visited Davao in 2004 when she was 10 and already a budding fencer.
Kiefer and the rest of the US fencing team are billeted at Mira House Building 3.
When she met her Aunt Martz and her husband, Kiefer showed preference for Asian food and McDonald's chocolate chip cookies from among the many dishes on offer at the Village dining hall.
Coleman said that when they wrote a note for Lee on a piece of paper and tacked it on the Support Map -- a huge board inside the Athletes' Village where supporters can tack notes of support on the map of the participating countries -- Lee asked that they tack the note on the Philippine map so people would know that she is from the country.
"Lee said, "Put it on the Philippines on the map" - so I did! So if anyone who knows any athletes from the Philippines and they are wondering who Lee Kiefer is, please tell them she is half-Filipino and is thankful for all the support from Americans, Fil-Ams, and Filipinos in the Phiippines," Coleman told Spin.ph.
Coleman said Lee told her that in the Games Village, "she would see some Filipino athletes and sometimes feels like coming up and saying "Hey, I'm Filipino, too." She ends up looking at them with a peculiar smile.
"I thought that was charming," said Coleman.
The Kiefer family — father Steve, mother Teresa, sister Alex and brother Axel — are joining Coleman in London on Friday to form what they call as Team Kiefer Cheering Squad.