LONDON — In the biggest game of his career, shooter Paul Brian Rosario competes in the men's skeet qualification round on Monday, hoping to give the big guns a run for their money and make his Olympic debut something to remember.
The 31-year-old Rosario will use an old, reliable Italian-made Perazzi shotgun he bought for US$3,000 when he goes to the battle against 35 others with six final round berths on the line at the famous Royal Artillery Baracks .
''I think I have a chance. I worked hard to get here,'' said Rosario, a businessman from Malabon who became fascinated with the sport at the young age of six. "I have good records in three World Cups. I'm hoping I will hit my targets well again.''
In one of these world forays, the bespectacled Rosario scored 120, which was just a point shy of the winning total when Vincent Hancock of the United States captured the gold medal in the 2008 Beijing Games.
The entries will be bunched in groups of six, with Rosario having Anders Golding of Denmark, Stefan Nilsson of Sweden, Ennio Falco of Italy , Frank Falco of Italy, Frank Thomson of the US and Anthony Terras of France as company in the second bracket.
Continue reading below ↓
Recommended Videos
Coach Gay Corral is also optimistic, saying Rosario has what it takes to do well in the event.
''Brian is ripe for the Olympics. He is now a highly discerning shooter,'' said Corral, a former national team shooter who was with the shooter throughout a two-hour practice on the eve of the competitions on Saturday.'' If he shoots his personal best, then that will be a fantastic bonus.''
Married with a nine-month daughter, Rosario goes into the fray armed with good, fine showings achieved as he searched for that Olympic berth that was hard to find.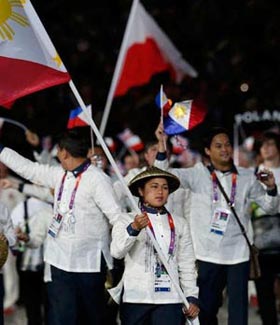 Although he made it here as an Olympic scholar athlete, Rosario got the minimum qualifying score in six tournaments, including three World Cups, in the last two years.
In a performance he described as "my best ever," Brian shot 120 of 125 points in the world shotgun meet in Serbia last year, finishing in the top 10 from among 100 competitors to kick off what had been a big two-year run.
That determination and hard work to strike big didn't escape the eyes of shooting head Mikee Romero, who said "Brian is one guy who is determined and wants to prove something.''
Why use a 15-year-old gun which malfunctioned once in the midst of competitions a few months before the Games?
''I'm used to it. I had it repaired. It's okay now,'' said Rosario, a Thames International School marketing graduate and a multiple gold medal winner in the Southeast Asian Games and several other regional tournaments.
In his mind, Hancock, a teenage phenom who bagged the gold medal in the Beijing Games using a Berreta Dio shotgun, remains the shooter to beat.
''He's really good. He'll be the marked man in the event,'' said Brian of the American who was once named as 2005 US male shooter of the year because of his string of victories as a young gun.
Under the rules, shooters fire at clay targets made of pitch and chalk as they are released in the air. A hit is awarded if a piece visibly falls from any of the targets and explodes in a puff of purple smoke.
The top six finishers after 125 targets will advance to the finals where they will shoot 25 clays each to determine the podium finishers.
OLYMPIC NOTES: Philippine Olympic Committee president Peping Cojuangco dropped by at the Olympic Village to visit the athletes and take a glimpse of the dining hall where you can eat and take away anything. He later proceeded to the watch the swimming finals nearby with chief of mission Manny Lopez and POC sec-gen Steve Hontiveros in tow...The PH team is supported by ICTSI, Bank of Philippine Islands, Mizuno, Samsonite, PSC, Procter and Gamble, Petron, Smart Sports, TV5 and Philracom...Queen Elizabeth Ii visited the dining hall a little past noon, catching everybody by surprise.