THERE are so many Manny Pacquiaos, Bong Coos, Paeng Nepomucenos, Lydia De Vegas, and Eugene Torres just waiting to be discovered in the countryside.
Agriculture Secretary Manny Pinol stressed this point during the 2017 Philippine Sportswriters Association (PSA) Awards Night, saying the continuous practice of recruiting 'imports' in just about every sport has come at the expense of grassroots development.
Pinol, a former sportswriter and columnist before entering public service, clarified he has nothing against importation – a system which he said is also prevalent in agriculture – but stressed the 'country's sports development program should look into what we have and develop these talent.'
"Believe me, we have so many sports talent in the countryside waiting to be discovered," said the 64-year-old former North Cotabato governor, who was guest of honor and keynote speaker during the 2018 SMC-PSA Awards Night on Tuesday at the Maynila Hall of the Manila Hotel.
"All it needs is a sound sports program that would pave the way for them to be discovered."
One by one, Pinol mentioned the likes of world champions Manny Pacquiao, Bong Coo, Elma Muros, Paeng Nepomuceno, Lydia De Vega, Eugene Torre, Joey Antonio, Tausug swimmer Amman Jalmaani, the late Mona Sulaiman, Jairula Jaitula, among others.
Continue reading below ↓
Recommended Videos
He also cited popular sports hotbeds in the country such as Bago City for boxing, Barotac Nuevo for football, and even his province of North Cotabato, home of basketball players Mac Belo and Peter June Simon.
"There could be more of them. We only have to discover them and focus on the programs that will discover these talents in the countryside," Pinol told the country's sports community led by Philippine Sports Commission (PSC) chairman William 'Butch' Ramirez and newly-elected Philippine Olympic Committee (POC) president Ricky Vargas.
"Just like Philippine agriculture in the past, Philippine sports failed to look at the basic things which need to be done to prepare our road map for each sports discipline to discover and develop sports talent in the country," he added.
"Just like agriculture in the past, Philippine sports relied on imports not only in local competitions, but even in international tournaments where we allowed naturalized citizens to wear our colors."
Bringing in imports, according to the Agriculture secretary, only solves problems in the short term.
"Let us not be short-sighted, and instead look at the future in planning sports program," added Pinol.
"We should develop a sports program that we can't only produce winners in international competitions in the next SEA Games, in the next Olympic Games but, we should develop a sports program that would prepare this country for bigger and future competitions ahead."
Pinol didn't need to look that far as he paid tribute to Jerwin Ancajas, Carlo Biado, and Krizziah Lyn Tabora as prime examples of Filipino athletes who excelled in their respective fields after being discovered and given exposure.
Ancajas, Tabora, and Biado were the latest recipients of the PSA-Tapa King Athlete of the Year award handed out by the country's oldest media organization during the event presented by MILO and Cignal TV, the Philippine Sports Commission (PSC) as major sponsor, and backed by the Philippine Basketball Association (PBA), Smart, Mighty Sports, Globalport, and Rain or Shine.
The Philippine bid team that won for the country the hosting of the 2023 FIBA World Cup led by Samahang Basketbol ng Pilipinas (SBP) chairman emeritus Manny V. Pangilinan and president Al Panlilio, were on hand to receive the President's Award from PSA chief Dodo Catacutan of SPIN.ph.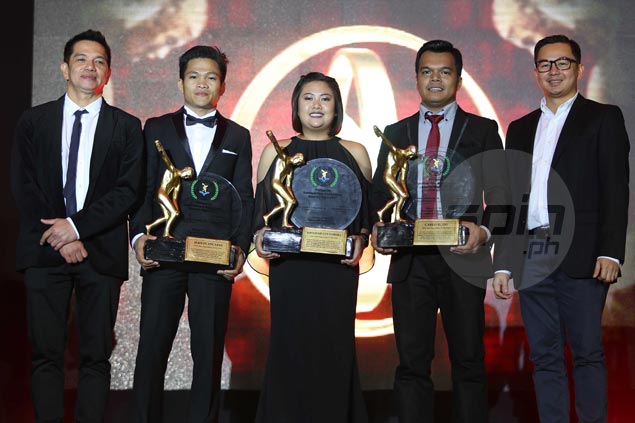 Recognized as Executives of the Year were San Miguel Corp. big boss Ramon S. Ang and Standard Insurance's Jude Echauz.
A Lifetime Achievement Awards was given to veteran newsman and former Journal sports editor Gus Villanueva, while the Triathlon Association of the Philippines (TRAP) was hailed as the NSA (National Sports Association) of the Year.
Meanwhile, June Mar Fajardo was named Mighty Sports Mr. Basketball awardee, and fellow Gilas player Terrence Romeo is Mr. Fan Favorite 'Manok ng Bayan' awardee.
Marck Espejo and Dawn Macandili were Mr. and Ms. Volleyball, while Clyde Mondilla is Mr. Golf.