JOSE "Peping" Cojuangco secured a third term as Philippine Olympic Committee president and members of his ticket won handily in elections held on Friday at the Alabang Golf and Country Club in Muntinlupa City.
Jose Romasanta of karate and Antonio Tamayo of soft tennis took the first vice-president and second vice-president posts while Julian Camacho of wushu and Prospero Pichay of chess claimed the treasurer and auditor posts, respectively.
Dave Carter of judo, Jonne Go of canoe kayak, Cynthia Carrion of gymnastics, and Ernesto Echauz of sailing also won board seats convincingly.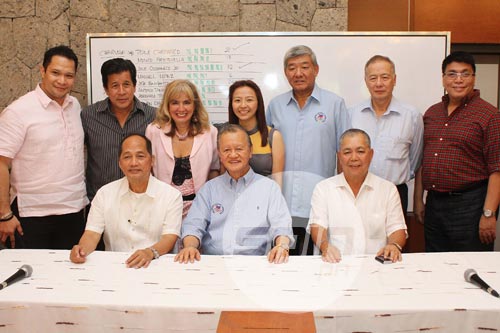 Tom Carrasco of triathlon also grabbed the POC chairmanship, beating incumbent Monico Puentevella of weightlifting, 21-18.
Cojuangco got 32 out of the possible 43 votes from the POC general assembly, officially getting a fresh four-year mandate as president of the country's Olympic body.
Romasanta claimed the first vice-president position over Manny Lopez of boxing, 24-16, while Tamayo of soft tennis won over Tagaytay City mayor Abraham Tolentino of cycling, 24-15.
Camacho got a fresh mandate as treasurer, 28-12, over Romeo Ribano of squash while Pichay of chess won the treasurer post over Godofredo Galindez of golf, 28-12.
Carter and Go got the most number of votes in the board with 29 while Carrion had 28. Echauz received 23 votes. Gener Dungo of volleyball accumulated 16 votes, Victor Africa of fencing amassed 13 while Hector Navasero of baseball had nine votes.