THE Nuun Dirt School PH had its official launch last July 25 at the Multisport Hub store premises in Nuvali, Laguna. Billed as the first and only trail running camp series in the country, it kicked off with a Level 1: Road To Trail class, introducing trail running to a mostly newbie group of participants, all willing to learn more about the joy of trail running.
Road running, for all its popularity and convenience, certainly has its charm of breaking personal records and running at unbelievable speeds, but on closer inspection, doesn't hold a candle to trail running with its unpredictable weather, seductive terrain, and back-to-nature allure.
The Facebook page (Nuun Dirt School PH) teasers leading up to the beginners class cited a number of reasons that make trail running good for you; namely:
Less stress on pace and time.
Trail running burns 10% or more calories than road running.
Activates more muscles groups and improves balance.
Strengthens your legs and core.
The main proponents of the series, businessmen/athletes Joey and Jami Ramirez of Dan's Bike Shop and multi-sport athlete/coach Miguel 'Ige' Lopez, look to take trail running to the mainstream by simultaneously taking the fear out and bringing in the fun of getting dirty while having one's fill of the outdoors.
Continue reading below ↓
Recommended Videos
Coach Ige is a veteran mountaineer and trail runner, aside from being an accomplished multi-sport athlete, which qualifies him to instruct participants on the basics of trail running. The series will also feature subsequent classes on intermediate and advanced trail running, also mentored by Coach Ige.
For the beginner's class, Coach Ige opened with the basic differences between road running and trail running, from terrain and navigation, to equipment and running style. Useful tips that followed included techniques in uphill and downhill running, where foot positioning and weight distribution prove crucial; these stood as precursors to succeeding points on safe trail running and injury prevention. Optimum nutrition and hydration strategies involving what to bring and how to bring your food and drink, as well as how to mediate consumption in between aid stations. Choosing the right equipment, which can spell the difference between an enjoyable jaunt and a miserable slog through rain, mud, and the rest of what the trail offers, had its own set of slides to stress the importance of gearing up for comfort and practicality.
Outside of the technical information, Coach Ige reminded the class of the importance of safety and courtesy on the trail, towards the environment (flora and fauna), fellow runners, and others who share the trail, such as mountain bikers and more importantly, the local folk. We were made aware that everyone is responsible for the trail, and as visitors we should show respect to all entities that benefit from being on it.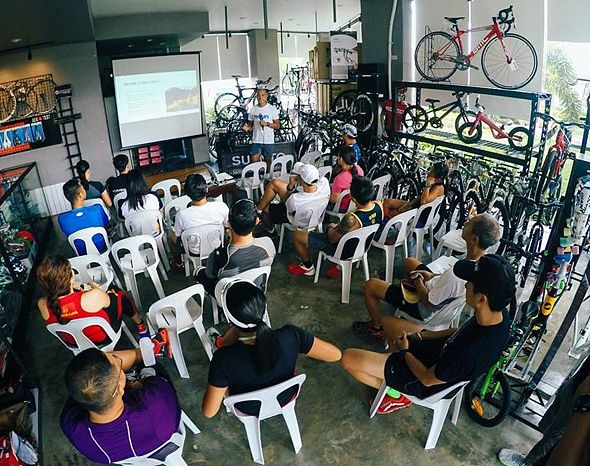 Of course, all the slides and stories pale in comparison to the actual trail run that followed some ninety minutes after the kick-off. Everyone had a grand time running through the fields of Nuvali, which featured varying slopes and inclines, vegetation that rose from just above our ankles to over our heads, and weather that was pleasantly cool and accommodating. Some points proved trickier, which required Coach Ige to stop and walk the group through how to negotiate knotty down hills and sudden surging climbs. He did this by describing what lay ahead, and later demonstrating the proper way to descend or clear the obstacle(s). And here's one reassuring point that definitely sat well with everyone: It's perfectly fine to walk on the trails — no one will judge you.
After generous helpings of Nuun infused water, Bonk Breaker nutrition bars, chips, and water for our post-10k recovery snacks, we piled into the service vehicles and headed back to Multisport Hub for a raffling of prizes featuring a Suunto watch and a pair of Salomon trail shoes as the big-ticket items. Goodie bags were given out to all participants and the requisite class picture sewed up the fun-filled educational event.
The Nuun Dirt School PH will have Mountain Running (Intermediate) in September and Technical Trail (Advanced) in October this year, both following the same classroom-to-trail format, and should not be missed by anyone who claims to love the outdoors and wants to learn more about trail running.
--------------------------------------0-------------------------------------------
'All I do is keep on running in my own cozy, homemade void, my own nostalgic silence. And this is a pretty wonderful thing. No matter what anybody else says.'
Haruki Murakami, What I Talk About When I Talk About Running