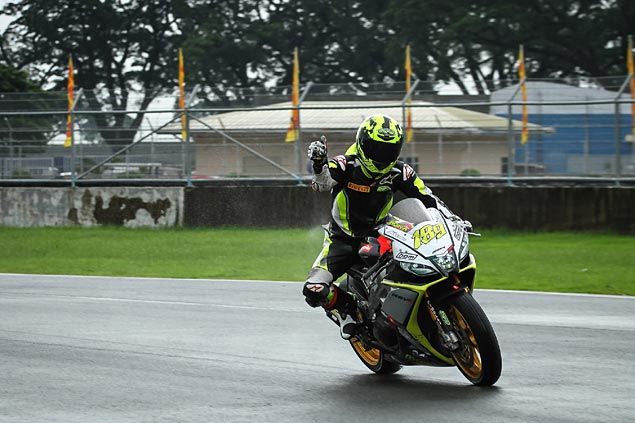 MARVIN Mangulabnan scored his first victory of the season, while Dashi Watanabe made a fine start from sixth spot on the grid to make it a Team Aprilia 1-2 in Round Four of the 2014 Pirelli Philippine Superbike Championship recently at Clark International Speedway.
Rainiel Resuello on a Ducati finished in third place, while Rizaldy Canare was fourth overall to take the Intermediate Class title followed by Jussi Hoikka and Tracy Soyangco.
TJ Alberto rode his Ducati to seventh place overall and first in the Novice Class.
In the FDR Underbone King Championship, John Emerson Inguito of Team JVT won the 150cc Open division with a 5.165-second lead over Gerald Cruz and Herbert Lopez. NiƱo Fabian of Team Racewell logged the fastest lap at one minute and 15.368 seconds but crashed out with two laps to go.
Gio Adriano won the 115cc Open class, while Aldeine Valencia was the highest finishing Novice rider.
In the FDR Scooter Racing Championship, Masato Fernando once again clinched the victory in the 180cc category, beating Aljon Valencia, Dustin Esguerra, and Nicolo Ramos who finished less than one second apart.
Aljon Valencia was the victor in the 160cc class, while McKinley Kyle Paz went home with the 130cc trophy.
In the Pirelli Cup, Jevis Aguila won Race One while TJ Alberto topped Race two in the afternoon.
TJ Alberto won the first race of the Ducati Cup before the second was cancelled due to inclement weather.
Rizaldy Canare won the MotoIR by 0.1 seconds over Vrei Ar Suba, while Gio Adriano won MotoIR2, Maiko Adapon topped the MTRT Club race, EJ Sobretodo ruled the MTRT Cup 115cc Scooter Class and the Honda Beat Cup, and McKinley Kyle Paz took the Honda Dash Cup in the event sanctioned by the Underbone and Scooter Racing Association and the Superbikes Racing Association and backed by Pirelli, FDR Tires, and KYT Helmets, with media partners Inside Racing, Motorcycle World, and Motorsiklo Xklusibo.