XIAN Lim is having a moment- whether it's a good one or a bad one, only time will tell. But the 24-year old actor isn't too worried; he's here for the long run.
On the day of our shoot, the first thing we find out about Xian Lim is that he is early. Not on time. An hour early.
This, however, does not surprise those who regularly work with him. "He is always insanely on time," confirms makeup artist Ricci Chan, who has helped the actor look his best for public appearances, TVCs, and various magazine covers (including this one). "Working with Xian is always a breeze. Very professional—he insists on doing the work first, and then variates to being playful on the set after."
"The work" is important to Lim. A quote by author Annie Dillard goes, "How we spend our days is, of course, how we spend our lives," and while waiting for his call time, the 6'2" Lim is occupying as little space as possible in one corner of the studio, away from everyone else, practicing on the Casio keyboard "[na] lagi niyang dala," says friend and stylist Ton Lao. His fingers fluidly forming shapes of chords and melodies on the ebonies and ivories, he could be giving his finest performance yet—like a polished rendition of the "Rondo Alla Turca" (from Mozart's Piano Sonata No. 11), which he performed in 2012 with the ABS-CBN Philharmonic Orchestra. But absolutely no one in the buzzing studio would know it because he's got his headphones plugged in. Like many things in his life, this performance is only for him.
Most people have heard the elevator-pitch version of how Alexander Xian Cruz Lim Uy became Xian Lim—how, during a photo shoot, his natural good looks and raw modeling talent were noticed by Lao, who then introduced him to Star Magic bigwig Johnny Manahan. It didn't exactly happen that way, though. It was not a test shot but a text message that stirred Lao to help the then-19-year-old University of the East basketball player. "After the shoot, wala lang," recalls Lao, who wasn't actually present at the meeting with Manahan. "Then, nag-text siya ng 'Thank you.' He was courteous, polite. Yun, sabi ko, pakikilala ko 'to sa kaibigan ko—kay Biboy Arboleda (ad and promo manager at ABS-CBN)."
Nurturing the Skill Set
Although the push-ups Lim does right before the shoot serve the purpose of pumping him up for the camera, his time alone before the cameras click is what recharges him. A self-confessed introvert, he gets his energy from these solitary moments—and with his celebrity status, such pockets of time between scheduled social interaction are indeed precious and protected.
Lim admits he doesn't have much of a social life, a fact acknowledged by Lao. "Hindi mo siya makikita sa party dahil ayaw niya. Di naman siya umiinom, unless socially, kailangan siya para sa event or may party with the big boss. Pag nag-a-out of town kami, palagi siyang nasa room. Mas gusto niyang kasama yung [sarili niya]. Pag di siya nagmu-music, nagjo-jogging siya sa umaga."
"I'd rather focus on things that I'm doing," clarifies the actor, "like studying something, reading something. Yung more of me lang." He pursues activities not with the frenetic neediness of a bored, hyper teenager, but with a dedication to "trying to improve oneself— always." It's a lesson he has learned from his mom, whom he calls his "consultant" and to whom he is unabashedly close.
Aside from the piano, Lim plays the guitar, the trombone, the harmonica, and an increasing number of other musical instruments. He's learning to write songs, penning the music on the piano before taking a stab at the lyrics. He draws with oil pastels and also paints; he has even posted a how-to book on his Instagram along with a series of intricate and personal pieces done while on break from taping his previous drama series, Ina, Kapatid, Anak. Lim seems to rack up skills at the same rate other celebrities rack up selfies.
What he doesn't try to learn on his own, he learns with the help of trusted teachers. He credits his improved acting to a number of workshops. He thanks his directors, too, for their patience with him. "Lalo na si Direk Joyce [Bernal, for Bakit Hindi Ka Crush ng Crush Mo?] and Direk Mae [Cruz, for Bride for Rent]. They're really taking it slow on me kasi baguhan pa lang ako. They were teaching me." As a classical pianist and musician, he also relished the opportunity to learn from the ABS-CBN Philharmonic Orchestra. "Not everyone's given the chance to do that," he points out. "They're world-class professionals. I learned a lot from them. Buti na lang they're very nice. They were very lenient with me, when I was messing up, missing some parts. But at least I learned a lot."
Just as Lim practices his art, he trains his body. To onlookers at the shoot, there's no shadow of the chubby preteen who wasn't into sports but was very into ice cream. Brey Quintong, his trainer at Gold's Gym Timog in Quezon City, says the actor is very aware of what it takes to keep his fat-kid phantoms at bay. "Pag may pinaghahandaan siyang projects, actually, ako yung nag-e-excuse sa kanya. Dumarating siya every day. Talagang naglalaan siya ng oras. Kahit busy siya, tatakbo siya dito, do 30 to 45 minutes, then babalik sa shoot. Kahit malayo. Nung minsan sinundo pa nga niya ako sa bahay ng ibang client para lang magkapag-work out kami. He's that committed."
Quintong has been training Lim since 2011, just when Lim was starting to step into the national spotlight via the primetime soap My Binondo Girl. They prepare for each of the actor's projects like how a boxer trains for a fight, with an intense 3-month program and a strict diet that includes weekly distilled-water detoxes. "One month of heavy workout, then the second month is circuit training. Then yung third month, yung pinakamalapit sa pinaghahandaan niya, [we do] more of endurance training and definition," informs Quintong.
These days, Lim is taking up swimming—or, as he puts it, "trying" swimming. "Di ko pa rin siya masyadong maintindihan," he remarks. Although it's not true he's training for a triathlon ("San ko ba nasabi yun?" he wonders out loud when asked about it a third time in one day), we get the feeling he could do it if he wanted to. "Yeah," he concedes, "but there are so many things to know [about triathlons]. I'm not ready for all those yet... the commitment."
Everything else in his life would suggest that commitment is something he doesn't take lightly. He is intentional about what he chooses to do, so that, when he does commit, he does so purposefully.
Publicly Private
The ordinary rhythms that make up a man's life are the day-in, day-out wake-up-at-dawn-and-put-in-agood- day's-work routine, and also the things that are still important to your own self-maintenance—a pickup game of basketball at the RFM gym, a run around the Ultra, a swim for your health, an hour of putting the day's emotion onto paper or piano keys. These are not the stories you hear about Xian Lim; they are the pauses between the ascending notes, the deep breath before the crescendo.
These, however, are the stories Lim himself prefers. "I'm not much of a talker," he says, after we apologize for grilling him for almost an hour. "I'm more of a listener. I like listening to other people's stories—anyone's life, kahit sobrang simple pa yan." The last good story he's heard was The Pursuit of Happyness, the Will Smith film of a sometime-homeless salesman who came to be a successful stockbroker. Lim saw it in 2006, when it came out in theaters. "Watching that, it makes you want to work harder," he shares.
If he hadn't become an actor, Lim says without a moment's thought that he would've liked to be a psychologist. "I like listening [to people] pag may problema sila," he explains. And he's armed with a ready arsenal of advice: "Sinasabi ko palagi, you always have to look at the bigger picture. Maybe you're just caught up in whatever it is. Try to step outside of that."
It's advice that has come out of many years of personal struggle, first as an only child unable to put down roots and make connections in one country as he and his mother moved from the US to the Philippines and back to the US, then as a bullied middle schooler who used to eat lunch alone because he didn't know how to position himself in the Benjamin Franklin Intermediate School ecosystem. On being bullied in the past, he says, in retrospect, "Sabi ko dati, sana hindi nangyari yun, but you know, [now I think] good thing nangyari yun, because you learn from those things."
Although he is economical with his own words face to face, he is not stingy with sharing the words of others in the form of inspirational Instagram quotes. A photo of Lim sitting in the back row of an empty theater accompanies the quote, "What we see depends mainly on what we look for." It gets 6,331 likes. Another post, in all-caps sans serif set against a forest silhouette, exclaims, "The biggest challenge of life is to be yourself in a world that is trying to make you like everyone else." 6,526 likes.
"I'm trying to influence people not to dwell on the negatives," he tells us. "Kasi for a person like me, who went through so many things, who deals with a lot of negativity, it's good to channel that negativity into positive things."
Letting fans into his world—in carefully constructed portions—is important to Lim. That's why he maintains his own Twitter and Instagram accounts, which contain a balanced amalgam of goodmorning greetings, social-media marketing for his sponsors and brand partners, jokes, short selfie videos, POV shots, shout-outs, and inspirational quotes. Social media is the shrink's couch Lim is currently offering—and he is a pro at giving advice.
His loyal fans certainly see him as someone who has come out of that jungle and survived. "People ask me for advice—what should people do kasi nasa-cyberbully daw [sila]," he relates. "It's common sense, di ba? If they can't handle the tweets or the bullying, either block that person [or] create another account, and just learn from it. It's a learning process. People shouldn't focus masyado on the negative side, kasi masyado silang nalulunod dun. Delete and block." In the heat of one of his controversies last February (over what detractors felt was Lim's unwarranted treatment, on national TV, of rumored girlfriend Kim Chiu's lookalike), his supporters repeated his prescription for emotional health back to him: "Delete and block." In their eyes, he has become an underdog with a pedigree.
"For the last movie I did, Bride for Rent, yung line na matatandaan ng tao is: 'Forever is giving the person you love unlimited chances," shares Lim. And perhaps, for the people who are in his corner, this is what it means to love their introvert—to allow him the very public mistakes, but to criticize him with care in public, trusting in who they know him to be as a person and in the goodness of his intentions.
This is what Lao does for Lim, who he says is like a brother to him. "As an older friend, napagsasabihan ko naman siya," says Lao. "[After that February incident,] sabi niya sa akin, 'Alam ko namang nagkamali ako.' Sabi ko naman sa kanya, as long as alam mong may mali ka, alam mong paanong pagbutihin yun, just move on and go on."
The Road Ahead
Another Instagram quote from Lim is Baz Luhrmann's widely forwarded life manifesto, "Wear Sunscreen": "Sometimes you're ahead, sometimes you're behind. The race is long, and in the end, it's only with yourself." At the end of the day, Lim has his fans, he has his family, he has people, and, most important for an introvert, he has himself. Today's trending topic is tomorrow's old news, and he is taking the long view. "In the future, I want to evolve din siyempre. I don't want to just be an actor. I want to also produce, I want to also direct," he reveals. "In five years, I want to be different. In 10 years, I want to level up nang sobra-sobra. I'm thinking longevity."
He adds: "Success is having peace of mind. I'm a very specific kind of guy. I want certain things, and I consider whether I've achieved those things. Pero yung pagiging 'successful' kasi I think happens pag medyo matanda ka na. Then, that's when you have the peace of mind and [can] finally relax."
For him, this is a journey, not a joyride. But if you can find joy in your journey, in your pursuit of happiness, as Lim would say, "Why not?"
INTROVERTS, STEPOUT!
It's an extrovert's world, posits Susan Cain in her bestselling book, Quiet: The Power of Introverts in a World That Can't Stop Talking, but as Xian Lim shows, you can still be an introvert and play the game. As psychologist, relationship coach, life trainer and fellow introvert Aileen Santos shares, "The great part about knowing your personality type is that you become aware of where you are right now, so you can become aware of how you can grow. Knowing that you're an introvert is not an excuse for not talking to people, especially if your job would be enhanced by talking to people." Here are her three tips for finding the courage to step outside (after you've recharged at home, of course):
1. FIND WHAT MATTERS TO YOU. .
Introverts are very selective about their interactions with other people, so for every interaction, Santos advises, "Find the purpose for it. [Recognize] what the interaction is for.
2. REDEFINE YOUR GOALS.
"It's not about changing who you are, or giving up who you are for something that people expect you to be," assures Santos. "It's about growing other aspects of yourself, learning other skill sets that enhance [your] life mission and who [you are].
3. FIND YOUR REASON TO BE COURAGEOUS OUT THERE.
Not the quintessential alpha male? No problem. "Essentially, being an alpha male is about leadership," Santos explains. "The social, outgoing ones, they're showing leadership in social situations, but you can be a leader in other ways. So find what matters to you and take leadership of that, then use your influence to bring awareness to that issue. You can be a leader behind the scenes."
RAPID FIRE
On rom-com turn-ons: "[I enjoy funny movies] like, Forgetting Sarah Marshall...meron silang hidden meaning. Nakakatuwa yung mga ganun. And I like love stories."
On rom-com move-ons: "Siyempre gusto ko lahat ma-tackle. That's what separates you from others, kung kaya mong mag-portray ng iba't ibang roles. Kasi if you just stuck to one, then it's not really doing anything. You always have to step out of your comfort zone."
On his musical dream: "I want [my own musical concert]. That's one of my dreams. Sort of like Elton John. Galing eh. [It's just him] in front of his piano. With an orchestra."
On letting the critics come: "I like criticism. I'm open to it. Di naman ako masyadong nagde-dwell. Yeah, it hurts, but okay. It doesn't make me less of a person."
On performance anxiety: "Siyempre andun pa rin yung ganun. I think a lot kasi before performances. They might like it, they might not, what should I do. I just think na lang na what I'm gonna show is me; it's up to you guys if you like me or not."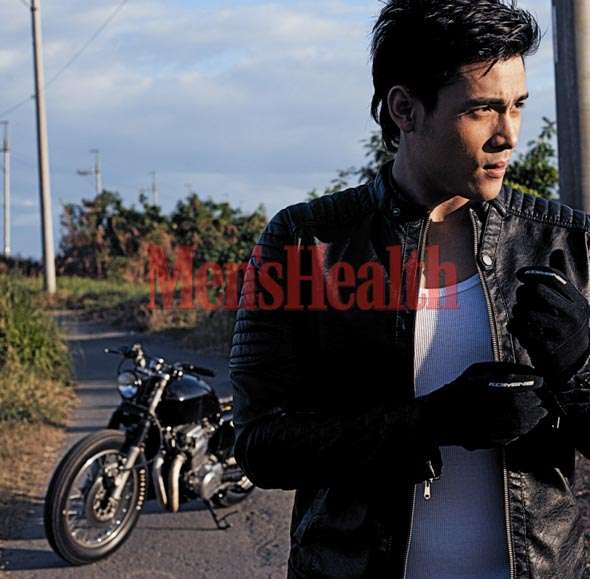 Recommended Videos