WHEN Gilbert Ramirez dominated the minus-73- kilograms lightweight men's judo division to win the gold medal at the 2013 Southeast Asian Games, it did more than raise the Philippine medal tally or prove our aptitude in training world-class athletes in the sport. It finally silenced Gilbert Ramirez's number-one foe: Gilbert Ramirez.
The judoka recounts his mindset in the months leading up to the games: "Oo, ito na yung peak ng physical form ko. Pero mentally, natatakot na ako. Mananalo pa ba ako? Kaya ko pa ba?"
It wasn't his first time on the mats. The 30-year-old AFP airman has spent half his life perfecting his form, and with two consecutive SEA Games wins in 2003 and 2005, he was billed by pundits as the heir apparent to the now-retired John Baylon, our national treasure in the sport.
But serious knee injuries derailed Ramirez's international career in the succeeding years. "Every year yun, nai-injure ang tuhod ko," he shares. "MCL, LCL, meniscus tears. Those years na hindi ako nanalo sa SEA Games, yun ang iniinda ko."
His most spectacular loss came at the 2007 event, when he still insisted on competing despite dislocating one of his already wrecked knees a day before the tournament. Ramirez chuckles as he recalls his laughable pre-match routine then: "Dalawang anti-inflammatory, painkillers, dalawang roll ng athletic tape sa tuhod, linaro ko pa! Pinagsisihan ko yun."
As in any sport, Ramirez's injuries would've been a career-ender. But this soft-spoken man resisted quitting and maintained a stubbornness that any judoka can relate to. Judo, "the gentle way," has been his way of life since he was a scrappy high-school student, which was when he was first drafted to train with the national team. "Every day, binabyahe ko from Marikina to Manila para mag-train. Hindi ko man lang alam na national team training yun—basta pumunta lang ako," he shares. "Kinuha akong maging part ng grassroots-level training. Binigyan [ako] ng allowance, hanggang hindi na ako maka-absent sa training."
Chalk it up to his innate character, or to his formative years spent developing the rigorous discipline that judo requires, but Ramirez simply loves to train. "Pag nakakathrow ka, nakakawala siya ng pagod," he says. "Ang hirap tanggalin sa katawan pag naumpisahan mo na. Hindi ako nakakatulog kung walang training. Kaya hangga't maaari, kahit holiday, I will train, even if it's just jogging or lifting weights.
But an epic work ethic and the purest love for the sport do not make a decorated career. Nor will they prompt injuries to disappear. As time went on, it became apparent that Ramirez had to deal with a problem even more potentially damning than his knee issues: his mindset.
It Was All in the Mind
Ramirez had somehow gotten it into his head that he simply could not win. "Natatakot na kasi ako nun, kasi konti na lang yung tao sa national team," he admits. "Natatakot ako na bababa yung quality or level ng training ko, kasi kung wala kang kalaro, hindi ka gagaling." The retirement of Baylon, who had taught him everything he knew, also affected Ramirez. With the 2013 SEA Games on the horizon, this was not the way a top-tier athlete should've been feeling. It was as if he had already lost the match even before he stepped on the mats.
Luckily for him, the Philippine Olympic Committee revolutionized its training program to include strength and conditioning as well as sports psychology. On the former, Ramirez remembers having initial doubts about the plyometric-heavy program. "Puro plyometrics, mostly core. Malayo sa akin nung una, kasi may sarili akong program na puro heavy free weights," he explains. "Pinapalakas ko kasi yung upper body ko para sa pulling movements na kinakailangan sa judo. Kaya nung nakita ko yung program, lalo akong kinabahan, kasi parang ang gaan lang nung weights. Hindi ako kumportable nung una."
The new regimen soon vindicated itself, however. The result of the thrice-weekly gauntlet of ladder drills and box jumps manifested itself at a pre-SEA Games tourney Ramirez joined. He noted having better cardio and endurance, which are both integral to judo matches that are often a whirlwind five minutes of constant movement repeated over a day-long competition.
But most beneficial to Ramirez was his once-weekly sessions with sports psychologist Rey Canlas, M.D. "Tinuruan kami about psyching up and psyching down and visualization. Visualize ko raw nang mag-isa lang ako sa mat, [doing] uchikomi [form practice]. Then [I would imagine] my opponent, tapos kasama yung referee, hanggang ma-visualize ko na marami ng tao at tournament na," Ramirez describes.
Thanks to these sessions, he was able to work through the demons that were hounding him, although he didn't realize how effective the techniques were until he was actually bowing in for his first match. "In-apply ko talaga siya kasi grabe yung kaba ko," he laughs. "Inalala ko lang lahat ng sinabi sa akin." Again, once he gave it a shot, it proved to be effective.
Let the Games Begin
The 2013 SEA Games was his chance for redemption, his chance to erase the bad taste the 2009 and 2011 events had left in his mouth. The champion in his division had retired, leveling the playing field and giving him the opportunity to prove that he was, indeed, the next Baylon. He had the entire Philippine Sports Commission backing him, and the whole country rooting for him. But Ramirez wasn't thinking of any of that. His first task was to scope out the competition at the weigh-in.
"Bago sila lahat," he recalls. "Nag-alangan ako kasi hindi ko kabisado mga laro nila." The small judo community usually allows for knowing your opponents and memorizing their strategies, so it's rather unsettling to face a roomful of judoka you've never seen before. It didn't help, Ramirez jokingly adds, that they all looked like 6-foot-tall bodybuilders—he thought he'd accidentally entered the weigh-in for a heavier division.
What went down is one for the history books. Ramirez subdued his first opponent, a 6-foot-tall Vietnamese, with an ashi guruma (leg throw) that earned him a minor point. The Vietnamese refused to tap in two clean arm bar attempts, and with the referee not helping things along, a frustrated Ramirez turned to his sports-psychology learnings to keep calm. He won the match through his minor point and went on to face Myanmar, who held the homecourt advantage.
He had quite the history with this opponent, whom he beat for the gold in 2003. Two half-points from two tai otoshi (body drop) earned him a spot in the finals versus Indonesia. The Indonesian judoka moved fast, he narrates. "Sa sobrang bilis niya gumalaw, napagod agad siya. Pero ako, pagod na rin—naubos ako sa unang match ko pa lang versus Vietnam. Pagod na kaming dalawa, so inabangan ko na lang sa ground. Buti naman nag-tap sa armlock."
Ramirez now has three SEA Games gold medals to show for the 15 years he's been donning his gi, day in and day out. His latest accolade took eight years—and a willingness to adapt to novel ways of training and thinking—to achieve. Is he now ready to be anointed as the new living legend of Philippine judo?
"Dati nung bago pa lang ako, paulit-ulit na sinasabi sa akin ni Sir John, 'Wag kang yayabang. Kung yumabang ka babalian kita.' Sa lahat ng naituro niya sa akin, yun ang una," says Ramirez. "Mahirap pantayan yung ginawa ni Sir John. Kasi siya ang nagturo sa akin eh, at iba pa rin talaga siya. Hanggang ngayon pag naglalaro kami, hindi ko pa rin [siya] matalo. Hinahayaan ko na lang [yung pagkumpara sa amin], kasi nawawala ang focus ko sa laro."
He doesn't need to beat Baylon to take his place in the pantheon of the greats. He has already beaten a more formidable foe, one that every athlete, regardless of sport, has to face at one point: his own crippling self-doubt and fear of failure. They say you must never compete with others; you must only compete with yourself. In that light, Gilbert Ramirez is truly a champion.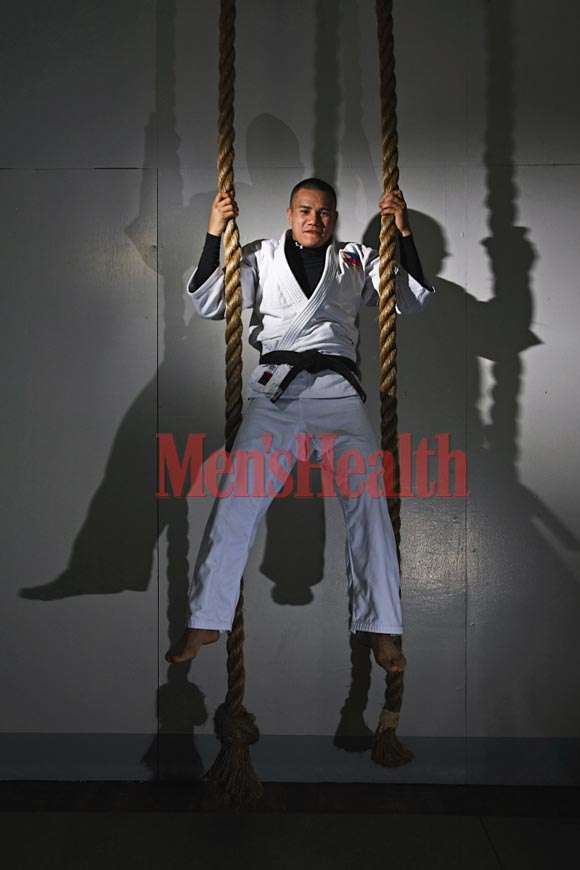 Make the Grade
Gilbert Ramirez refreshes conventional training wisdom
1. Find your own footing. "Umiikot ako dati sa mga UAAP schools para maki-train, until kinuha ako ng Ateneo mag-coach. Sinasabi ko sa mga nagtatanong: Ganito yung ginagawa ko, pero iba rin yung magiging laro niyo depende sa inyo."
2. Aim for global greatness, but treat every tournament with equal importance. "Mas kinakabahan pa nga ako sa national level, kasi pag dito ka natalo, hindi ka na makakaalis ng bansa [to represent]. Kung dito pa lang talo ka na, sa labas pa kaya?"
3. Rest an injury, but know there's an opportunity to get better despite it. "Pinupulido ko yung technique ko, na kahit na anong hawak ko or tayo ng kalaban ko, kaya kong ipasok yung bato ko. My experience is, kahit injured ka, wag kang titigil, kasi dun mo nahahasa yung laro mo."
4. Lick your wounds after a loss, but take it as a chance to come back stronger. "Pag natalo ka, doblehin mo pa ang training mo. Wag kang titigil. Pag huminto ka, back to zero ka na naman eh. Isipin mo habang tulog ka, nagtetrain yung kalaban mo."