BENJAMIN 'Ben' Grimes was born to be a race car driver.
His mother Marissa, a Filipina from the Bicol region, recalled how she had to give birth to her eldest son two weeks ahead of schedule because upon her regular check-up, doctors found her blood pressure a bit too high for a pregnant woman due to give birth within the coming weeks.
"I didn't feel anything wrong. I just had my regular check-up and then they told me I had to be wheeled to the operating room ASAP because my blood pressure had shot up," she said, surprised with the sudden turn of events back then.
"But I guess Ben was already racing to get out by then while still inside my womb," she said.
Nineteen years later, here now is Ben, a rising 6-foot tall Filipino-British driver trying to make a name for himself in the race track as he competes in his first major tournament since making the transition from karting to formula car racing.
The young driver is currently running seventh in the 15-man field main race of the Formula Masters Asian Series, considered as Asia's premier formula car championship competition.
The series is down to its final stage in Shanghai, China at the end of the month (Sept. 22-24) in which Ben hopes to finish within the top five.
"I'll be happy (to finish at no. 5) considering it's my goal from the start of the year, and considering my relative inexperience," said Grimes in a sit-down interview with SPIN.ph. "I think a top five finish out of 17 drivers is something to be proud of."
He could have placed higher in the standings going to the final leg of the series currently led by Daniel Lu of China and Ben's Pinnacle Motorsports teammate Taylor Cockerton of New Zealand had it not been for a damaged car he suffered during the second leg of the meet held in Malaysia.
"I didn't score that much point because I had a bad luck in the races. Three or four of the races, I got hit by another car, so my car got damaged and I couldn't run fast," he said of the incident.
"Hopefully, I'll have another strong round to finish off the season."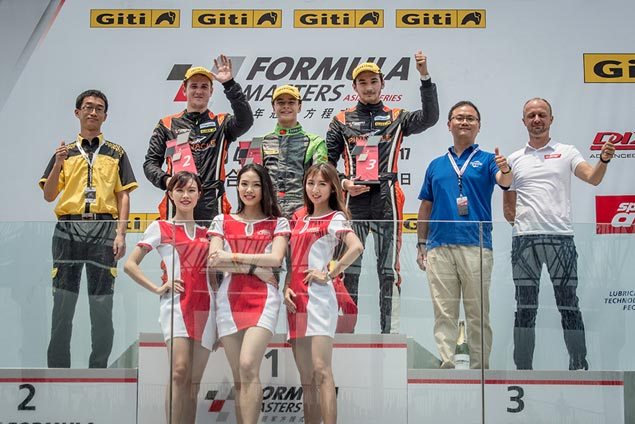 Ben had fellow Brit Lewis Hamilton as his idol, although racing does run in the family, according to him.
"My dad (Peter) never raced professionally, but he did do some stuff in cars. But my grandfather raced with Ducatis (before), so if there was a driving genes from the family, I could have gotten it from my grandfather (Frederick)," said the Fil-Brit.
His father likewise has an anecdote about his son's apparent affinity for cars, even as an infant.
"When Ben was a baby, the only way we could put him to sleep was to throw him in the back of the car and drive around the block," said the elder Grimes.
Eventually, Ben, the oldest of four siblings, began his love affair with driving by the time he was 11 after watching a go-kart race at Carmona.
He had success competing in karting races, highlighted by podium finishes in the Thailand National Karting Championship, Asia Rota Max Challenge race, Thailand Rotax Junior Championship, and even competed in the 2013 Rotax Grand Finals in New Orleans.
As a senior the following year, he saw action in the Asian Max Challenge and finished as vice-champion in the Thailand Rotax Senior Championship.
Ben also tried his hand in saloon cars when his days in karting races were over, competing in the Toyota Vios Cup with AUTS racing, before finally concentrating in formula races.
Hopefully someday, the young driver says a stint in the premier Formula 1 would be next. Of course, that depends on one important matter.
"That depends on money. Money is always the first thing that comes to mind in most sport, (racing) is an expensive game," he stressed.
"It's not an easy road to get there (Formula 1), but it remains my ultimate dream," added Ben.
Car racing is not the only one which interests Ben. He also used to play football, does triathlon, and loves basketball, cricket, and rugby, but has been fully focused on racing the past few years.
He is a holder of a dual citizenship, but always represents the Philippines when competing in international tournaments, saying, 'in terms of racing, you can have only one license, so I always represent the Philippines.'
Ben considers himself single despite admitting he's currently seeing somebody right now.
He graduated from Brent International School in 2016 and plans to take up any courses related to sports or business management either in the US or the UK should he decides to pursue his studies.
"Racing is my priority right now," said Grimes, who's the latest local driver trying to make a name for himself in racing sports after Marlon Stockinger, Michele Bumgarner, Mateo Guidicelli, and Gaby dela Merced.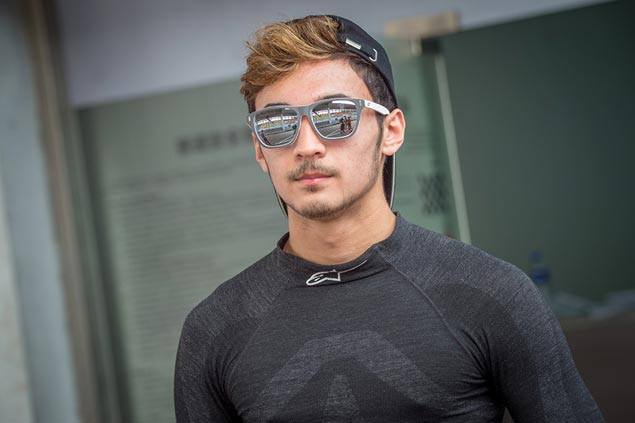 Ben is likewise the latest sports personality to be tapped by ALV Talent Circuit, which handles the careers of some of the country's top celebrities and athletes such as Manny Pacquiao, mixed martial artist Mark Striegl, golfer Jayvee Agojo, swimmer Alfonso Bautista, and fencer Maxine Esteban.
"It feels pretty good being mentioned (with them). Sometimes I feel like a small fish in a big pond," admitted the young driver. "Hopefully one day, I can become a big fish in that same pond."
He's also keeping his options open not only in terms of his racing career.
"Exposure is exposure. If I get offers to do modeling or show business, I guess I wouldn't say no for sure," he said.
First things first.
"As long as I can speak Tagalog," Ben said with a smile.
"I find it guilty of not being able to speak the language too well, but I can understand Tagalog fairly well, but speaking-wise I'm not great yet," he added. "I'm planning to take up lessons of how to speak given my Filipino heritage which is something I should be capable of doing."