MARK Striegl is the latest Filipino to be signed by UFC.
The Fil-Am mixed martial artist confirmed the news on his social media accounts and announced that he will make his cage debut next week.
"Today I signed with the UFC! A dream come true," he wrote on Thursday.
Striegl, 32, has been in Las Vegas for the past few months, training at Alliance MMA Gym and hoping that an opportunity comes his way.
"Like a lot of people, I was getting some quarantine weight with my family (in Baguio). I was still training, of course, because it's part of my lifestyle. So I'm working out every single day, put on a few pounds," he told The Hit List.
"Then I got a call from my coach (George) Castro. And coach Castro told me that Ruby Sports Entertainment, a management company over here that I'm signed with, if I can get to Las Vegas from the Philippines, there will be a very high chance that I get a UFC fight, especially during these COVID times. Just a lot of opportunities for fighters that are based in Vegas."
The gamble certainly paid off.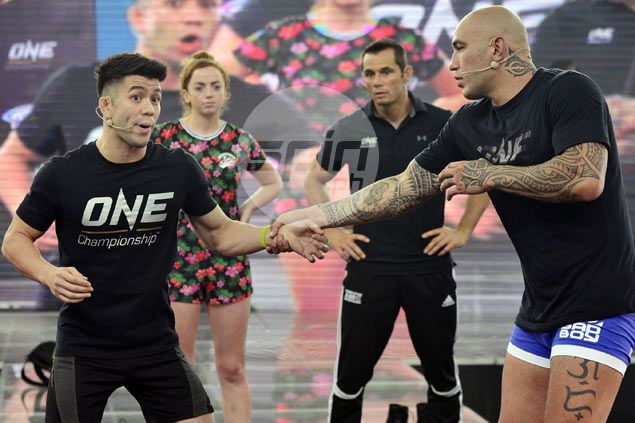 It's the biggest break for Striegl, who is the reigning URCC Featherweight Champion and a gold medalist in the 30th Southeast Asian Games in the men's 74kg combat sambo.
"To be honest, always at the back of my head, I thought that it was a possibility, especially these days when I'm at my prime right now," he said in the podcast.
Owning a 18-2 (1 NC) record, Mugen was on a four-fight win streak before his match against Shunichi Shimizu at URCC 77: Raw Fury back in April 2019 ended in a no contest for a low blow in the second round.
Striegl is set to take on Russian bantamweight Timur Valiev (16-2) at UFC Fight Night: Munhoz vs Edgar at UFC APEX in Las Vegas on August 22.
He follows the footsteps of Filipino fighters who made it to the UFC, namely Onassis Parungao, Brandon Vera, Mark Munoz, Dave Galera, Mark Eddiva, Roldan Sangcha-an, Jenel Lausa, Rolando Dy, and CJ De Tomas.