AS boxing's 'Bad Girl' makes her Mixed Martial Arts debut, recently single Jujeath Nagaowa looks to disprove theories about needing a male muse as she battles Indian kickboxing champion Jeet Toshi next month.
The pint-sized prizefighter's first MMA fight late last year was scrapped during a time when she was having trouble with her relationship. But now the boyfriend, also a boxer, is gone, Nagaowa said training has become much better since the split-up.
How well it works for her will be known on May 2 in ONE FC on May 2 Rise of Heroes at the Mall of Asia Arena, as she finally enters the cage.
"Naka move on na ko," said the fighter from Baguio City, adding that she is "inspired 10 times now that he's no longer around."
It seems a bold statement for a five-foot girl in a dress, who looked like she would need some protecting from harm.
But Nagaowa is actually now 26 and had had built a reputation as a fierce fighter in seven years as a boxer on home soil and on foreign ground, with 12 knockout wins in 26 fights. Nicknamed 'Bad Girl' in the boxing scene, Nagaowa was a former WBC Asia atomweight champion.
She revealed it has been three months since the breakup and having a boyfriend was an issue during her training last year when she was supposed to fight Malaysian muay thai contender Siti Syahida Binte Adek, a bout that was scrapped at the last minute.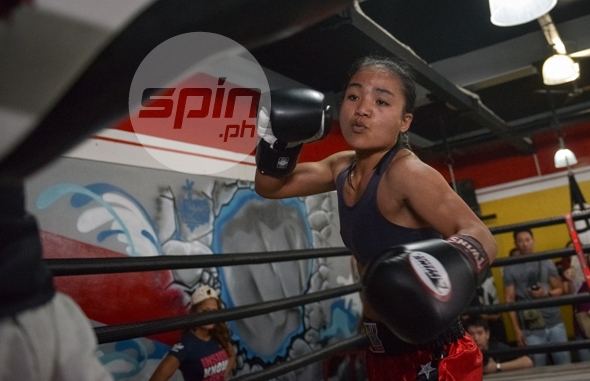 Now all is well for the single Nagaowa, and she hopes to take full advantage of being given the chance to show that Filipinas deserve a piece of the limelight in the male dominated sport.
"Magaling din sya (Toshi) pero kakayanin ko."
Nagaowa has recently joined Makati-based Team Insider, which provides her with a monthly allowance, food and accommodation within the gym compound.
"May training program na binigay sa akin yung gym ko sa laban ko na ito," Nagaowa said.
She said despite the cancelled bout last December, she maintained her conditioning and was even hired as a boxing sparring partner in Japan in February.
"I dream of defending a belt in the future."
Tickets for ONE FC: RISE OF HEROES are on sale now at SM Tickets (www.smtickets.com). VIP ticket (P6,360) holders get the full red carpet and cageside experience. Patron tickets are priced P3,180, Lower Box P1,280, Upper Box P640 and General Admission P220.