FEW athletes are more eager to bury 2016 in the past and get a move on into 2017 than Ronda Rousey.
The former UFC women's bantamweight champion, once touted as the 'most dominant athlete on the planet,' sought to end the past year with a bang in her first fight back from a stunning loss to Holly Holm in November 2015.
Instead, she got banged up, losing to Amanda Nunes via TKO in 48-second beatdown during UFC 207's main event.
It's Rousey's second straight KO loss after years of reigning over her division (and women's MMA in general) with an iron fist, an unapologetic-borderline-brash attitude, and a larger-than-life persona that helped her transcend into mainstream media.
Some could chalk up the loss to Nunes on a flawed game plan: Standing and trading with the superior striker in Nunes rather than creating chaos and capitalizing on the fray, when she should have taken the fight to the ground where she's most dangerous. Others also attribute her defeat to a loss in confidence, a result of a devastating head-kick KO from Holm that shattered Rousey's perfect record together with her air of invincibility.
But no matter what it was, the writing's on the wall. Rousey, once unbeatable and the depiction of mental toughness and fighting prowess, was outclassed and outstruck by Nunes, who brilliantly and flawlessly secured her first UFC title defense.
While Nunes is ready to take on and topple her future challengers, Rousey's future is shrouded in mystery, with only one of two routes she can take — retire or rebuild.
ADVERTISEMENT - CONTINUE READING BELOW ↓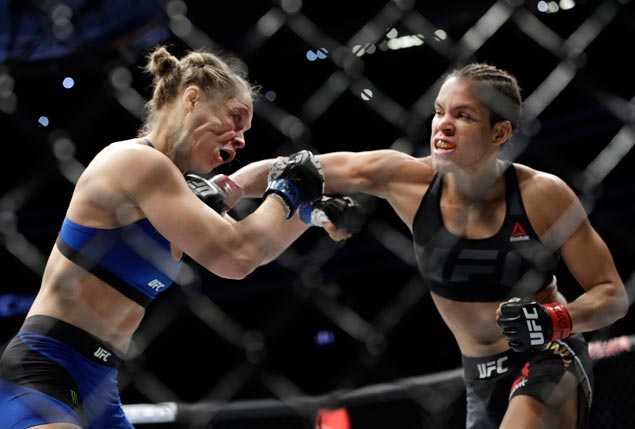 Rousey's mother voiced out that she'd like to see her daughter retire and pursue other opportunities following the loss at UFC 207. After all, her fame is unprecedented amongst non-hardcore MMA fans. She's been in movies and on television, and she could make plenty of money without having to get punched in the face.
Rousey could very well leave the unforgiving sport of MMA and follow the lure of Hollywood while she's still young and relevant, similar to the path Gina Carano took.
'Conviction' Carano was the face of women's MMA before Rousey came along. Beautiful, talented, and marketable, Carano helped turn more heads towards women's MMA. But after her first loss against Cristiane 'Cyborg' Justino, Carano hung up the gloves and headed straight to Hollywood.
Rousey, though, chose to get back into the cage in search of redemption. Though admirable, it may also have been the final nail in the coffin of her MMA career. Now, with her air of dominance gone and with the women's bantamweight division seemingly surpassing her, it wouldn't be a surprise to see Rousey take her talents elsewhere.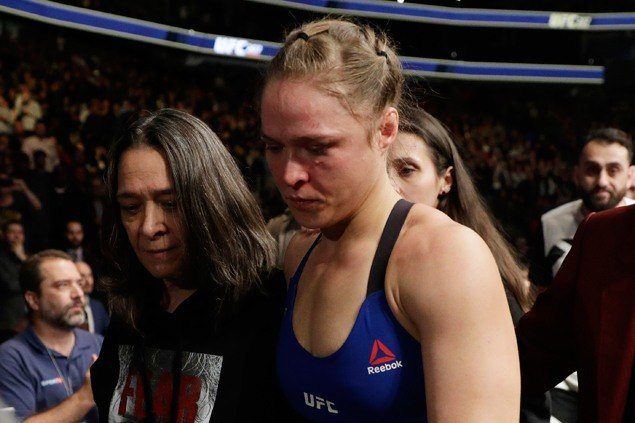 But if Rousey were to retire at this point, then it would arguably mark one of the greatest downfalls in sports history. Yes, many greats have lost before she did. But from the heights at which she crashed, how she fell, and how she's infamously unable to piece herself back together, not just as an athlete but also as a person, is unprecedented in the sport.
Is this really how she wants to be remembered? The former MMA queen flaming out at age 28, before her prime as an athlete?
Note that she's only been an MMA fighter for less than six years, so it comes as no surprise to see her commit the mistakes she's making now. Rousey hasn't been in the game long enough to really solidify a complete arsenal of skills, nor know how it feels to dig deep in an MMA fight when the chips are down.
ADVERTISEMENT - CONTINUE READING BELOW ↓
It's that lack of experience that got exposed in her last two fights against Holm and Nunes, who have been professional fighters for over 20 years combined.
No doubt this is a tough spot for Rousey. The only life she's known as a UFC fighter has been as a headliner, the main event. But it wouldn't be the end of the world for her to be a contender for a change, for her to climb the ranks against top-10 fighters.
If she loses there as well, then perhaps that's the more telling sign to hang it up. But fighting as a contender, earning her stripes, and not carrying the weight of the card (or the sport) on her shoulders would allow her to grow as a fighter and gradually catch up with the game that has seemingly evolved without her.
To those hoping that Rousey chooses to fight for redemption, there's good news. Days ago, she broke her silence for the first time since her UFC 207 loss by posting a quote from famed Harry Potter author J.K. Rowling via Instagram:
This line was an excerpt from Rowling's 2008 Harvard Commencement speech, where she discussed failure, and how it set her free and helped her rebuild her life. Rowling said she hit 'rock bottom' when she became an unemployed, divorced single mother and 'as poor as it is possible to be in modern Britain, without being homeless.'
The full quote goes:
"So why do I talk about the benefits of failure? Simply because failure meant a stripping away of the inessential. I stopped pretending to myself that I was anything other than what I was, and began to direct all my energy into finishing the only work that mattered to me. Had I really succeeded at anything else, I might never have found the determination to succeed in the one arena I believed I truly belonged. I was set free, because my greatest fear had been realised, and I was still alive, and I still had a daughter whom I adored, and I had an old typewriter and a big idea. And so rock bottom became the solid foundation on which I rebuilt my life."
There's still no telling where Rousey will go from here. She may choose to pursue fighting (hopefully after honing her skills with a high-caliber coach and team that know how to produce champions), or she may choose to rebuild in some other arena.
However, for the first time since her loss to Nunes, it appears that Rousey is acknowledging, accepting, and coping with failure, which is more than what she showed following her loss to Holm. This may be a sign that 'Rowdy' is ready to bounce back, free from the fear of failure.
And if hitting rock bottom was the catalyst for Rowling's greatest work, then this might mean that Rousey's greatest masterpiece is yet to come.
Gab Pangalangan is the founder and president of DojoDrifter.com, the Philippines' ultimate source of the latest MMA news, trends, training updates, and insights. He's also a judo and jiu-jitsu champion.
ADVERTISEMENT - CONTINUE READING BELOW ↓