(The story first appeared in the Men's Health, February 2013 issue)
HAD Erika Padilla opted to become just a spectator of Philippine Basketball Association (PBA) games, you would've seen her rooting for her once favorite team, Ginebra. She would have her fists up high with her game face on as she screamed profanities at the opposing team. She would have been fan numero uno, the type who'd have few inhibitions about letting the whole coliseum know where her loyalties lay. After all, she and her sisters may have initially gotten into the sport because they'd found the players cute, but it didn't take long for them to become true fans.
Today, the current Ginebra team is a product of numerous name and lineup changes. Meanwhile, Erika is far removed from being purely a spectator; she now lends her gregarious personality to the PBA as a courtside reporter.
In the two years she's been on the job, her poise has seen her through some of the most exciting games, but it was once put to the test when she became the object of a now infamous post-championship dugout drenching that went viral on YouTube. This had to be asked: "What went through your head?" To which she offers this steady response: "I have to be able to do this properly. Yun lang ang goal ko, do this properly kasi sabi ko, alam ko na mababasa ako, pero sabi ko na kailangan ko lang matanong 'yung dapat kong matanong."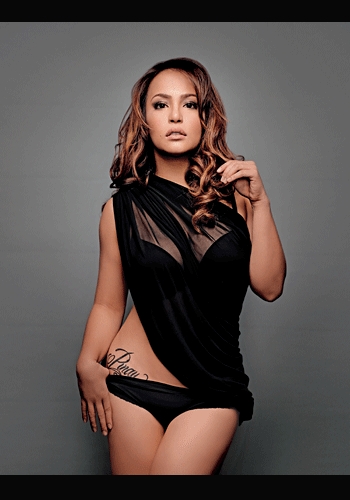 For Padilla, who also dabbles in acting, the job entails portraying a role, though the approach toward this particular one is more personal: "[On TV,] the characters themselves are drafted by the writers, such that it is already appreciated by the people, and you're just interpreting it and delivering it," she says. "Whereas, being a reporter for sports, ikaw lahat! Ikaw 'yung producer ng sarili mo, ikaw' rin ang magiisip, 'Anong damit ko for today? What will I discuss?'"
Padilla treats the role as she would a starring part in a movie — she's never content, always pushing herself to do better. "It's not just about knowing who [the players] are, but going that extra mile to push the story. It's in the little details kasi dun mapapakita how persistent you are, how dedicated you are, how sacrificial you are, and how much you respect the things that you do."
But she also admits that the transition from being a fan to a more active form of participation had been a challenge —and not just because she had to get used to not visibly fawning over the players she used to have crushes on. "You have to constantly learn how to present yourself. Even if you have something substantial to say, if you can't deliver it properly, wala rin. The challenge is not only knowing basketball, but also being the right person for it."
As an onscreen talent, part of being the right person for the job and presenting yourself is staying fit and looking good. For Padilla, this was actually the easier part because, as far back as her high school days, she has always believed that the body is a tool you can use to accomplish tasks and goals. This is why she believes it's important to stay healthy. With that mindset, fitness has become an indelible part of her everyday life. "[Staying fit] is just like taking a shower, it's just like having lunch — it's something that has to happen. If it's part of your lifestyle, hahanap-hanapin ng katawan mo 'yan."
But with a hectic schedule that would overwhelm most of us, how does she  get to do everything she needs to accomplish? Padilla believes it's all about maintaining focus. "There will always be time for each facet of my personhood, so focus talaga. It's a matter of living each day one at a time and being there at the moment. You might as well deliver the best that you can give."
Respect, Padilla says, is one of the things that she ultimately wants to gain. And you'd better believe that, with her focus and determination, she'd be able to get it sooner rather than later — come hell, high water, or sparkling champagne showers.
ERIKA FILLS IN THE BLANKS…
To make you consider going out for a second time, a man should show enough consistency.
The three traits you look for in a guy are: Respectful. 'Yung dalawa medyo superficial: gwapo and mabango! (laughs)
Your idea of an ideal date is: Simple lang akong tao. Kahit DVD and pizza nights on the couch, okay na ako.