IT'S been three years since the last time he lost, yet Max Holloway is still eager to prove it was a fluke.
And it wasn't against any other foe, but someone who has emerged as the biggest name in mixed martial arts today.
The 24-year-old MMA star is looking to avenge his defeat at the hands of Conor McGregor in 2013, a rare unanimous-decision win for the latter.
"He (McGregor) was injured: that's the excuse he and his fans like to use," Holloway said in a chat with media after his open workout at SM Megamall to promote UFC Fight Night Manila next month.
"That's why he couldn't finish me this and that," added the Hawaiian, only the first of two men whom McGregor failed to finish via knockout or submission--the other being Nate Diaz.
While McGregor was on his path to superstardom when he survived Holloway, the latter started to tread his own impressive trail quietly, having won his last nine fights, although without title implications.
ADVERTISEMENT - CONTINUE READING BELOW ↓
"All I know is his coach keeps talking about how besides his fighter, I'm the best guy in the division," Holloway, the third-ranked featherweight, said, referring to one of the trainers of McGregor, who has moved on from Holloway and chosen to fight big-name fighters instead.
"He's trying to do it the money way, but a money fight is Max Holloway and a lot of people want to see me fight," added the No.3 ranked UFC featherweight, who has won 16 of his 19 pro fights. "A lot of people want to see me fight McGregor more than he wants to fight me."
"But they know and they're being real that I can't get McGregor, they want to see him fight (Jose) Aldo, so he just needs to stop thinking whatever's in his mind. It's been all over the place lately, but let's just see what happens."
If another McGregor battle materializes, Holloway will seize the opportunity.
ADVERTISEMENT - CONTINUE READING BELOW ↓
"I'm going to go out there and I'm going to put my will on him," the flamboyant American fighter said. "When you go out there and you bring the fight to him, he doesn't want to fight you."
"He's a hell of a hammer, but we saw a couple of fights – that one fight with Nate that he gives up, so I'm going to make him question his will," he added. "I'm going to make him question if he wants to be a man."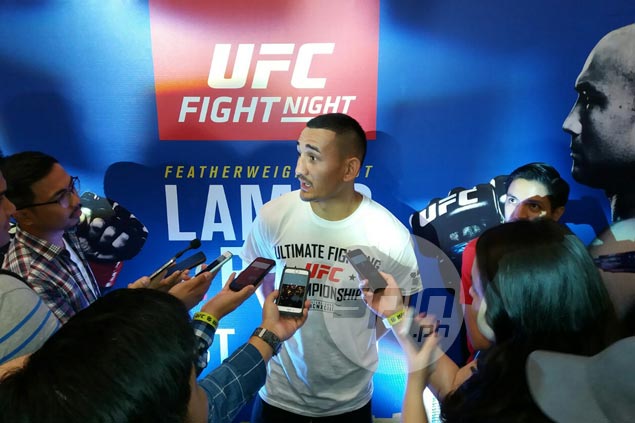 ADVERTISEMENT - CONTINUE READING BELOW ↓