QUINTON 'Rampage' Jackson is one of the world's most renowned mixed martial artists who nurtured his early MMA career in the King of the Cage.
Now the former Ultimate Fighting Championship light heavyweight title holder returns to where he nurtured his career to prove that aspiring fighters, especially Filipinos, can make it to the big stage.
"I think any fighter, no matter what race, if they put in the time and the heart and they have the determination, can make it," said Jackson, who, along with UFC referee Herb Dean, is set to grace the inaugural staging of the American-based MMA tournament in the country on Friday at the Mall of Asia Arena.
"You got to start somewhere and the King of the Cage is the perfect place to start," he added. 
Twenty local fighters are set to show their wares following a rigorous selection process by a panel headed by local MMA icon Erwin Tagle.
Two international bouts are also featured in the event, including the World Middleweight Championship fight between American Sean Strickland and Japanese Yuske Sakashita.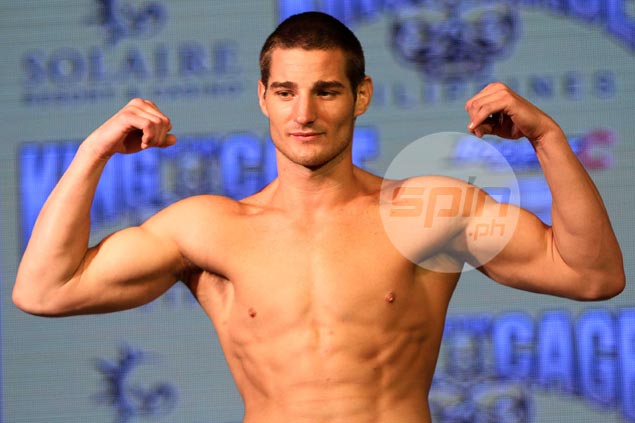 All the fighters breezed through the official weigh-in held Thursday at the Solaire Resort and Casino Hotel.
Tagle welcomed the arrival in the country of the California-instituted MMA outfit that has produced over 500 events since it was founded 15 years ago and now averages 50 shows in eight countries per year.
"Maganda `yung timing ng pagdating nila dito. Ang pinaka-kaibahan nila (sa ibang MMA outfit), nagfo-focus sila sa Filipino fighters," Tagle said of the KOTC, which has produced the likes of UFC icons Rashad Evans, Thiago Alves, Urijah Faber, and Diego Sanchez.
"Kita naman natin sa past few events na ang mga Pilipino laging na-mi-mismatch o kung hindi, natsa-tsambahan ng mga foreigners, so ang target ng King of the Cage ay to develop Filipino fighters by making them compete with each other."
Among the fighters in the card, Tagle named featherweight Mike Bunag of Fist Gym and heavyweight contenders Jeff Torrico and Patrick dos Santos among those to watch out for.
KOTC founder Terry Trebilcock said the 20 Filipino fighters all signed five-year contracts with the organization, which he said is far different from the rest of the MMA outfits in the country.
"These fighters will get the opportunity to fight four, five times a year and get a chance to get themselves into a position of contending at a world-class level in two or three years, being able to get ten to fifteen fights under their belt.
"That's not an opportunity they're going to get probably anywhere else," added the founder, who insisted KOTC is not trying to compete with other MMA outfits.
"I don't think we have an edge. I think we run a different program. I'm very happy with all the programs. I won't take a knack at those other shows."
"Our plan is to develop the Philippine market and make it global. It's completely different from what the other (organizations) are doing. I don't want to say it's better, but it's different."