DANNY Kingad fell short of taking home the One flyweight title as he dropped a submission loss to the very impressive Adriano Moraes in the co-main event of One: Legends of the World Friday at the Mall of Asia Arena.
Moraes caught a leg kick from Kingad and dropped the Team Lakay youngster early in the round before working on his ground game where he had a distinct advantage.
The end came when Moraes took Kingad's back and put on a rear naked choke, forcing the submission with 15 seconds left in the first round.
"This night was amazing for me. It was a tough fight against Danny Kingad. He has a big future ahead of him but now it's my time," said Moraes.
"This is my house, this is my belt, this is my class," he added.
Meanwhile, Kevin Belingon displayed his usual tenacious approach as he smothered Kevin Chung in a crucial bantamweight clash en route to a unanimous decision victory.
Coming off a big victory over Reese McLaren last August, the explosive Belingon pushed the pace early which threw his Korean foe off guard. 
Belingon landed strong body kicks before connecting on a big right hand which floored Chung early, much to the delight of the jampacked crowd at the MoA Arena.
Chung tried to take control of the match by scoring takedowns in the next few rounds, but Belingon wasn't having any of it, displaying much better submission defense this time around. 
By the end of the match, Belingon got the nod from all three judges to improve to 17-5. Chung, on the other hand, dropped to 4-1.
"I was surprised, Kevin Chung is a tough fighter. I did what I did, getting those hard kicks and punches. I'm just defending his takedowns and submissions," said Belingon.
"I'd like to say thank you to the crowd here. I hope you keep on supporting us and One Champioship," he added.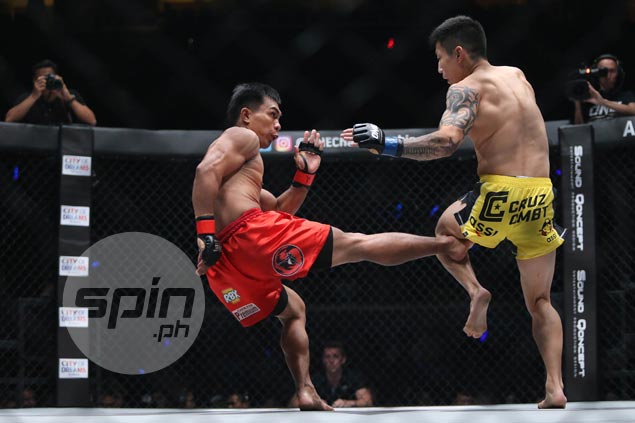 On the other hand, former world title contender McLaren was successful in his debut at flyweight as he submitted Anatpong Bungrad via rear naked choke in the first round.
Alex Silva was also impressive in his strawweight clash with Hayato Suzuki, overwhelming the Japanese on the ground before finishing things off with an armbar late in the first round.