MEGGIE Ochoa and Annie Ramirez won another Asian gold on Tuesday when they ruled the Asian Indoor and Martial Arts Games jiu-jitsu to give the Philippines its first two gold medals in the multisports event in Ashgabat, Turkmenistan.
Ochoa beat Dao Le Thu Trang of Vietnam, 5-0, in the women's Ne-Waza -45kg final for the Philippines' first gold in the competition, before Ramirez followed suit minutes later after beating Jenna Kaila Napolis, 5-0, in an all-Filipino showdown in the women's Ne-Waza -55kg division.
Ochoa and Ramirez also took the gold medals in the Asian Beach Games last year, the Philippines only mints in the competition held in Danang, Vietnam.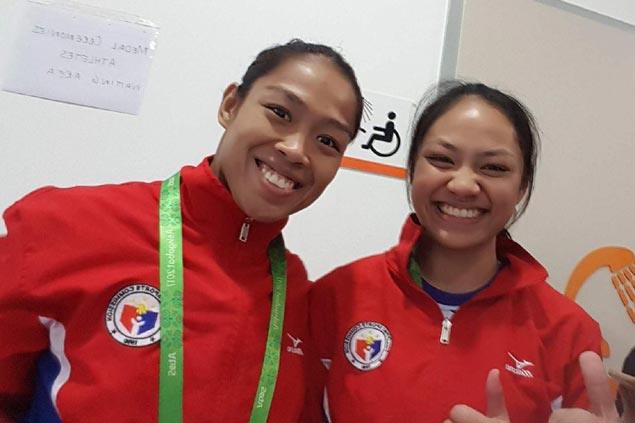 Continue reading below ↓
Recommended Videos
On Monday, Marc Alexander Lim finished with a silver medal for jiu-jitsu's first medal in the Games.
Lim, a purple belter, was on top of his black-belter opponent majority of their six-minute encounter in the -65kg men's Ne-Waza. The 20-year-old native of Davao City had a few chances of forcing Alkirbi into submission but failed to capitalize on his opportunities.
In the final moments of the match, however, Alkirbi was able to escape Lim's stronghold and got better positioning to score the crucial points in the last 17 seconds for the gold medal of the match held at the Martial Arts Indoor Arena.
Lim settled with the silver medal, the first for Team Philippines competing here in AIMAG, and second medal overall after Alvin Lobriguito earned a bronze in freestyle traditional wrestling.
"It would have nice to have ended it with a win, or at least 0-0 (referee's decision)," Lim said. "I'm very happy to have delivered a medal, but I would have been happier if it's a gold, so I can't really say that I'm happy with the silver."
Lim went through five tough assignments to make it to the finals – where Alkirbi proved to be a difficult match.
"I have to learn from it. It's actually my third time fighting him. He's the only guy that I bumped in to that I have beaten yet. I'm getting closer and closer every time. In jiu-jitsu there's a belt system… he's a black belt, I'm purple belt," said Lim.