(The article first appeared in the September 2012 issue of Men's Health Magazine. For more click on: https://www.facebook.com/menshealthphilippines)
MONIKA Sta. Maria is a natural head turner. Standing 5 feet 10 inches, with expressive eyes, long legs, and a runway-worthy walk, you'd be hard-pressed not to notice her if she crossed your path — especially with that teasing smile guaranteed to make any man's knees buckle. But while modeling comes naturally to her when she's in front of the camera, she reveals it wasn't always her passion. "I was a volleyball player in college, and I loved it so much," Sta. Maria says. "But I wasn't successful with it."
Realizing she wouldn't go far with her chosen sport, the idea of becoming a model appealed to her. "I thought I could do
modeling kasi kasing tangkad ko 'yung mga totoong model," she says, laughing. Her gamble paid off as she won this year's Century Tuna Superbods competition and secured a regular hosting gig on TV5's Game N' Go.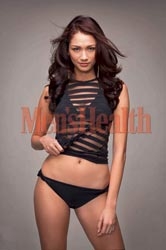 To make sure she's ready for more opportunities that come her way, she keeps working hard on her physique, using the same athlete mindset she had before. "In modeling you have to keep yourself in shape," says Sta. Maria. "But because of [my experience playing] volleyball, I know how hard my body can go during workouts." And she's not your ordinary model, either—at least when it comes to how you think the reed-thin ladies eat. "I'm not strong enough to crash diet because I really, really love food," she says. "So I try to look for yummy, healthy food or compensate with exercise if I indulge." With such adherence to a balanced lifestyle, we're sure Sta. Maria will only continue to turn more heads her way.
Monika fills in the blanks:
The first thing I notice in a man is… his eyes. Gusto ko 'yung really expressive, like you'd know sa mata if he's happy or sad.
I feel at my hottest when… I've just finished a good workout. Kasi there are times when I don't workout, and I don't feel hot at all. When you've exercised, you have a happy [and confident] disposition.
Men are like volleyball because… like the game, they're unpredictable.
If you're buying me a drink, you should… ask me first! Masasayang lang s'ya kung hindi ka magtatanong.
The best compliment you can give me is… that I'm beautiful. Some people won't tell you that. I don't like "sexy." I don't like "hot." Mas real s'ya if you just say "beautiful."
Pick up lines are… funny! I know sometimes they're cheesy, but I don't find it annoying. Sa sobrang lame, nakakatawa lang.