CONOR McGregor is converting haters into believers, whether they like it or not.
Allow me to come clean first: I'm one of those who doubted 'Mystic Mac.' After all, McGregor got a featherweight title shot against Jose Aldo without having gone through supposed match-up nightmare Frankie Edgar or a full-camp Chad Mendes. He's also shown no respect for his opponents leading up to his fights, least of all Aldo, a long-time champion and a revered figure in the sport. McGregor seemed like a hype job who was fed opportunities by the UFC, all the while running his mouth and talking a big game that he couldn't back up.
However, with every fight, be it in victory or defeat, McGregor has erased any notion that he is nothing but hype and a heavy left hand.
His first step in proving his place amongst UFC greats came in the form of a record-setting 13-second knockout of one of the most dominant champions in MMA history. 'Mystic Mac' floored Aldo with the first punch he threw to win the UFC's featherweight strap last December. It was the fastest title win in promotion history.
ADVERTISEMENT - CONTINUE READING BELOW ↓
In his next bout, however, the brash Irishman had his veil of invincibility pierced, losing to short-notice replacement Nate Diaz via submission in UFC 196 last March. But even in defeat, McGregor won over some fans by humbly accepting his loss and vowing to rectify it.
From there, he made the necessary adjustments to beat Diaz via decision in their rematch five months later. It wasn't the most dominant performance by McGregor, but you could tell that he learned from his mistakes in the previous fight and had put in work to correct them.
All these proved McGregor to be a skilled and improving fighter, but his performance at UFC 205 made him something else entirely.
In the main event of the UFC's first ever card in New York City, McGregor took on lightweight champion Eddie Alvarez.
No doubt, this was an opponent unlike any other McGregor had faced before. A former Bellator lightweight champ, Alvarez recently won the UFC lightweight belt by first-round TKO over the dangerous Rafael dos Anjos. Alvarez boasted superb conditioning, knockout power, excellent wrestling (the perceived Achilles heel of McGregor), and a wealth of experience fighting high-caliber opposition.
ADVERTISEMENT - CONTINUE READING BELOW ↓
Alvarez was also trained by Mark Henry, the same renowned coach who trains former lightweight champ Edgar, believed to have the style to beat the Irishman. Many thought that Alvarez would finally put McGregor on his back and keep him there, pounding away until the referee pulled him off.
That wasn't the case. At all.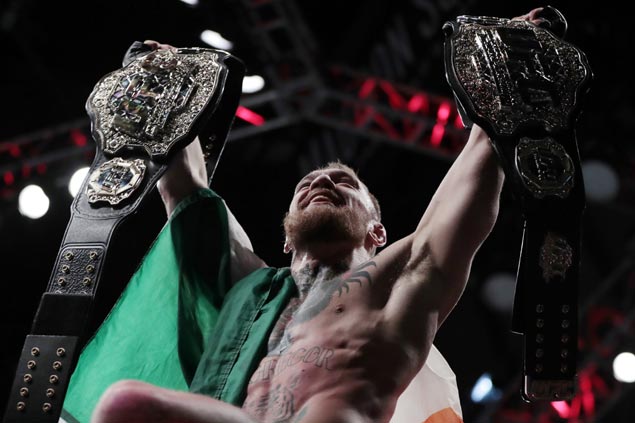 ADVERTISEMENT - CONTINUE READING BELOW ↓
McGregor, a master of gauging distance and counter punching, dropped Alvarez three times in the first round. In the second round, he finished off 'The Underground King' via TKO. McGregor defended Alvarez's takedown attempts and took virtually zero damage, an amazing feat given that he fought a fighter of Eddie's caliber.
The fight in itself was brilliant, but its weight in MMA history made it more so. The win not only gave McGregor the lightweight strap, but it also made him the first and only man to hold UFC titles in separate weight classes simultaneously. He is now in a class of his own.
Love him or hate him, McGregor will no doubt go down as one of the greatest MMA athletes the sport has ever seen. He could retire today and his name would still be forever etched in the history books for these rare achievements.
You may not root for him, you may not like him, you may even tune in to his next fight solely for the chance to see him lose. But you have to pay this man his dues.
ADVERTISEMENT - CONTINUE READING BELOW ↓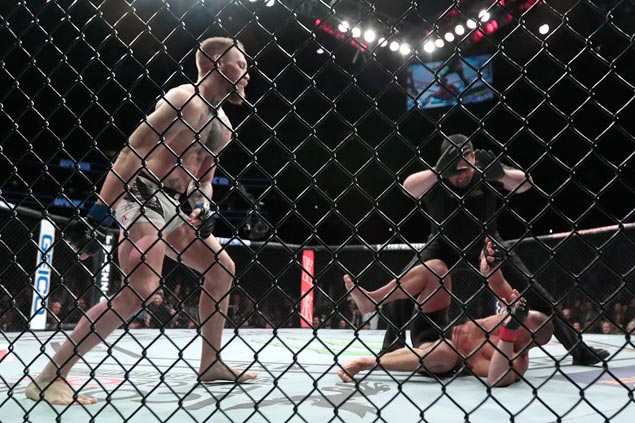 He's fought four times in the last 12 months. He's bounced back from defeat. He's broken records. He has never withdrawn from a UFC fight due to injury or other reasons. He accepts opponents on short notice. He never misses weight. He's avoided lawsuits and has no cases involving PEDs or illegal drugs. He shows his face even after an embarrassing loss. And to top it all off, he's doing things we've never seen done before.
ADVERTISEMENT - CONTINUE READING BELOW ↓
McGregor's feat should have the same effect on his doubters the same way LeBron James silenced his critics after winning a long-awaited championship for Cleveland. You simply can't hate on greatness.
Gab Pangalangan is the founder and president of DojoDrifter.com, the Philippines' ultimate source of the latest MMA news, trends, training updates, and insights. He's also a judo and jiu-jitsu champion.