EDMONTON — When Arjan Bhullar climbed the UFC octagon for the first time on Saturday night, he didn't just reach the loftiest peak of MMA competition, he carried with him a quest greater than personal glory.
In front of a sold-out crowd of 16,232, majority of whom were Indo-Canadians cheering him lustily inside Rogers Place, Bhullar admitted having some "standard nerves" prior to his anticipated debut.
But his experience as an Olympic wrestler, representing the colors of Canada, plus being a star at the Battlefield Fight League (BFL) carried him through.
Born in Canada to Indian parents, the 31-year old Bhullar, listed at 6-foot-1 and 240 pounds, fought Luis Henrique of Brazil, a 24-year old lion who stood at 6-foot-2, in a heavyweight bout.
Showing little hesitation, Bhullar quickly went to work and knocked down Henrique in the second round, where he also lifted his much younger foe before slamming all of his 243 pounds hard on his back.
Henrique, who threw haymakers looking for a quick knockout in the opening round, made a late charge in the third stanza but Bhullar adroitly weathered the storm en route to a unanimous decision victory.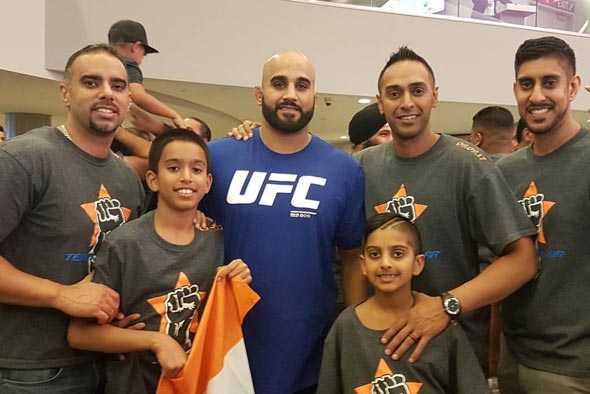 "It was amazing, man ... Everything went according to how we foreseen it, and you know what, the fight went good, too. More than anything it was special to hear that crowd out there," Bhullar said at the post-fight press conference where he commanded the stage with his wit and easy charm.
Unbeaten in seven fights, Bhullar spoke briefly to SPIN.ph and said he is excited to continue on with UFC, although nothing is set yet for his next fight.
After a triumphant evening, with his friends and relatives witnessing the joys a historic feat being accomplished one blow at a time, Bhullar allowed himself to enjoy the moment. He then went back to work mode and made it clear that his win on the octagon was less about his achievement but more about the advancement of his sport within his community.
"Wrestling has a huge history in India," he said, and he wants to open the floodgates for UFC to invade a huge market that is populated by over one billion people.
"The NHL can't do it because there is no ice. The NFL won't do it because the equipment won't make sense for those kids and the game they won't understand. The NBA has a chance but there is no athlete. So this is the one the people will understand, it's a hybrid of wrestling, they will get it. I will crack that market for them."
Bhullar's selflessness was stunning but not surprising. It was a mere echo of what he previously told the Vancouver Sun last May after he signed and eventually became the first Indo-Canadian to compete and triumph in the world-renowned UFC.
"Accolades and accomplishments are always going to be surpassed — that's the way it is — but I think the impression you leave on people, that's your lasting legacy, and I'm huge on legacy."
With the stiff competition at UFC, there is no way to tell how far Bhullar can take his heavyweight prowess. But one thing is sure: His place in history his secure, a niche that his fans and supporters will forever cherish.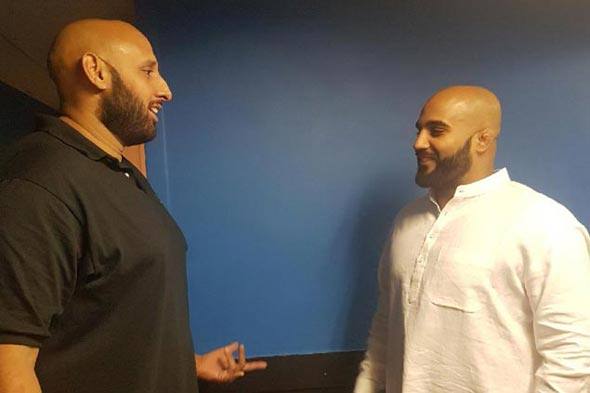 UFC 215 A STUNNING SUCCESS. Although the main event was canceled after Ray Borg (viral infection) pulled out of his flyweight championship showdown versus Demetrius Johnson, UFC 215 was a stunning success.
A soldout crowd of 16,232 attended the event, earning $2.4 million Canadian dollar at the gates.
Amanda Nunes' bantamweight title defense against Valentina Shevchenko was elevated as the main event, close fight in which Nunes (15-4) eked out a close split decision win over a game Shevchenko (14-3).
In the co-feature, Rafeal Dos Anjos (27-9) submitted Neil Magny (19-6) via arm-triangle in the 3:43 mark of first round. A former lightweight champion, Dos Anjos is seeking his second UFC title belt, this time at welterweight.