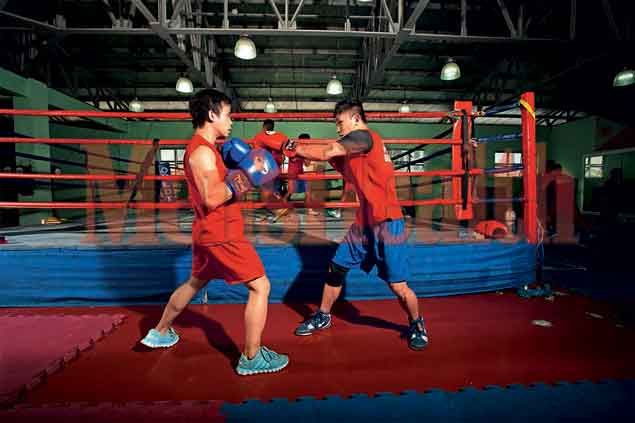 THE members of the Philippine Boxing Team train with two things in mind: to build a cardio base that will allow them to withstand the rigors of a 2-minute round, and to increase their punching power for that decisive win. "Basically they're short sessions, but they build explosive strength and challenge their capacity to work," says Mark Limbaga, an RKC and StrongFirst certified trainer and strength and conditioning coach of the National Boxing Team.
That's precisely what you'll experience doing the two routines Limbaga plotted for us. Made with three compound movements for each, they're a tag-team workout for both endurance and explosiveness. You'll only need less than 30 minutes for each, so there's no room for excuses. The only thing left to ask is, are you ready to work until the final bell sounds?
 
DIRECTIONS:
Alternately do each workout after a day's rest. For example, do workout 1, rest a day, then do workout 2, resting again for a day before returning to 1. The next week, start with workout 2 first.
 
WORKOUT 1
How to do it: Set your timer for 15 minutes and alternately do 10 reps of exercises 1 and 2 until the time is up. Take a breather when you need to but keep it short. Rest for two minutes max, then set your timer for 10 minutes. For every minute, do 10 reps of exercise 3, then use whatever time left for rest. Keep doing this until you complete the time.
 
1. Push-ups
A) Assume the push-up position with your arms straight maintaining a straight line from your shoulders to your heels B) Lower yourself by bending your elbows until your chest is close to the floor.
 
2. Kettlebell Squat
A) Stand holding a kettlebell with your feet hip-width apart. B) Lower yourself by pushing your hips back and bending your knees going as low as you can. Keep your back straight at all times.
 
3. Double Arm Kettlebell Swing
A) Stand in a semi squat position with your hips low and your back straight, holding a kettlebell on the ground with both hands. B) Swing the kettlebell back between your legs. C) Keeping your back straight, swing the kettlebell up to shoulder level by driving your hips forward and squeezing your glutes. Remember to let the momentum swing the weight rather than lifting it with your arms.
 
WORKOUT 2
How to do it: Set your timer for 15 minutes and perform one quality rep of exercise 1 for each side then rest until you feel you can do another set. Keep going until time is up. Rest two minutes, then do exercise 2 with your right arm, followed by 10 reps of exercise 3. Do the same this time with your left arm. That's one round. Do five.
ADVERTISEMENT - CONTINUE READING BELOW
 
1. One-arm Push-ups
A) Take the push-up position with your left arm on your back, resting your weight on your toes and right arm. B) Bend your right elbow to do one push-up then go back to the starting position and switch sides.
 
2. Kettlebell Bottoms-up Walk
A) Stand holding a kettlebell upside down from the bottom handle with your right hand. B) Engage your core while walking 20 meters.
 
3. Single-arm Ketllebell Swing
A) Start in a semi-squat position, hips low and back straight, holding a kettlebell with your right arm. B) Swing the kettlebell back between your legs and stretch your left arm behind you. C) Swing the kettlebell up to shoulder level by driving your hips forward and squeezing your glutes as your left hand swings forward. Let the momentum swing the weight rather than lifting it with your arm. Do 10 reps.