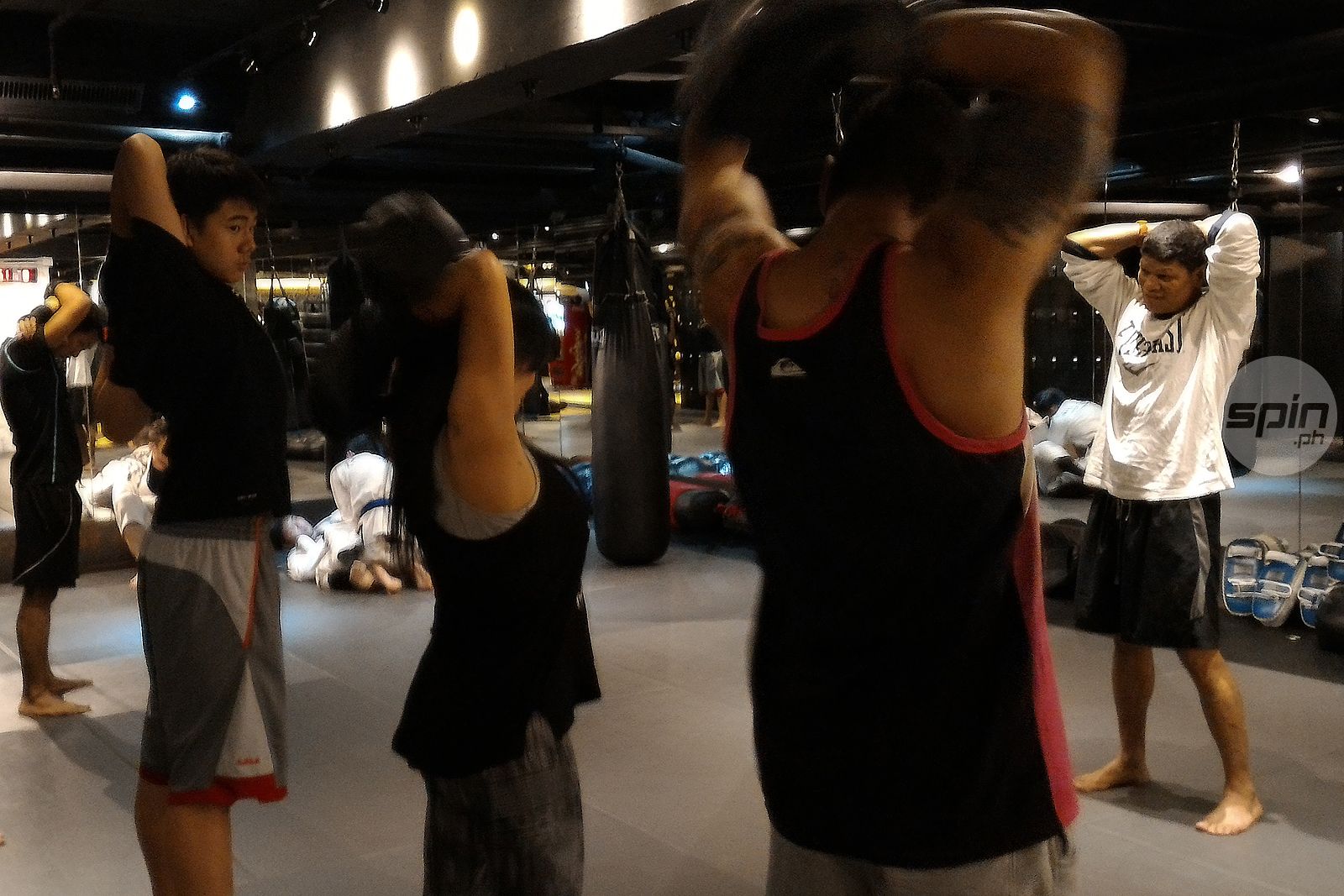 "Power, power …. Go…. More … A few more … Again …"
It's mitts session in one of Luisito's classes at the Mong Kok gym of Everlast Fight and Fitness, where he is head boxing coach to a group of amateurs and new learners. On this Friday afternoon, he has three of his more serious and promising students with him. Their brief is to throw voluminous left-right-left-right combinations before shifting positions and firing punches again. The work is serious but the atmosphere loose, as a barefoot Luisito puts his students through their paces. His voice is like a jab, unrelenting and firm – but always friendly. Playfully, he pushes them to give more whenever he sees their energy slipping. When a student's shoulders finally sag from the exertions, he calls on the next one to join him in the ring. And the drill continues.
Luisito smiles and laughs a lot. He likes poking fun at his students. So unlike the serious, no-nonsense champion fans have come to know from looking at old photos of him.
"Power, power . . . Don't give up. C'mon …. That's it? Nothing more?"
Luisito at work is a joy to watch. He's loose, full of energy and banter. He radiates happiness. Like a kid who has just received a shiny red bike for his birthday.
The mitts session lasts two hours, non-stop – and it's just the start of a hectic half-day. Shortly after, he's hurrying to the MTR Station to take the train to Causeway Bay, where another group of five students, including two Filipinos, are waiting for him at the main Everlast gym.
"Hindi ako napapagod, OK lang,'' Luisito says of his busy six-day work week.
Asked if his shoulders don't hurt from all the training, he shakes his head and replies: "Gusto ko yung para akong namamanhid. Kahit masuntok ang kamay ko at ang daliri bumabaluktot, sige tuloy pa rin. Hindi ako sumusuko.
"Gusto ko yung masaktan ako. Hinahanap ko yun.
"Huwag lang akong tamaan sa mukha," he adds laughing.
Luisito knew nothing about Hong Kong when first offered a job in the territory so he was reluctant to come. And few in this city more familiar with mixed martial arts and Thai kickboxing had ever heard of the Tondo-born ex-champ.
"I'm not sure if he will come because he's a world champion. Why will he come here?'' says his boss Joey Chan, the Everlast licensee for Hong Kong and China. "He always says, 'Oh, I don't want to come' . . . But finally he came. The clients like him for sure. Everybody wants to train with a champion."
"First time I saw him, I don't know this guy,'' says Lawrence Chow, one of Luisito's students who's in the retail business. "He's very good. Then I saw him on YouTube, he's very famous . . . I learn a lot from him. He's really a good master, so I will continue training with Louie.''
Estranged from his family after a bitter split with his wife, and abandoned by former associates, Luisito has found a surrogate family in Hong Kong. His students and the Everlast staff are clearly fond of him. And why not? He's easy to get along with and mostly cheerful, a characteristic valued highly by Hongkongers.
At the end of the Mong Kok session, one of his students hands Luisito a brand-new black gym bag as a gift. The grateful mentor bows his head repeatedly to the young man and crams his old backpack into the bag. He then straps this on his back before leaving for his next class.
"Gusto ko dito. Mababait ang mga tao, hindi sila plastic,'' he says. "Saka tutulungan ka talaga nila – basta gawin mo ang trabaho mo nang maayos. Minsan na-late ako sa trabaho, napagalitan ako. Hindi ko na inulit.''
To Luisito, life in Hong Kong is an oasis after his struggles in America.
"Mas naging maayos ang buhay ko magmula nung magtrabaho dito,'' he says. "Ang laki ng ipinagbago. Sana tuluy-tuloy na ito.''