In the run up to the second edition of the Timex 226 full ironman distance triathlon this December 01, 2012, I am reposting my account of last year's initial race of which I was a first-time participant.  It was a memorable experience, to say the least.
                          ----------------------------------
After experiencing more misadventures in my short history in endurance sports than a woman changes her mind on what to wear to dinner, I wasn't prepared to chronicle another 'saving-myself-from-disaster-and-testing-my-character' piece. 
And yet, here I am again spinning a yarn fraught with danger, deception, and missteps.  Well, actually just one misstep:  because this story would never have seen the light of day if not for a humble bowl of beans and ground beef.  
You're intrigued.  Good.  This is where the story really begins...
Dumbing Down
It's Wednesday noon at the Alabang Town Center and I'm on my lunch break from store duty.  After all the reminders about not trying anything new prior, during, and after the race where nutrition is concerned, I've carelessly wandered into a fog of stupidity and decide to go Tex-Mex two-and-a-half days before the race.
That seemingly innocent little bowl of chili con carne sitting next to the taco on the menu looks like a safe enough combo meal to break the midday fast.   Unbeknownst to me, this otherwise normal part of my day would be the single unfortunate event that would lead to a most memorable race day for me.  
Fast-forward to Friday morning and the feeling of nausea that began the night before is once again upon me from my first waking moments, as the missus (Gina) and I get ready for the trip to Bohol.  Recalling a similar incident earlier in the year, I decide that the only way to relieve myself is to force the issue.  And force it I do—thrice bowing to the porcelain god before take off, and once upon arriving at the beautiful trappings of our resort, Amun Ini in Anda, Bohol.
Deception at Dinner
Having mastered the art of putting on a happy face with matching pleasant disposition despite how am actually feeling, it isn't that difficult to present a picture of normalcy to my teammates and friends during the preparations at the race venue and the pre-race dinner.  Carelessness buys me a seat at the table marked Trouble as I nonchalantly talk about my condition, but I deliberately put the number of toilet visits at two—any more than that, I figure, and am an automatic race sit out.  Somehow, word of my 'delicate condition' reaches the head of the medical team, Dr. Janis, who just happens to be seated at the same dinner table.  This is my lucky day. 
The good doctor recommends I take a blood test, just to make sure that I'm not dehydrated to an abnormal level.  "Had this been an ordinary race, I would have allowed you to race without a blood test.  But this is no ordinary race," Dr. Janis explains.  "But Doc, am practically all barfed out" is what I want to say next, but am approached by an old schoolmate and now 3rd district of Bohol Congressman ("Cong" to his staff and colleagues) Art Yap who volunteers to bring me to the nearest municipal hospital for that requisite blood test.  With Cong's generous help, I am able to take the blood test and get back to my room, make last minute preparations, jump in the shower for a quick bath, and get under the covers by a little past midnight. 
Diagnosis and Delight
It's a beautiful Saturday morning at the race venue at Anda beach, and the usual last minute pre-race preparations are underway.  With just over sixty participants entered, the atmosphere is neighborly, the mood more relaxed.   The somber and quiet rituals that normally accompany a lot of triathlons gone by are replaced by laughter, fist-bumping, and lots of well-wishing.   And picture-taking.  Lots of it.
The overcast sky brings with it false hope of a cool day ahead, but my ray of sunlight comes in the form of Dr. Janis walking towards me with the good news.   Everything checks out, except for a slight deviation over the normal on the sodium side is what I gather from what she tells me.  Go easy on the salt, says the good doctor.  Although I already feel better compared to the previous day, I still don't feel a hundred percent.  But race day adrenalin has a way of masking a lot of the discomfort and pain, and it's certainly left me feeling all pumped and ready for anything.  Or so I think.
As race time approaches, the participants are assembled at the transition area, given a blessing by the local priest and are soon on our way to the starting area about 150 meters past the shore line.   We're all in high spirits and huddled, giddy with excitement as we count down the last seconds before we are released for the swim leg.   And we're off!
The swim goes quite well and without incident.  Sometimes last-minute plans can actually trump month-long preparations, and this is just what happens when teammate Ed suggests he and I draft off teammate Ting, who always manages a strong swim split.  We are able to finish with good time and are out of the water ahead of about half of the horde.  Negotiating the sometimes-stony path towards the first transition area is a mild inconvenience, but we're all smiling through the experience.   The transition area is unusually calm and quiet even with the Anda locals crowded along the rails, watching our every move as we don our helmets, shoes, and other paraphernalia for the bike leg. 
Descent Into DNF
Biking out of transition amidst the cheers from the throng of townsfolk, I feel relaxed and somewhat refreshed from the swim and the easy pace I took getting ready at T1.  It isn't until I turn onto the main road that the first signs of trouble begin to surface.   Am gripped by a slight tightness in my belly, and am sure it's not the race belt exerting pressure on my waist in any way.  This is followed by a creeping chill that I brush off as probably some collateral reaction to hunger pangs or an indication of recovery from all the toilet visits the day before.  I'm lying to myself, of course.  At the 22 km mark, I am actually looking at the possibility of my first DNF ("Did Not Finish") race because of the queasiness that has enveloped my upper torso.  My legs are spinning mechanically and I am trying with some difficulty to focus on the route that has a few short undulations, made a little more difficult by the heat of the sun now bearing down hard on the course.  Reaching the first aid station (which will be visited two more times before the bike leg is over), I bite on a small piece of a banana, load up on electrolyte drinks, ask for a 'buhos' (dousing) of ice water on my head, and am given a much-appreciated shove back on course. 
I'm sleepy.  What's brought this on?  Not a diagnosed diabetic, I can't be sure whether this is a hypo- or hyper-glycemic moment, and yet I find myself struggling to keep awake.  Great—it's enough that am having GI (gastro-intestinal) issues, but to feel like taking a nap at the start of the race?!  I'm far from bored and am trying to keep from dropping out, not dozing off.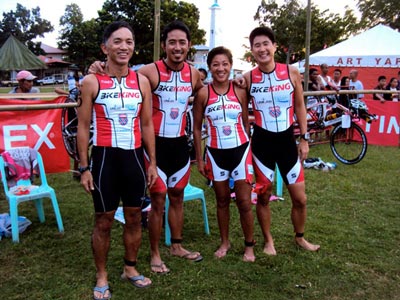 Upon reaching the second aid station, I am surprised to hear from the race marshals and support team that "Number One has DNF'd" as he had collapsed 10k into the run leg.  I don't know who Number One is and neither does anyone.  All I can mutter is an insensitively-timed poker-faced "Ah, siya pa lang… (Oh, just him so far?)" to the amusement of those within earshot.  I'm told that he has been brought to the local hospital by ambulance.  I refresh my water and electrolyte drink supply and head out, in my mind wishing Number One well and hoping that it's really 'just' a case of dehydration.
The DNF option has now become a logical step, what with one down and who-knows-how-many-more to go.  I approach the crossroad that branches out in two directions:  one will take me through to the other end of the route (back the first aid station) while the other will bring me back to Anda, where I can ride to the bike-to-run transition area, dismount and call it a day.  And since I'll need to pass this area another six times or so, Robert Frost's "The Road Not Taken" suddenly comes to mind as I seriously weigh the consequences of taking either path.  In my head, I'm composing my own little rhyme called The Crossroad.  I am in a colossal struggle with the decision and the reasons that are keeping me from either finishing or continuing the race.
Somewhere before looping the first aid station for a second time, I ride alongside Ting and inform her that I might DNF.  She acknowledges and says something to the effect that I take it easy (I learn later on from her and Ed that I looked ashen during the ride and did not look at all well.  The Goth look does not become me, apparently.).  I tell her that I feel the need to go and she tells me about the many fuel stations that dot the course.  I don't remember seeing any on this side of the course so my next point of focus turns to looking for fuel stations along the way. 
At the aid station, the shock of cold water on my nape and back wakes me from my semi-somnambulant state and cools down my overheating body.  Finally on the downhill headed past the crossroad, I spy a fuel station sitting at the bottom of the slope.  I signal left to make the turn into the station and steer myself up the driveway.  The sight of the rest room door appears to me like a gift from the gods, replete with booming orchestral music and streaming rays of light.  Unclip shoes, park bike, unbuckle race belt, remove helmet and glasses, unzip tri-suit, sit on the throne, and unleash hell.  Relief?  Yes.  But it's only temporary.  Montezuma is far from done with his revenge.
This drill would repeat itself four more times throughout the entire bike leg, as I learn more about fuel station rest rooms than I really want to know.  It's funny how 'spilling the beans' takes on a whole new meaning now that I really think about it.   The rides in between trips to the toilet are basically uninspired and more of 'survival mode' status—survive until the next fuel station, that is.  I eat very little (a pack of energy gel, half an energy bar) and drink just enough to replace the liquids that I lose from sweat and toilet visits; not exactly the recommended nutrition and hydration plan—for anybody.
By the fifth toilet trip, am feeling slightly Brokeback but the good news is that it appears I have nearly expunged the toxins from my body.  Am refreshed, no longer feverish, and have somehow grabbed my second wind.  With less than 50 km to go and knowing there are just two or three remaining riders behind me, I'm enjoying the ride while pedaling with more purpose.  I let fly with my wolf howls (normally reserved for fast hill descents) when I reach deserted areas, relishing the newfound freedom from that dreaded bowl of chili frijoles. 
At km 170-something, I make out a familiar figure riding up on a scooter:  it's teammate Fritz, who informs me that the missus sent him to check on me.  Now isn't that sweet…  She said you won't quit, he tells me.  She knows me well, I reply.  He hands me another bottle of electrolyte drink, which at this point I have reduced to using as mouthwash since I've gotten race drink fatigue from having it throughout the bike leg.  I thank Fritz, dump the contents into my front-mounted hydration bottle, hand it back to him, and wave him off with a "Tell her I'm okay."  A few minutes pass before a commuter van driven by team manager and race organizer Raul swings by.  He asks about how I'm doing.  I'm fine, I holler.  Satisfied, Raul gives me the thumbs up and drives off.  Gina must have sent him too.  She's a tad worried, I suppose.
Dogged Determination
Pulling into the bike transition area, I see familiar faces in their race marshal/supporter orange tees approaching me on foot.  "You can't unclip?" asks a concerned RickyLed, referring to the regulation of unclipping both shoes from both bike pedals before reaching transition.  "Oh, I can.  Sorry." I reply, as I free my other shoe and dismount my bike.  Upon hanging up my bike and sitting in my transition chair to prepare for my run leg, I am taken aback by the sudden attention coming at me from all directions.  Gina is walking briskly towards me, as are Dr. Janis and two medical assistants, three photographers, and two video camera men.  What's going on, I ask.  We just have to make sure you're all right, comes the response. 
With that, my left arm is wrapped in a sphygmomanometer (that blood pressure reading instrument) while someone is talking my pulse on my right wrist.  The questions and answers fly fast and not-at-all-furious:
?     How are you feeling?  Am fine.  Really.
?     Do you feel disoriented?  No.
?     Blood Pressure?  Normal.
?     Pulse?  82 bpm.
?     Do you want anything to eat?  Just some water, please.
?     What's the square root of 245?  And who was killed at Tirad Pass?
And amidst the cacophony and fussing, I'm thinking:  Hey, this is eating into my transition/race time!  I've got a race to run, people!  Am backed up as it is! I appreciate and acknowledge all the help, of course.  And after being once again cleared for take off, I take a few swigs of lemon water from Gina and begin my run out into the street that has begun to bask in the orange glow of a setting sun. 
There's a full marathon (that's four loops of 10.5 km) ahead and I am so hyped to make up for lost time.  On a positive note, it turns out that the Bike Ride Through Bean Town did my legs good (although it's taken me close to eight friggin' hours to complete!) as I run on virtually fresh legs, with slight numbness in certain lower extremities.   And speaking of time, I soon realize that in the commotion at the transition area, I forgot to unfasten my watch from its place on the bike so am now running without a measuring aid.  I decide that it's not going to be a liability and resolve to complete my run 'by feel.'
I have hardly eaten anything substantial up to this point, save for two slices of oranges and apples, and this strategy continues throughout the first half of the run leg.  I'm able to survive on flat coke, water (drank and doused), and will power.  The runners that I pass are still in good spirits and there's a lot of "Let's Go" and "Let's Do This" going around.  I even get high fives from a couple of friends who are on their way back as I'm headed in the opposite direction.
As darkness quietly descends on the course, there is a palpable mix of struggle and determination written on the faces of the runners that pass me.  Some still manage a smile, while others seem focused on an unseen target ahead.  What I see now is a combination of grit, pain, and inspiration flowing from each of the runners who traverse the two-lane road that now appears to have grown wider under the cloak of night.  The townsfolk (most, at least) are a pleasant distraction as they engage us with cheers and friendly banter, which makes the run a little less lonely.
And just as it has been with most my runs, my mind is filled with thoughts other than running.  As for my physical state, I have started to feel a little nauseous but feel some hunger pangs as well.  I dare not eat anything more than fruit and pretzels at the aid stations fearing that I may regurgitate my food and risk inviting medical assistance that would result in having to pre-terminate my run.  I've come too far to be declared unfit to continue.  As I told Gina earlier at the bike transition, my pride won't let me quit.
Entering the third loop, I have been reduced to using a run-walk-run strategy as (I surmise) the dehydrating effects of the bike episode have belatedly caught up with my calf muscles.  I down a capsule each of anti-fatigue and salt tablets, but it becomes apparent that this has come too late to prevent the onset of cramps that begin to creep into my legs, first as little twitches and later as throbbing pulses.  By the fourth and last loop, I am walking more than running, but still manage to pass a few runners heading towards the turn around at km 37. 
Most of the people that lined the streets earlier have turned in as I estimate it to be nearly 10 PM.  There are a few flickering headlamps in the distance, both in front and behind me, indicating the remaining brave souls that still have some amount of pavement pounding to do.  I catch up to a fellow-crazy named LJ and ask him for the running time.  Okay, looks like I won't make my target time with still more than 4 km to go.  I'll just do what I can to turn in a decent enough time.  With that, LJ and I begin the longest 4 km run to the finish, exchanging thoughts and anecdotes to while away the time and stave off any more of the aches and pains that come with each step towards the finish. 
The longest part of the race, anyone will tell you, is that last kilometer/mile.  You clearly see the marker that reads "One Kilometer To Go" and yet the finish is nowhere in sight.  With the darkness all around, some drunk asking how many more loops I have left, and cramps already violently seizing both calves, I just focus on finishing with a smile on my face.  Momentarily stopping to stretch my calf muscles at the corner before the town plaza, I hear the faint noise of the crowd that has considerably thinned over the past fifteen hours. 
This will be a running finish.  I round the corner and take my final steps on the dirt road leading to the finish.  My calves are screaming murder as I trot across the grassy carpet and hear my arrival being announced on the PA system.  There are the cheers and applause that greet every finisher.  As I approach the finish line arch and raise the finisher's banner above my head, I bask in the achievement of another endurance milestone.  Congratulatory greetings and photos follow suit, while a big hug and kiss from Gina cap this wonderfully fulfilling race.
The transformation is now complete:  Bobby Go, You Are A Tarsier!