THE distinctive round-shaped Suunto watches, practically computers worn on the wrist, have become ubiquitous to divers and outdoor adventurers. The Finnish company now hopes to do the same for runners.
The official Philippine launch of the Ambit2 R, the GPS watch for runners, was made before the media on Thursday at the 100 Miles Café at the Bonifacio Global City.   
Brand manager Mascy Cabuhat-Pineda delivered a detailed presentation of the Ambit2 R to the members of the press and the blogging community.
The Suunto Ambit2 R is optimized for the perfect running experience. It provides responsive and reliable speed and distance readings thanks to FusedSpeed, a unique combination of GPS and accelerometer data from your wrist. Suunto Ambit2 R also measures running cadence.
According to Pineda, the Ambit2 R can also help you reach your performance goals. You can plan your own moves, or download complete training programs from Movescount.com. The watch reminds you of daily targets, tracks target completion, and provides speed and intensity guidance while you run.
Additionally, Track-back and full navigation offer the freedom to explore new trails without getting lost. Download routes from Movescount.com or simply select Track-back at any point during a run and the watch will show you the way.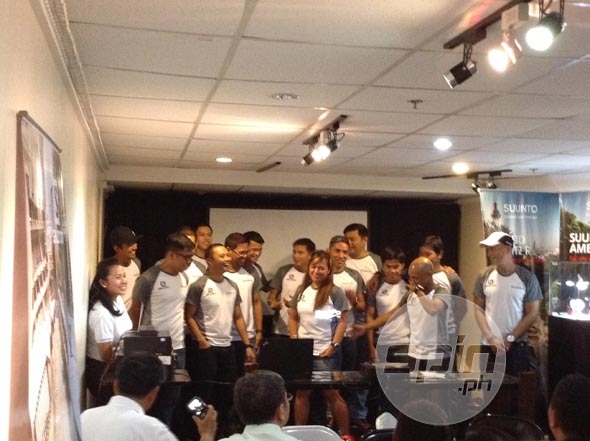 Suunto Ambit2 R is available in black or white, with the white sporting a soft silicone strap for an improved fit for women. Both can be purchased with or without a Suunto heart rate belt.
With watch can be upgraded and personalized with a variety of free Suunto Apps. Personalize with running Apps of your own, or choose from the thousands of free Apps in the App Zone on Movescount.com. They include:
Virtual coach: Let the coach determine when you should run easy and hard! This App is for endurance intervals. Select your pace level and the coach will give you target paces to run.
Ghost runner: Challenge yourself against a competitor. A positive distance means that you're ahead while a negative one means you need to pick up the pace.
Running efficiency: This App helps you improve your running efficiency by recording the number of heart beats over a kilometer / mile.
High intensity intervals: This App gives a short but sharp interval work out. Start with a warm up, run 15 x 200m with 30sec recovery and end with a cool down.
Marathon time: It uses your current speed to give an estimate of your finish time during a marathon, so you can see if you're on track for that target time.

 
Movescount.com, the online sports diary from Suunto, makes it easy to analyze every aspect of your training and share your experiences with others.
Suunto has been designing and manufacturing gear for adventurers, explorers and divers for over 75 years. Built into every product is a level of robustness and durability beyond the ordinary — and the Ambit2 R is no exception. Waterproof to 50 meters and with a 12-hour battery life in GPS mode, you can rely on Suunto Ambit2 R, whatever the conditions.
All new features will also be made available to Ambit2 and Ambit2 S users via a software upgrade later in spring.
Brand ambassador Andy Leuterio described the latest Ambit iteration as specifically designed for runners. He noted additional features such as an integrated coach, improved algorithms that help track progress for those in the trails. 
"The same old routes start to get boring and ever since I started using the Ambit I was able to explore new routes from my home to Tagaytay," said the triathlon coach who said was able to extend his route, download his progress, count the calories he was able to burn and track his and his cometitors' efficiency online.   
Suunto also presented the members of the Team Suunto- Salomon Philippines which is composed of 16 men and a single woman who will represent the brands in multi-sport events, notably triathlons, marathons, sky running and trail running.
Five of the GPS watches were also raffled off to lucky members of the media.   
 The Suunto Ambit2 R is available starting May at all Time Depot stores nationwide wth a SRP of Php22,500.