CROSSFIT, dubbed as the "sport of fitness," is aiming to create the strongest, fastest, the most powerful athlete in a unique nationwide competition.
Miguel Dy Buncio, founder of CrossFit MNL, said eliminations are currently ongoing for the Manila Throwdown 2014 to determine who will be selected for the throwdown - a fitness event designed to determine one's overall fitness through a test of strength, speed, power and endurance.
To qualify for the throwdown, each participant has to complete five online workouts in five weeks from February 27 to March 27 in the Reebok Manila Throwdown Qualifiers.
"Wherever you do your workout, whether in the gym or your house, you can take a video of yourself and post it on our website, www.commufitty.com," Buncio said at the weekly Philippine Sportswriters' Association Forum in Shakey's Malate.
The top 40 males and top 24 females will advance to the Manila Throwdown which will be held on May 10-11 at the University of Makati's Track Oval.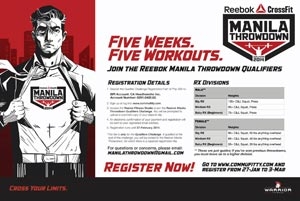 Xhi Tabalan, project manager, said they are expecting 1,000 athletes and fitness enthusiasts to join the event which they are using to promote a new breed of sport from a fitness program that is popular in the US, especially with members of the military and law enforcement.
"The reason why we are holding this is because of the current trend of joining marathons and triathlons which is by definition an endurance sport that only focuses on cardiovascular and endurance. With crossfit, it's a whole range of fitness - it does your strength, flexibility and endurance. But most important, crossfit is an execution of power which is very important in every workout," she said.        
Compared to marathons and triathlons which are aerobic and anaerobic exercises, Tabalan explained that Crossfit actually adds another level - lactate threshold.
"With lactate threshold it's no oxygen, no more energy and that's how you're going to test yourself how strong you are," she said.
Since Crossfit was introduced three years ago in the Philippines, the community has grown exponentially with some boxes (Crossfit gyms) having as many as 400 members.  
Chino Roque, recently chosen as the first Filipino astronaut in Space Camp USA, is a CrossFit instructor who credited the program, which combines weightlifting, gymnastics and sprinting, for his success.
"It's a discipline of being prepared for anything. The sort of training that prepares you for all aspects, not just a one-sided approach like running, jumping or kicking a ball. There's throwing, lifting or swimming. Most of our workouts are constantly varied. Everyday you walk (inside a box) you will never know what to expect," the former captain of the DLSU football team said.
Organizers decided on an online qualifier to make it accessible for participants outside Metro Manila, particularly athletes in Cebu, Davao, Pampanga and Boracay.
Dy Buncio said the types of workout will vary and would include plyometric box jumps, pull-ups, Olympic weightlifting like clean and jerk, front squats and deadlift, rope climbs. The contest will replicate what happens in each CrossFit box where the program changes daily so crossfitters will have a different set of challenges from the previous day.
"Not only being strong or being fast is required, the biggest aspect we require is mental focus - on how the athlete would think in less than a second before he does the workout. It's a whole package of fitness already and a whole balance of sports," Tabalan said.