IN the Philippines, it would be difficult to find a sport more competitive than basketball. No wonder every player and team scrambles to find every bit of an advantage.
In the case of current PBA Philippine Cup finalist Rain or Shine, one unseen advantage lies inside their shoes.  
Spenco entered into a partnership with the Elasto Painters in November when the US-based health care company started providing performance-enhancing insoles for the whole team.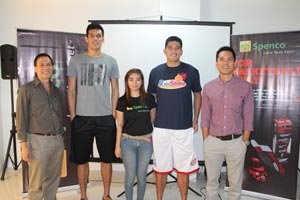 Known for its high quality insoles and footcare products, Spenco sponsored Rain or Shine for the whole 2014 PBA Philippine Cup and saw its faith rewarded when the Painters soundly defeated the Petron Blaze Boosters to enter the championship round.
Jerry Menendez, Spenco sales manager, credits part of the team's success to the latest addition in their line of insoles, which can be worn straight out of the box.
The Spenco GRF (Ground Reaction Force) Replacement Insole is specifically targeted for athletes, both pro and casual, looking for semi-flexible support and enhanced performance from their basketball shoes.  
Advertised as "For Basketball Only" and based on the best-selling Total Support Replacement Insole, the GRF Insole incorporates unique design features to reduce impact forces and return energy; provide support and stability; enhance vertical leaps, and reduce the risk of ankle sprains.
Among the technology found in the GRF insoles are TOTAL SUPPORT, the 3-Pod GRF Modulation System and a combination of a Forefoot Launch & Crash Pad and First Ray Drop Zone.  
 "After games, I normally feel the strain of over-exertion on my feet but with the use of GRF and the comfortable support I get from them, it all but disappeared and my legs thank me for it," said Rain or Shine shooting guard Jeff Chan.
Dr. James Losito, the podiatrist to Miami Heat, said the GRF Insole "is the most appropriate non-custom orthotic device that I have seen specifically designed for basketball."
The GRF Insoles are priced at P1,495 and are available in Toby's sports stores.