IN terms of sports equipment, the humble sock occupies probably one of the lower rungs in terms of "technical" priority (barring of course, those fancy compression socks). After all, a sock is a sock, as long as it doesn't suck, right?
The thing is, athletic socks can suck if they: are too warm, absorb sweat like a sponge, bunch up (either around your ankles or inside your shoe), or cause chafing. Any or all of these wardrobe malfunctions can turn a run, ride, training session or game into a death march. Thank goodness then, for the technical fabrics, smart construction, and athletic attitude of Vamos socks.
Vamos (www.wearvamos.com) is a new-ish name in the athletic/technical sock game. While they offer the same benefits as other brands (moisture management, improved fit, zero chafing, for starters), Vamos is a step ahead (yes, pun intended) by offering bold colors and designs other than your traditional white, black, or grey flavors. The kicker? Vamos is owned and operated by local athletes – so they are keenly aware of the requirements of the Philippine market.
As luck would have it, the last few pairs in our friendly neighborhood running store were all the same: the Carrera model that you see here. We kinda dig the checkerboard pattern, and the stars up front make us feel like a special Sneetch straight out of one of Dr. Seuss' books. The size medium fit perfectly, though we took care slipping them on, so as not to snag the Technicool fabric. The generous cuff keeps everything in place, and the stitching across the toe reinforces one of the more wear-prone areas.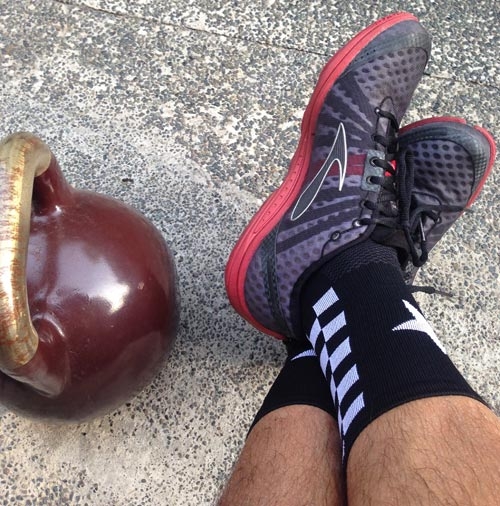 There's nothing like circuit training in the middle of a summer morning to test mind, body, and sock. With 800m runs in between kettlebell and bodyweight routines, we were soon gasping for breath and drenched in sweat. The socks of course, took everything in stride. There was no overheating to be experienced as we pounded pavement – the Technicool fabric working with our running shoe's uppers in keeping things well ventilated. The socks didn't budge one bit.
We also found these socks well-suited for cycling, as again the breathability of the socks become more apparent as the speeds go up. They're no slouches to mountainbiking as well, the dark color hides stains from dust, sweat, grass and mud equally well.
One thing to keep in mind though is the washing instructions for the socks (as with all technical fabrics, actually). Fabric softeners are a big no-no for these articles of clothing, as it leaves behind a waxy residue that inhibits their moisture-wicking properties. As much as we love the smell of Downy, that stuff is not going near any of our gear.
There's a lot to like in a pair of Vamos socks. The price is as eye-catching as their designs, and they work as intended/advertised. They're proudly Filipino too – which makes them the perfect purchase if you're feeling proudly patriotic. Especially for this month of June.
Vamos Socks retails for P395 at www.wearvamos.com