SPECIALIZED RIME MTB
P7,995 at Dan's Bike Shop
EVERYBODY'S dream ride is probably an endless ribbon of swoopy single track. The reality is that some rides will involve steep pitches, gnarly rocks, and terrain that's just too damn technical (and unrideable). Let's face it. Mountain biking will always involve a bit of hiking. It just goes with the territory. Pun intended.
That sounds perfectly fine for Specialized Rime, a shoe that – on paper – blends a few features not found on your typical MTB shoe. Starting from the bottom. The Rime has a full-length, rugged, rubber outsole made by Vibram - the Italian company that made its name producing hiking boots. Blocks of tread provide traction where you need it, and there is ample space around the cleat area for engagement with most clip less pedal systems. The midsole is constructed out of nylon composite, which Specialized rates as a 7.0 in their "stiffness index." As a guide, their top-end S-Works XC race slipper is rated a 13.0. This means the Rime promises a certain amount of "give" when walking. A Body Geometry footbed cradles your foot, and aftermarket insoles to adjust comfort and improve pedaling efficiency are available from Specialized. A synthetic upper has strategically-placed panels to protect against abrasion from trail debris and crank arms. Lastly, a combination of velcro straps and a Boa dial system make for a lace-free, custom fit.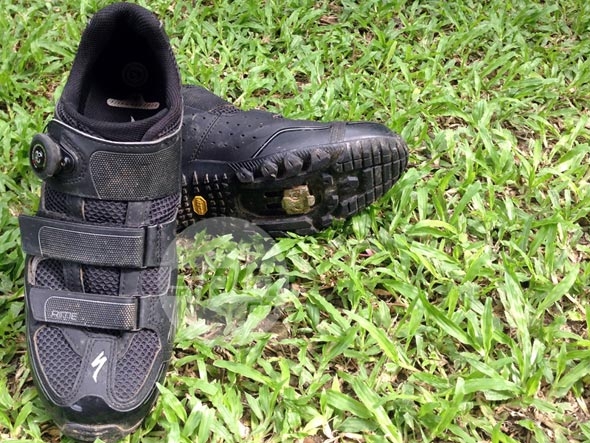 Speaking of which, the Rimes fit pretty much true to size. A roomy toe box does wonders for long-term comfort, and the Boa's incremental adjustments make fine-tuning fit easy. It didn't take long for us to adjust to the shoe's "sweet spot" - we were clicking in and out of our pedals intuitively soon enough. Power transmission was very good - we certainly didn't feel any untoward flex from the Rime's sole - even during low-rpm, high-torque, out of the saddle climbs. Off the bike, the Rime handled river crossings, wet rocks, roots, and mud a lot better than an XC race slipper. The mesh portions of the upper, while great for ventilation, tend to trap dirt though, but that's nothing a wash won't fix - just make sure you stuff the Rime with old newspapers to help dry it out (and don't leave it under the sun!). Dust and dirt can also find their way into the Boa mechanism. In fact, we had to disassemble and re-spool the Boa wires of our Rimes after a few months of riding. If you've got a modicum of mechanic ability (most MTBers do), you'll figure it out. On the plus side, Boa offers free lifetime replacements on their lacing systems, via www.boatechnology.com.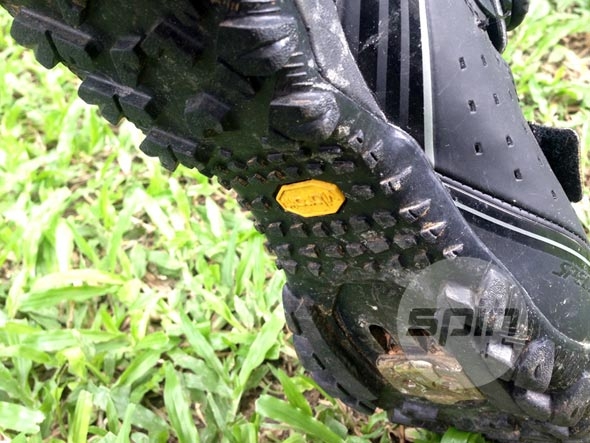 Despite the price premium, you do get a lot of shoe with the Rime. It's well made, and should outlast most shoes of a lower price point (and quality). It also transcends terrain and MTB disciplines - it's versatile enough for XC, Enduro, DH and even commuting. If only we can say the same about our bike(s)!