KISS your race good-bye, idiot.
Normally, I would have uttered those words of affection to a friend who's just informed me that he broke his big toe after stubbing it on a cat eye during a training run. But I was talking to myself this time, pausing to clutch my back that I had just thrown out - by carelessly lifting a boxful of nutrition gels while doing an inventory check.  Smart. Really smart.
After training religiously (which is perhaps the closest I'll ever get to being spiritual) for the past two months following a personally designed program, I found myself stooped over the accursed plastic crate of gels like an octogenarian battered by osteoporosis. How the hell was I supposed to complete the 2-km swim, 60-km ride, and 15-km long course triathlon taking place in less than two weeks with this pain shooting up my spine each time I pivoted my torso? Throwing out my back has happened before, but never so close to a race as this particular outing. 
I had to straighten out this problem pronto so I threw everything I could think of at the problem: foam roller, yoga, myofascial massage, heating pads, orthopedic back support, and for the first time in ages, painkillers. The pain subsided, but didn't go away. I contemplated going to my Korean acupuncturist/chiropractor Dr. Park, but balked because he would probably prick and tweak me to the point of leaving me feeling more banged up than where I started. Plus, he would ask me to lay low and take it easy. And I couldn't stop my training - no, sir. 
The pain meds continued, along with all the other treatments; and the pain did subside but never totally disappeared. I continued my training, careful to adjust my position on the swim, bike, and run to make sure I could train through the discomfort. 
As race day drew near, my attention was drawn to another stress point: my company's participation in the mini exposition at the race. I had negotiated to place a booth on Saturday at the race grounds featuring some brands my company represents. Trouble was, the supplier I ordered the tent and banners from had yet to deliver the collaterals and it was already Friday. All the stocks and auxiliary articles (tables, chairs, supplies) were ready except for the branding materials. I sent emails and texted the supplier about the urgency, and similar to previous experiences when I was in the corporate world, I got the feeble assurance that the items would all be delivered within the day. Little did I know that 11:59 pm was their targeted time.
Although the banners were delivered earlier than the witching hour, and left me no choice but to provisionally accept them, the tent (which was the most important piece) didn't arrive until just before midnight. By the time it was assembled and disassembled for loading onto my car, it was half past twelve of Saturday morning and I was scheduled to leave my house in less than four hours.  What's more, the tent's supports were too huge and heavy to fit in my car; I had to abandon plans of bringing it altogether. This circumstance just about pushed me over the edge. Hoping that the race organizer, Raul, would still be up as he is inclined to be during race weekend, I fired off an SMS telling him about my predicament, asking if there was any tent he could spare; I would simply not participate in the event if there were none. Fortunately, Raul was awake and assured me that there would be a space that would not require a tent. 
Once that end of the equation was taken care of, I decided to write my supplier expressing my disappointment and displeasure over getting screwed over by their delivery. By this time, I was too worked up to sleep, but somehow managed to nap a bit before being roused by my mobile's alarm. And here's where the long weekend actually began.
The drive to Laiya, Batangas went smoothly with me leading the way to the resort and the rest of the group and stocks following behind in the family van. We were able to set up within an hour, and I was able to be the first participant to register, claim my race kit and loot bag, and get body marked. The rest of the day was spent meeting customers and greeting fellow-triathletes who stopped by the booth or wandered close to our selling area. I checked into my hotel, unpacked, and prepared my gear for the next day's race, but didn't feel the need to catch up on sleep. The back support I wore was doing a good job of holding my back steady, and I ended up wearing it for most of the day. After a quick lunch that allowed me to take a load off, it was back to the booth for more customer service time.
I managed to check my bike into the transition area while there was no queue. The race briefing at 5:30 that afternoon was exactly that: brief. There were no changes to any of the courses, save for a few safety and transition re-routing reminders, so the session was done in less than half an hour. Now, it was time for the group to pack up the booth and for me to head to the hotel for the team dinner. I was beginning to feel the effects of sleep depravity, or maybe it was just hunger. I decided it was the latter and made two trips to the buffet table, piling my plate with rice, pasta, pork barbeque, and grilled squid, washing it all down with water, iced tea, coffee, and soda. With dinner done, I figured that was the just about the thing I needed to get me through the following day's race. Breakfast was just as crucial, and the enterprising kids of some teammates hit on the idea of preparing sandwiches of Nutella, peanut butter, and cookie butter which they would sell to anyone whose arms they could twist to buy the stuff. I ended up buying six tiny sandwiches to go with my instant coffee for my breakfast of champions.
Retiring to our rooms for a bath and final preparations, it wasn't a surprise that I was the first one among three roomies who fell asleep. I must have been dog tired because I didn't get up until the alarm sounded at 4 AM, when I normally would have gotten up at least twice to visit the loo. With my back still nagging me to take a bye on the race, I quieted it by doing yoga stretches and hip rolls. Getting ready was a breeze, and we were out the door and on our way to the race venue in no time.
The transition area was typical of past races, abuzz with last-minute preparations and friendly banter among the participants. I managed to make my last loo visit with about 10 minutes to spare, but wasn't able to test the waters like I normally would, as all the athletes were requested to toe the start line by the time I reached the beach. And soon, we were off… and walking into the surf.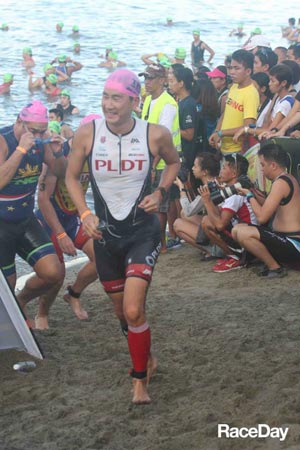 Beach starts typically begin with about 10 to 30 meters of walking into the swim leg, until there's enough depth to swim. According to swim coach Betsy Medalla, one can start swimming with the water as low as your knees. You just have to be careful not to pull with straight arms, lest you wish to injure yourself prematurely. But since most are not aware of this dynamic, the lot of us walked a good one hundred meters, with a minority either dolphin diving or swimming, thus gaining a lead over the rest. The water was turbid, which brought back memories of IM 70.3 Camsur where you couldn't see past your arm in the first lake, and worse, couldn't see past your elbow in the second lake.
Visibility improved as we got farther out, and that's where the spin cycle went into high gear. The first of three loops is always the most stressful, so I decided to just hang back and swim at a relaxed pace in order to normalize my breathing and avoid hyperventilating. For some reason, my legs suddenly felt like they had weights tied to them, so I propelled myself forward with only my arms. With a lot of jockeying for position closest to the buoys, I encountered the common elbow-in-the-face, kick-to-the-ribs, and body-over-body incursions that made this just another day at the office. By the second loop, I was feeling better with some kick returning to my legs, but still had to fight for my place without deliberately injuring any swimmers within my periphery. It was during this stretch when I realized that there was no one I could identify as a draft target. I have always been able to find one in the races that I've joined, and it has always made life easer for me coming out of the water. But this was the Wacky Races Swim Edition, and somehow I was left to fend for myself.  The third loop provided me with enough space to swim at a faster pace, which I did upon reaching the U-turn. I swam a fairly straight line to the shore and pulled off my goggles, cap, and earplugs during the short run to the transition area.
The one thing I always have trouble with is holding my water, and this race being a long course, was another test of my resolve as well as bladder strength. I wanted to go as early as the first swim loop but decided to put it off, hoping to be able to 'sweat it out' as I have done in some races in the past. Unfortunately, the pressure was still on as I mounted my bike after the lengthy trot from transition to the bike mount area, which felt like a trail run, complete with mud and muck. Thankfully, someone thought it wise to put a hose for washing down muddied feet and shoes at the bike mount area. But back to my bladder… 
Friends and teammates had told me that learning how to go while on the bike is an indispensible skill that will save minutes as far as race times go. I had never learned the maneuver that requires one to stop pedaling (or soft pedal), relax, and wait for that initial stream to start flowing. Everything else would follow and clean up could happen with a few splashes of water at the aid station. At that moment, I wished I had practiced my reverse Kegels instead of watching endless fail videos.
But this was no time to panic, so I just kept my head down and pedaled away. Three loops of twenty kilometers didn't seem that long, I said to myself. Besides, I was having too much fun playing cat and mouse with a group of four or five riders who took turns taking the lead throughout the length of the bike course. We found ourselves locked in a friendly alternating contest of stealing the lead at the different points of the rolling route, careful not to infringe on the non-drafting rule. The bike leg is where I took in most of my nutrition, downing two energy gels and two energy bars, along with water and isotonic drinks supplied at the aid stations. I was sufficiently satiated by the time I dismounted and headed for transition to prepare for the run, but still had my pressing issue to take care of.
There's always a first time for everything and it was while I sat on my changing mat in transition that I elected to open the floodgates. While putting on my socks, and reaching for my cooling scarf, I took a deep breath, relaxed, and felt a gentle, warm current spread across the front portion of my tri-shorts and sensed a heavy load lifting from my entire being. Yes, I could have easily gone with 'Peeing At Transition:  A Philosophical Journey' as the title of this blog, but opted for a safer, albeit more boring one. The water bottles I had left for washing off the sand from my bare feet came in handy as I rinsed off any remaining traces of evidence that might give me away. And though this romantic interlude caused me more time than necessary in readying myself for the run leg, it did save me the trouble of having to stress over where to relieve myself on the run course.
I made sure to go at a slower pace than usual as I exited the transition chute entering the start of the run course. I'd never run a negative split in any race, and my training program had conditioned me to hold back until the back end of my run in order to finish stronger (than the front end). There were three loops of 5 km to complete and I had to calibrate my run effort to sustain a good pace. The run course was flat with a few surprise inclines and short down hills toward the turnaround point. The town folk and team supporters who crowded the roadsides were a great morale boost with all their cheering and high-fiving, as obliging runners reciprocated their well-intentioned gestures. Aid stations were sufficiently stocked with water, isotonic drinks, and ice. There were also dousing stations ('buhos' in the vernacular), specifically set up to provide runners with water to pour over themselves to keep from overheating. 
The tri gods must have been listening to the pleas for good weather, because at one point during the run, a cloudburst lasting close to five minutes produced a generous downpour that brought cheers and smiles from the parched runners. This momentary relief was enough to push me and other runners to pick up the pace, if only for that brief period. When the short-lived shower was over, I was back to plodding along the concrete track, hoping that my back would stay strong and my sleeplessness would not come to collect.
With about three kilometers and change to go, I began to feel my quads locking down. The spasmodic tightening of my thigh muscles reminded me that my nutrition/hydration plan was wanting, or perhaps my sleep deprivation was showing its ill effects. I reached for a cup of isotonic drink and stuffed ice in between my shorts and thighs to cool down my muscles, a technique that has proven effective in past races. I'd given up precious minutes to walk off the seizing strains, with the objective of finishing strong despite the pain.
Finish strong, and with a smile on your face. That's all I could think of in the last kilometer leading to the finish chute. Spying two friends running shoulder-to-shoulder and chatting away some fifty meters ahead, I goaded them with a mocking 'Will you guys hurry up!' This got a laugh out of them as they ran just a tad faster to hold off my final charge. I reached the finish arch shortly after that, and taking inspiration from a ragtag group of like-minded fellow-triathletes, raised my right hand to my brow in a salute, finishing a respectable fifteen minutes better than last year.
And with that salute, I marked the end of one adventure, and the beginning of the next in a long line of endurance challenges that will keep my spirit soaring while the rest of me tries to keep up.
                          --------------------------------0----------------------------------
                        In the middle of difficulty lies opportunity.
                                                         - Albert Einstein