SCIENTIFIC studies, such as this one, have proven that music has an effect on your output during physical activity. It's only natural, then, that gadget manufacturers have begun to cater to the sweat-loving segment. One particular company is Yurbuds, whose tagline - "developed by athletes for athletes" - is a bold statement that echoes throughout their product line, and in our review pair of Inspire Ironman Series earbuds in particular.
The Inspire's form and function certainly seem sporty enough. You can say goodbye to skinny, rubberized cables that tangle easily - these buds have Kevlar-coated, flattish cords that are more durable and resist stretching. An inline, three-button, multi-function remote takes care of controlling volume, cueing, playing and pausing tracks - as well as answering calls thanks to an inline mic. The business end of the Inspires are the earbuds though. There are two different types of ear pieces (aka enhancers) that snap on to the earbuds themselves. One set that creates a noise-isolating seal (thus comes in several sizes for a custom fit), and another that lets ambient noise through. All enhancers are made of soft silicone, which keeps things comfy and more importantly in place during your workout. The buds are also water resistant, so they should stand up to sweat and the occasional splash of victory champagne.
Setting up the Inspires for use is as straightforward as it gets. Just select which size and type (noise-isolating vs ambient-aware) of enhancers you prefer to use, snap them onto the buds themselves, then lock them into place in your ear. The noise-isolating enhancers have a tight, albeit not uncomfortable fit. You'll hardly notice they're there after a few minutes. The enhancers do a good job of sealing off outside noise - great if you're at a gym. For outdoor workouts - such as running or if you dare, cycling, the ambient-aware enhancers are the more prudent (and wise) choice.
If the proof of any pudding is in the eating, then surely the true test of any audio device is in the listening. We rounded up a selection of tracks that would best put the Inspire's use in the proper context. For a pre-workout warm-up, we cued When The Body Speaks by Depeche Mode - a song with minimal instrumentation and clear vocals. On the treadmill we selected a podcast from East End Music - a nicely-curated selection of house music tracks, and also sampled Empty by Metric for some good old rock and roll. Volume was set to 50%.
Despite the variety in our track selection, it seems that the Inspires have a decidedly bass-heavy sound to them, as opposed to being more balanced and neutral. This isn't necessarily a bad thing, as these aren't positioned as audiophile-quality cans. Swapping out to the ambient-aware enhancers and the buds' bass dropped off a bit - which isn't surprising at all. Again, you must look at the Inspires in the proper context - these are designed to be used during your workouts, and keep up with your exertions where other earbuds would have fallen out of your ears, or worse, failed. "Developed by athletes for athletes" - it can't get any more accurate than that, so pardon us while we crank out a few more laps around the track oval while listening to Metric.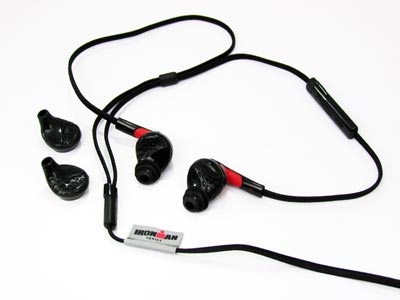 Yurbuds Inspire Ironman Series
Pricing & Availability
P2,500.00 at The Brick, Chris Sports, Planet Sports, Riovana, Rudy Project, Runnr, Second Wind and other sports stores and gadget shops
Manufacturer's Specifications
15mm speaker
Dynamic driver
20Hz-20kHz frequency response
Neodymium triple magnet
Made for iPhone®, iPad®, and iPod®.