THIS is one type of gathering where everyone locked their eyes first on what was on your feet before even looking at your face.
Sneakerheads, who occasionally meet up for transactions, took the night off on Easter Sunday for a by-invitation only event celebrating the third anniversary of the Pinoy Sneakerheads Community (PSC) at the Decagon in Pasig City.
Rare, drop-dead gorgeous shoes were naturally everywhere as the group, which has 44,513 members on its Facebook page, met up for a night of fun and music while strengthening ties among some of the most avid shoe collectors in the country.
"A renewal of faith in sneaker collection," said Conrado 'GK' Sta. Ana Gicanal in describing the event.
"We are pleased that despite this being Easter Sunday, the event still drew a good crowd and we look forward to new members in the future," said admin officer Jeff Jimenez.
[To see more pictures from the event, see GALLERY]
ADVERTISEMENT - CONTINUE READING BELOW ↓
The PSC community also took advantage of the occasion to streamline its membership in a bid to protect members, consisting mostly of yuppies and college students who transanct on a regular basis through their Facebook page.
Members were encouraged to sign up for a membership fee of P600 plus P100 for the identification card which would be used in tagging photos of shoes posted online for sale or trade, thus weeding out fraudulent buyers or sellers.
The ID is good for one year and renewable at the next reunion the following year. The ID also entitles members to discount promos from select establishments such as Gerry's Grill and Wendy's.
"Optimistic naman kami (admins) that it will work. We just want to legitimize the process (of selling) and eliminate fake accounts and it makes our job easier," added Jimenez.
Judging from the turnout, it was pretty obvious that Nike basketball and running shoes are the footwear of choice among the approximately 1,000 sneaker aficionados present. Adidas also had its diehards in the crowd. And these aren't the usual models found in the shoe sections of department stores.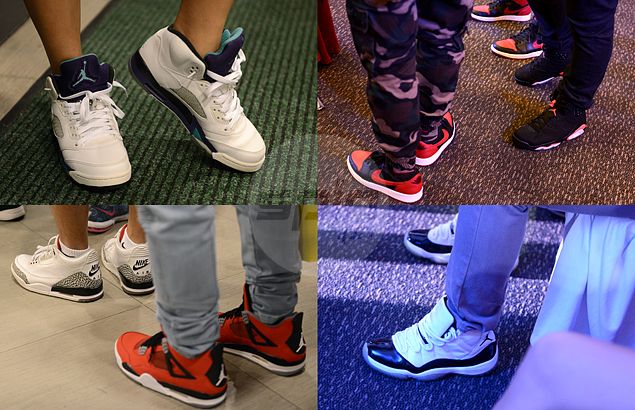 An average shoe collector in the group owns at least 10 pairs of sneakers that form part of his collection. One PSC member has at least one example of Kobe Bryant's 10-year-old Nike signature shoe line.
Among the notable pairs seen was an official replica of the 'Back to the Future'-inspired Nike Air Mag that are selling for as much as US$7,000 online. There were also limited releases of Air Jordan XI, possibly the most popular Jordans ever.
ADVERTISEMENT - CONTINUE READING BELOW ↓
There were different colorways of the Nike Air Max 90 popularized by rappers such as Kanye West. There, too, were rare models of LeBron James' performance kicks. Also well represented were examples from the exclusive collection created by Yohji Yamamoto for adidas that sell for an average of P20,000 a pop.
The program was highlighted by raffles of shoes and accessories and performances from Fancy Notes, Meg Fernandez and Asia's Got Talent contestant Climax.
Given away during the raffle were pairs of remastered Jordan IV 'Columbia,' the Nike Air Mag replica and Nike Roshe.
"Nag-standout talaga yung bond between the members and that's important for all of us and the raffle is our way of rewarding our members," said admin officer Mimi Dela Fuente.
Next up for the PSC are sneaker conventions where general release and limited edition shoes would be made available for sale to its members.
Sneakerheads out there, better watch out for that.
ADVERTISEMENT - CONTINUE READING BELOW ↓
Get more of the latest sports news & updates on SPIN.ph