RESEMBLING a colorful sock with soles, the Nike Free Flyknit+ Running Shoe features extreme flexibility with its "second-skin fit" of Flyknit construction and Nike Free, offering what the shoe giant claims as a "super natural ride."
The Nike Flyknit upper, constructed from polyester yarn, is designed to deliver a compressive, second-skin fit that secures the foot over the Nike Free midsole. The one-piece upper integrates breathability, stretch and support in areas where runners need it most. 
The shoe giant claims its latest innovation combines the upper, midsole and outsole to work together to create "a more natural ride." Since one of the shoes' selling points is ultimate flexibility, they incorporated the Nike Free 5.0 midsole that features flex grooves to promote natural motion and help increase stability and foot strength.
To secure and support the foot during movement, ultra-light Flywire cables are woven into the Flyknit upper and connect to the laces.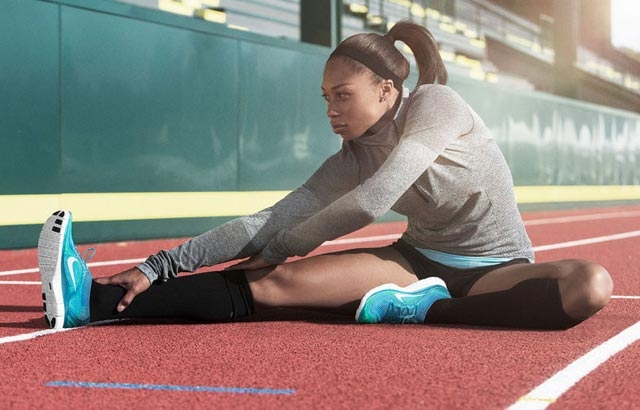 Nike said that in order to construct the upper, polyester yarn is fed into a special knitting machine, creating almost zero waste and minimizing weight in an efficient production process.
The Nike Flyknit material was inspired by feedback from runners requesting a shoe with the snug fit of a sock. It took the company four years to create the technology needed to make the knit upper with static properties for structure and durability. Then the precise placement of support, flexibility and breathability - all in one layer - was refined. The result was a featherweight, form-fitting and virtually seamless upper.
In developing the Nike Free, a team of researchers and engineers were inspired by college athletes training barefoot on a golf course and set out to develop a shoe that felt natural and weightless, similar to bare feet. In 2002, they examined a group of men and women with pressure measuring insoles taped to their feet, using high-speed cameras to capture images of each foot in motion.
The team spent eight years studying the biomechanics of shoeless running. The results yielded a profound understanding of the foot's natural landing angle, pressure and toe position, allowing Nike designers to build an unconventional and flexible running shoe.
Nike Free Flyknit+ product details:
Durable Phylite midsole doubles as an outsole for reduced shoe weight

Minimalistic, molded sockliner mimics the foot's curvature for a comfortable fit

Strategically placed solid rubber on the outsole for enhanced traction and durability in high-wear zones

Released as part of Nike's Fall 2013 line-up, retailing at US$130 and up 
The product is available in Nike stores and authorized outlets in Metro Manila. For more information, click on: http://www.nike.com/fall13-app/ph/en_gb/flyknit