A soft-spoken grocery employee from Pateros who just took up trail running last year humbled the field in the men's premier 32K category while first-timer in long distance trail running ruled the women's race in the 2014 Salomon X-Trail Run on Saturday at the Hamilo Coast in Nasugbu, Batangas.
Manolito Devina, 33, a relative newcomer in trail running, placed third in the 6K last year's Salomon X-Trail Run before deciding to join the premier 32K category in the latest edition of the race. He won it, too.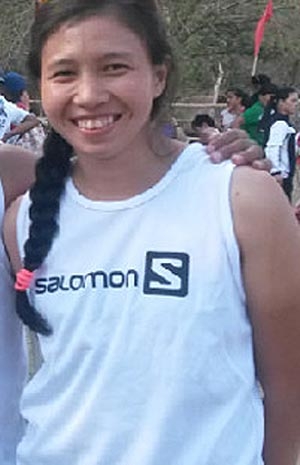 The Boac, Marinduque native won the premier category in what is considered one of the most technically difficult trail run events in the country by clocking four hours and five minutes at the finish line.
"Pag sa trail dapat lahat ng katawan mo, lalo na isip mo, metal-minded ka kasi kapag nagkamali ka disgrasya aabutin mo," Devina said after the race at the assembly area inside the Pico de Loro resort.
The challenging race took participants around the Hamilo Coast and its numerous coves and ridges. The summer heat, coupled with the undulating terrain of sand, rock, dirt and occasional water resulted in a number of injuries, turn backs, failed cut-off times and lost runners.   
Devina said the downhill legs were the most difficult because of the dangers involved.
"Sa downhill, pag nagkamali ka puwede kang mahulog sa bangin or sumubsob o gumulong pababa. Iyun ang pinaka nakakatakot," the University of Makati alumni noted.
Devina said he was up against a strong field of competitors but felt there was one thing that gave him the edge — and the victory.
"Malalakas lahat sila pero nagkakatalo na lang sa experience. Yung mga kalaban ko mga ultrarunner and road. Ako trail runner. Yun ang specialty ko," said the wiry athlete who also took up track and field, soccer and road running.
After taking part in Salomon's race in 2013, Devina said he enjoyed it so much that he looked for more trail events. He eventually became a part of Team PIMCO and was sent to Hong Kong for a trail race in the former crown colony.
Emboldened by the experience, he decided to join the Salomon race upon his return but this time in the longest - and hardest - category.
Both Devina and Liao, 24, received medals and various prizes from sponsors that included Suunto, R.O.X. Otterbox, ExoXgear and Unilever. 
A Salomon brand ambassador earning a masteral degree in public health in UP Manila, Liao has been running since 2009 and took up trail running two years ago. It was her  first time to take part in X Trail in the Philippines.
"It's tough for a 32K and it's hot! And it has a tough cut-off time of seven hours for that kind of terrain," she said after being declared the winner with a time of 5 hours and 30 minutes.
She said the high ascent going to one of the towers was one of the toughest parts of the race. "It's a long uphill then you go down then you go up then you go down again."
The long distance trail runner said despite a shorter distance of what she is normally used to, she took the necessary preparations.
"Although it was my first time here and I did not know the terrain. Kahit na 32K lang siya siempre hindi ko in-underestimate. I still respected the distance and prepared well for it." 
A total of 1,500 runners took part in four race categories- 32K, 24K, 12K and 6K. 
"The Salomon X-Trail Run is a global event, held in various countries annually. It is the fourth time that we'll be holding it, and we've once again chosen Hamilo Coast as our venue. Aside from being a very scenic destination, Hamilo Coast also offers a variety of trails for our runners with its mixture of sand, rocks, fire roads, ...and so far it seems to be a perfect venue to hold a trail running event." shares Janice Tanada, Salomon brand manager.
Aside from the Philippines, Salomon's long-running X-Trail Run, is also being held in key Asian countries regions namely, Malaysia, Singapore, and Taiwan.
The Salomon Xtrail Run 2014 was staged in cooperation with AXN as the official TV partner, powered by Gatorade, R.O.X., and Suunto with official venue partner: Hamilo Coast and Wave 89.1 as the official radio partner. This event is also sponsored by Pico de Loro, Pico Sands, Nalgene, Sea to Summit, Otterbox, EcoXGear, Honey Stinger, Monster Energy, Vaseline Men, Spy eyewear & Primer Group of Companies. Thanks to our media partners The Philippine Star, Philippine Daily Inquirer, Runner's World, MultiSport, Animo Magazine, Travelife, OneSport Magazine, Pinoy Fitness .com, & SwimBikeRun.ph.