THIS multi-sport off-season hasn't exactly left me in a moribund state, since I'm officially not part of the majority who are feasting on artery-clogging, blood pressure raising indulgences, before getting back into the equivalent of professional athletes' spring training come the new year.  My week still involves training, alone most of time, as I prepare for my first big race of 2013:  The Bataan Death March 160 Ultra Marathon. There's no swimming or cycling involved in this contest, only running and truckloads of patience. 
Weekends have found me choosing between running under a morning burner or a midday scorcher for my LSDs (Long Slow Distance); depending on what other plans I have for the day.  The missus has gotten used to having me disappear for five hours on a Sunday, knowing that I'll turn up for a late lunch or early dinner sooner or later.  Aside from being a tri-widow the past four years, Gina now is an ultra marathon widow as well — but only till the end of January 2013.
The cooler December air makes these long runs more tolerable, and since I learned recently that taking my iPod along doesn't jibe with my running pace, there are lots to occupy my mind while covering a marathon distance on my weekend run.  Christmas is just around the corner and since I am in such a generous mood lately, I've come up with a wish list of holiday gifts for various sports personalities outside of the multi-sport world. Just one of the many things I think about while running …
Lance Armstrong:  A new pair of testicles.  With everybody and God already attesting to widespread doping in cycling, what more is it going to take for Mellow Johnny to cop to his crimes and misdemeanors? Once heralded, as professional cycling's poster boy, his misplaced audacity and pathological denial of any wrongdoing have cost him his sponsorships, his career, and his reputation.  He lost his balls way before the surgery.  Wait!  Did he actually have testicular cancer to begin with?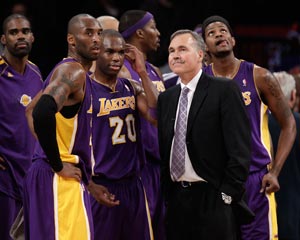 The Los Angeles Lakers:  A bigger Staples Center that can hold all the overblown egos on the team.  Aside from blaming Mike Antoni's (no 'D', remember?) run and gun system that somehow doesn't seem to work with Showtime City, the other problem we need to look at is how to get all these larger-than-life personalities to play as a cohesive unit.  Sure, give the ball to Kobe and watch him shoot the lights out every game; but that's not how His Airness Jordan won those six NBA championships for Chicago.  That overused word in organized sports called Teamwork is what wins the rings.
Rafael Nadal:  A better fitting pair of underpants, from Nike no less.  All that tailgate tugging in between points should be penalized for improper on-court etiquette.  I imagine Nike would have capitalized on this phenomenon by now, given Nadal's disturbing habit of manual realignment in full view of a paying public. The release of a groundbreaking, game-changing Anti-Wedgie Underwear line (co-designed by Nadal, of course) by Nike bears watching.
Maria Sharapova:  A mute button for all the high-pitched grunting that opponents (and spectators) find most distracting.  As reported by Telegraph Sport, the undisputed queen of grunts has been recorded at an ear-splitting 101 decibels, the equivalent of an airplane landing.  Other tennis scream queens, which include the Williams sisters, Monica Seles (retired, but the unacknowledged first mover in this category), and Victoria Azarenka, are far seconds at the 80 plus decibel level on the grunt-o-meter.  Oddly enough, Sharapova hardly emits a peep during practice.  Someone should invent a grunt neutralizer/scrambler, similar to mobile phone signal scramblers, which should keep opposing players happy and less distracted, while saving the stadium audience visits to EENT specialists.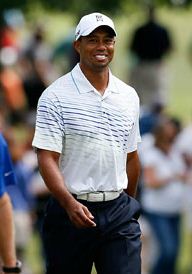 Tiger Woods:  A pair of blinders for focus on the game of golf.  With distractions ranging from womanizing to gambling, the former world's number one ranked golfer needs to distance himself from the off-links vices to regain his once dominant and intimidating presence on the green. Woods is now ranked No. 3 in the world, but only after breaking a career-long winless streak of 107 weeks with a win at the Chevron World Challenge in December 2011. He was ranked No. 58 just a month before. No one can take away the countless records he has set and can still possibly rewrite; and as a non-playing fan, I am still hopeful Eldrick Tont Woods finds his way back to the straight and narrow, and comes back strong to become the legend he deserves to be.
Peping Cojuangco: A rocking chair for retirement from all things Philippine sports. He should have stepped down centuries ago. Or maybe he shouldn't have even taken the seat to begin with. But maybe that's just the way national sports programs have been run in the last twenty-five or so years. The generations of Filipinos who were born in the mid-eighties onward have never known what it means to be a dominant regional sports presence.  I hanker for the days when the Philippines sat among the sports powers of Southeast Asia (and even Asia), earning the respect and admiration of its then under-achieving-but-emerging neighbors. A sustainable sports program such as Project: Gintong Alay in the early 80's, piloted by presidential nephew Michael Marcos-Keon, managed to push Philippine sports to its potential even on a limited budget.  Keon's hands-on approach and fiscal integrity ensured that Philippine athletes received the right training and adequate funding, which translated to success on the playing field.
The UAAP and NCAA: A matchmaker to bring the two leagues together in preparation for a US NCAA format college hoops tourney. Politics in sports has created multiple leagues and tournaments over the years, and though this may appear to some as a good thing to promote more opportunities for competition and sportsmanship, it also wastes a lot of money and resources, and compromises quality in favor of quantity. The recent Philippine Collegiate Champions League (PCCL) that was won by the University of Sto. Tomas, this year's UAAP runner-up, can be considered a blueprint for a merged collegiate league that will decide which university/school is the country's best. With a single collegiate tournament, there will be more focus on building long-term sports programs that will redound to a stronger national team for every relevant sport, and not just basketball. 
Manny Pacquiao:  Solitary confinement, to be able to decide for himself what's really good for Manny. He's a boxer, a politician, a game show host, an actor, a pastor, and whatever it is people want him to be.  With so many hats to wear and so many people to be accountable to/for, you can't help but feel for the guy.  I pity the Pacman, not only for having been sent to a cold dark corner for nearly two minutes, only to innocently ask "Is it over?" the moment he regained consciousness; but for having so many hangers-on and such a huge entourage, with nothing but their own interests in mind. Never mind if he has to take another beating in his next bout or if he has to make another generous donation to this or that cause.  What's important is that I get my share, my part. The 'Pambansang Kamao' is nice to a fault that it's hard for him to say no, since he strikes me as someone who doesn't want to disappoint anyone.  That's a huge burden to carry, and my wish is that he learns soon enough who his real friends are while his mind and body are still intact. If the rumors are true — that he doesn't mind ending up where he started — then let him decide where he will find his happiness.
And on that happy note I close my yuletide blog with good cheer. Here's to a bright and wonderful holiday season — or whatever's left of it.
                           --------------------------------0---------------------------------
OMG! (Overheard Multi-Sport Gossip) for The Month
OMG #1:  At a recent off-season gathering of multi-sport athletes, alcohol was overflowing like a river during typhoon season. As expected, revelers were inebriated and thoroughly enjoying themselves — some, a little too much.  One particular miss was soused to the point of shamelessly flirting and practically throwing herself at amused and bemused guys, some of whom took the opportunity to feel for themselves what was being served up.  "I can give you a b___j__ right now" was one of the interesting propositions from this self-professed running diva.  As if that wasn't provocative enough, she was overheard to have cooed "I can have sex with you, and you don't have to pay" if only to up the ante.  No word of any takers (i.e. to take her home) that evening, though some on-site sampling was supposedly captured on camera-phones.
OMG #2:  At another gathering of the multi-sport community – this time an awards night – yet another intoxicated young miss was lavishing her charms and attention on anyone within arm's reach.  What's a liberated girl to do in this day and age, when she wants something?  She goes out and gets it. It was a tightly packed venue and there was little elbowroom to maneuver (or in this case, escape) from this damsel's advances. One poor fellow was literally chased out of the venue by the daring lass, who stumbled while trying to hang on to her prey.  It was later learned that someone did take her home later that night (or early that morning) — her dear, old dad. 
                        --------------------------------0----------------------------------
"If what you're doing is not your passion, you have nothing to lose."
                                                                              Unknown