REPORTING and hosting are natural to these young women, but dancing, cheering and cheerdancing are not necessarily their strong suits. But call it hidden talent or unfulfilled passion, these basketball courtside reporters were game enough to don those cheerleader costumes and pull off some neat tricks of their own during the UAAP cheerdance competition at the MOA Arena.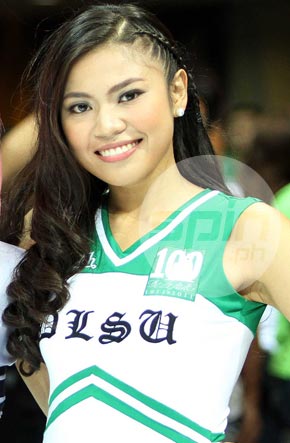 Billie Capistrano, La Salle
Dancing is not really one of her talents, but Billie Capistrano had dreamed of performing with a dance group.
She had a blast wearing a cheerleader costume for Halloween last year, but got the full experience when she dished out a few dance moves along with members of La Salle's Animo Squad before introducing the DLSU cheerdancers.
"I can't dance at all, so it's always been a dream to be a dance troupe member or cheerleader," said the Organizational Communication junior.
Apple David, Adamson

Apple David has already one item on her bucket list crossed out, thanks to the 2012 UAAP Cheerdance Competition.
"It was actually on my bucket list to at least be lifted if not tossed in the air!" said the Adamson University courtside reporter after her short cheerleader act as she introduced the school's Pep Squad.
She not only wore the squad's outfit for the first time, Apple had short pink hair to match the K-Pop-inspired routine of the Falcons.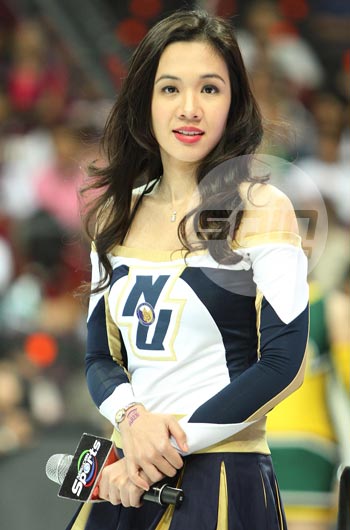 Steph Sy, NU

The experience of being a cheerleader even for a day gets better everytime for Steph Sy, though she's been doing it for three years in the annual UAAP Cheerdance Competition.
"It was a priceless experience and for some reason, it just keeps getting better," she said.
Being the one to report about the team is enjoyable enough, she said. To be part of the action, even for just a fleeting moment, made it twice the fun, Steph swore.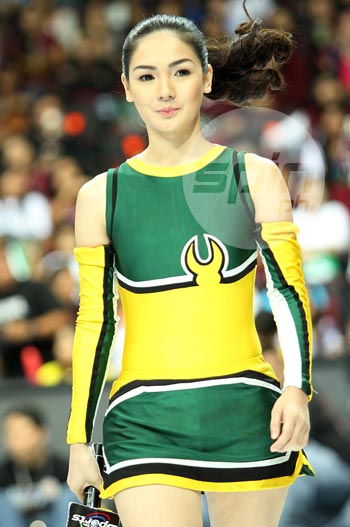 Judy Saril, FEU

Although her squad fell short of first place, the FEU courtside reporter is still proud of her team and felt a deeper kinship with the school after wearing its cheerleader costume.
"The whole experience is priceless! Feeling ko part talaga ako ng squad namin, sobrang nakaka-proud!" said the 18-year old Tourism student.
"Even though we don't have that big trophy, still they are my champions and they made the entire green-and-gold community proud."
But for Judy, the icing on the cake was realizing her dream of being lifted even if she's still recovering after her appendectomy operation.
Footnote: Tina Marasigan of UST, Katz Salao of UE, Selina Dagdag of Ateneo and Bea Fabregas of UP also wore outfits that matched their teams' uniforms  and performed some dance moves before introducing their respective teams.