I am woman. 
Hear me roar in numbers too big to ignore.
And I know too much to go back and pretend.
'Cause I've heard it all before, and I've been down there on the floor.
No one's ever going to keep me down again.
Oh, yes, I am wise; but it's wisdom born of pain.
Yes, I've paid the price; but look how much I've gained.
If I have to I can do anything.
I am strong.  I am invincible.  I am woman.
                                          From I Am Woman by Helen Reddy and Ray Burton
Women have a lot more crap to deal with than guys will ever care to admit.  It's an absolute truth that men will deny and women will die fighting to prove, because admittance of its veracity will tip the balance of power in households, governments, corporations, and societies the world over.  Not that it hasn't already.
Growing up with three women (a mother and two sisters) and living with another three in my own family (a wife and two daughters) should probably give me some amount of authority to talk about the fascinating female species and why I have so much respect for them.  
As a young boy, I naturally argued for the proposition side of the debate whose resolution was:  Boys Have It Better In Life.  Without need of any cue cards to bolster my argument, the advantages of being born male were as clear to me as the cartoons on a top-of-the-line Sony Trinitron television.  This was the seventies, by the way.  Here's how I justified it.  I don't remember being circumcised as an infant and am sure my sisters don't remember getting their ears pierced at about the same age-- so as far as being traumatized by pain during infancy, those two mirroring events cancel each other out.  But I don't get monthly visits, which can cause everything from skin breakouts to manic depressive behavior, nor do I have to go through childbirth, which is never painless no matter what the new age guru tells you.  Let's not even discuss the mood swings, the food cravings, the morning sickness, the required bed rest, and all the fun things that go along with toting that little bundle(s) of happiness for nine months before metamorphosing into Mrs. Hyde in the delivery room on the due date.
Listening in on my mother's conversation with her friends while quietly eating my bowl of noodles in the corner of the restaurant one summer afternoon, I picked up on a phenomenon uniquely experienced by women later in life.  From what I could manage to eavesdrop, it was an uncomfortable physiological situation characterized by hot flashes, migraines, and nausea.  I did hear the words 'men opposed' spoken in reference to the condition, which made me wonder: Men opposed to what? And since I never heard of the equivalent happening to men, I adjudged that as yet another point to winning the Boys Have It Better In Life debate.  Years later, and just a little bit wiser, I ask:  Shouldn't the term be changed to 'Women opposed' since they seem to have an opinion on everything once they reach that pivotal age between 40 and 60?  I've only covered the physical argument thus far, and already I realize that I'm winning the battle but losing the war (refer to opening statement). 
It gets embarrassingly inequitable once you throw in the roles of wife, mother, daughter, and sister.  To say that a woman keeps house is to say that Steve Jobs was an entrepreneur.  She raises children, balances budgets, manages schedules, does the groceries, prepares meals, plans socials, runs errands, and never forgets birthdays or anniversaries.   She'll even go out with you for a quiet dinner if you ask nicely — because putting up with the men in her life requires an unreasonable degree of patience and understanding.  And like many women today, she's able to do all of the above and hold down a day job. 
Does a woman ever throw out the question:  Do you see how much (insert expletive/s here) I have to deal with?  Didn't think so.  Why?  Because a woman usually just deals with it.  Men, on the other hand, have the tendency to bristle and blow the smallest things out of proportion, if only to emphasize the significance of his role as head of the family, primary provider (no longer exclusive), dutiful husband, doting father, or filial son.  Note to self:  Future blog entry entitled "Girls vs. Boys."
What does anything I've said so far have to do with sports?  Plenty. 
Following my argument on women having to do so much with not as much as a whispered complaint, I submit for approval three outstanding female athletes who have set the world on fire with performances that have mesmerized and awed athletes and ordinary people alike.   Their accounts of determination and fortitude stand out amongst the many sports stories that populate the media and bookshelves, and continue to inspire aspiring athletes of all levels to dream big, have fun, and live life to the fullest.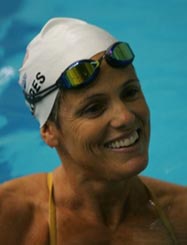 Twelve-time Olympic medalist Dara Torres (nickname: DT) is the first and only swimmer from the United States to compete in five Olympic Games (1984 through 2008, missing only 2004).  She was 41 years old when she competed in the 2008 Summer Olympics, winning silver in the 50-meter freestyle, 4 x 100m medley-relay, and 4 x 100m freestyle relay.  Her total Olympic medal haul is an impressive four gold, four silver and four bronze.  And if that wasn't amazing enough, DT won gold in the 100m freestyle at the US Nationals in 2007, and three days later broke her own American 50m freestyle record twenty-six years after setting it at age 15!  Incidentally, she achieved this spectacular feat fifteen months after giving birth to her first child.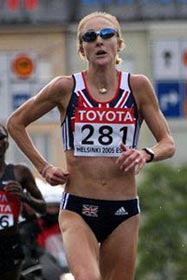 For British elite long-distance runner Paula Radcliffe, moving up from 10 kilometer cross-country races (which she dominated at the start of her running career) to the 42K marathon distance paid great dividends.  She is the current holder of the fastest women's marathon time of 2 hours 15 minutes 25 seconds, achieved at the London 2003 Marathon.  She also holds the record for the fastest 10K road race with a time of 30 minutes and 21 seconds.  A Member of the British Empire (MBE) awardee, Ms. Radcliffe lays claim to four of the five fastest times in the history of women's marathon.  All these outstanding records would not have been achieved if she had not taken up running at age seven, despite suffering from asthma and anemia.
Only one name among elite female triathletes strikes fear in the hearts of even the toughest male triathletes:  Chrissie Wellington.  She holds the distinction of being undefeated in the Ironman distance races (thirteen races and counting), and is the only triathlete, male or female, to win the world triathlon championship less than a year from turning professional. Deceptively nicknamed Muppet for being accident-prone (she's raced and won despite nursing broken bones, road rashes, and torn muscles on different occasions), Ms. Wellington describes herself as an ordinary girl and an accidental athlete.  Being part of a swimming club and getting into all kinds of sports for social reasons in her younger years, Muppet later found she possessed the mental tenacity to run and ride over varying terrains and long distances — and enjoyed every bit of it.   Ms. Wellington's ironman distance record of 8 hours 18 minutes and 13 seconds is more than half an hour faster than the previous record that stood for 14 years.  Her bike and run times in some of her races have eclipsed even those of the top male triathletes.  And she completes all these jaw-dropping, awe-inspiring performances each time with the broadest and sunniest smile on her face.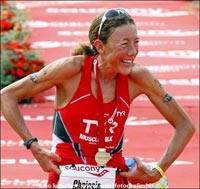 Dara, Paula, and Chrissie are athletes who have bucked convention and have proven that neither age, ailment, nor accident can stand in the way of achieving the remarkable.  They're also women who, while setting new standards for sporting excellence and pushing the limits of athletic potential, have given birth to new life (Dara has one child, Paula has two) and to new words ('getting chicked' is the term used to describe women beating male counterparts in sports and other competitive activities). Truly exceptional by any measure, they represent the girl power movement that is steamrolling its way into the arenas of sport, business, politics, and entertainment — places that were once the male domain.  And they are changing the world as we know it by being who they are: women.
A friend once told me that he's never won an argument with his five-year old daughter, in English or in Chinese.  From his daughter's standpoint, she's getting a leg up on the competition.  From my friend's standpoint, he's simply getting chicked.