IT'S been two weeks since The Bull Runner Dream Marathon (TBRDM) and my body has recovered quite nicely. I wish I could say the same thing about my restless mind.
There was that emotional high everyone promised. I was giddy for a couple of days, in spite of an awkward limp. It didn't matter that my feet were so swollen they were spilling out of the sandals I wore to work. Thankfully, the hot pink RockTape my husband, Arnold, so patiently applied looked more like an accessory than treatment for my sprained left ankle and inflamed right sole.
But I'm still somewhat dazed and bewildered, so much so that I'm really struggling now as I try to comply with an officemate's request to write about my first marathon. I honestly can't decide which is harder: getting to the finish line or writing about it. As if that challenge isn't tough enough, I've been asked to do a personal account instead of a straightforward race report.
The other day, one of my blog's two readers, a TBRDM batchmate (the other reader being me, of course), wrote to ask me how it went. "A whole lot of running, and more than a bit of crying," I wanted to say. But I've decided to hold back the emotional outburst and write this account instead. (Don't worry, sports fans. I'll leave the crying part out. Well, most of it anyway.)
THE PROGRAM
The first thing one should know about TBRDM is that the "race" starts before you actually have to lace up your shoes.
Overwhelmed by the sheer number of applicants for our batch, the online registration system crashed as soon as it opened last August 30. This happened twice, first at 5 a.m. and then at 12 noon. On the third try, which took place at noon the next day, the initial 750 slots were filled within 35 minutes, according to the organizer's Facebook announcement.
Since I was distracted that day (I was reading last year' bestseller, trying to figure out how it could have possibly outsold Harry Potter), I sent in my application two hours after registration opened and ended up on a waitlist. I got a confirmation 15 days later. I rushed to pay the fees and claimed my kit the very same day. Soon after, a final list of dreamers from all over the country was published on www.thebullrunner.com, the blog of TBRDM co-founder Jaymie Pizarro.
Why is it so popular and why can't the organizers accommodate more runners?
One signs up for TBRDM not just to run on race day itself, but also to commit to a training program for beginners. It has to be your first or second marathon or you'll be disqualified. For our batch, it was a 22-week plan designed by Jim Lafferty, a longtime running coach, former Procter and Gamble Philippines CEO, and co-founder of TBRDM. It required two maintenance runs on weekdays and one long slow distance (LSD) run every weekend.
Every month, one of the LSDs was organized as a group run (called a Bull Session) that's open to the registered TBRDM runners and friends who may want to join. Also once a month, there was a lecture series (called a Bull Circle), which covered topics like the proper running form, dealing with injuries, nourishment/ hydration and tapering. During these events, the coaches and some guest speakers share valuable tips and you'd feel bad if you missed it. Thankfully, we had a batchmate, Sandi Picache, who diligently published her notes on her blog.
As Coach Jim explained during our first Bull Circle, it's the only marathon in the country, perhaps even the world, that's strictly for beginners. In the US, where Coach Jim is from, no organizer will set up a similar race because insurance companies consider first-time marathoners a high-risk bunch. Simply put, a newbies-only gathering mixed with an extreme sport can be a recipe for disaster. With so many events in the country today, it's easy to forget that long distance running is still considered an extreme sport. Until we hear about fatalities.
TBRDM prepares each aspiring marathoner for both the physical and mental demands of the 42.198-kilometer distance. To some extent, the program demystifies the marathon, making it more accessible to non-athletes like myself while at the same time respecting it by imposing strict cut-off times. While running all the way is allowed, it promotes the run-walk method popularized by American coach and author Jeff Galloway. During the Bull Sessions, runners are divided according to their preferred intervals with assigned pace leaders, choosing from 4:1 (four-minute run and one-minute walk), 3:1 and 2:1. By race day, everyone is expected to know his or her own limits and run accordingly.
THE DREAM TEAM
A testament to its success as a program is the fact that our batch was already the fourth. And obviously, a large part of the success is the people behind it.
Jaymie, a.k.a. The Bull Runner, is a poster girl for non-athletes turned famous sports personalities. Her story is the inspiration behind the whole program: a work-at-home designer and young mother of two who blogs about how she started running on a treadmill and went on to conquer major races in places like New York and Berlin. She opened every one of our TBRDM gatherings with some tips and words of encouragement, and joined almost all the Bull Sessions.
She's mostly responsible for giving ordinary folks like myself the notion that we, too, can do it. While a good number used this program as a stepping stone for other pursuits like ultramarathons and triathlons, a quick scan of the profiles of this year's batch will show many had it as an item on their bucket lists, were seeking proof of overcoming a personal obstacle (like a serious illness) or were wanting to match a milestone (like running 42 kilometers at the age of 42).
I didn't have much interaction with Jaymie, just the usual smiles and hellos and one photo op at the finish line. (I'm shy like that) But she has been a source of inspiration for me since late 2007. I stumbled upon her blog while tinkering with my own. I had also started running then in a bid to be at my best health-wise by the time I turned 40 the next year. I had just quit smoking (a nasty habit I developed at the age of 13) and my husband had just given me my first Nike+iPod thingamajig.
And although I saw him only thrice, at the first and last Bull Circles and on race day, I always felt Coach Jim's presence. After all, it was his program that got me out of bed very early in the morning at least three times a week. His valuable tips, which included bedtime, toilet habits and even dealing with menstrual periods, were in our race handbook.
Lit Onrubia, TBRDM head coach and certified Chi Running instructor, was the one who kept us going on the road. Even though we spoke only once, he was really there for me at a critical juncture of my training. And I drew strength from his words during our Bull Circles at two other points in that 22-week challenge when I seriously considered backing out.
The first instance was when we had just finished the New Balance Power Run. Our group did a 10-kilometer Bull Session during the race and I fell back from the 2:1 pack as early as the third kilometer. I was slower than the slowest interval! At that point, I doubted my ability to keep up with the program and wondered if I was ready for the 15-k Run BGC event that was to take place two weeks later. It was going to be my longest distance in the five years that I had been running. I had signed up for that event on my own, even though it was longer than the prescribed distance for that weekend, because I was worried I would not be able to keep up with my batchmates, about half of whom had already done 21-kilometer events.
I finished New Balance in 1:24. Coach Lit's advice: "How do you feel now? Your time doesn't matter. Even if you finished at 1:45, as long as you finished strong and feel you can go on, you can do 15k. Try starting at 1:1 for your first 5k; then, go up to 2:1. And let me know how it goes." Just like that, "finish strong" became my mantra.
I never did bother Coach Lit again. Not that he would have minded. I just thought that his was a tough job and that I should give him a break. I was always impressed with how practical he was with his tips and patient with every person who lined up to get a one-on-one. And he was genuinely sincere every time he told each runner to let him know about his or her progress. The guy has the patience of a kindergarten teacher.
Neville Manaois, the man behind major races like the Condura Skyway Marathon, was the guy responsible for the most important thing on race day: the course. During the first Bull Circle and also at our send-off party, he warned us that Nuvali was one of the toughest courses in the country. Not only are the hills challenging, the specially sturdy concrete road also takes some getting used to (read: busted knees, if you're not careful). And since most of it is treeless, a 2am gun start and an 11am cut-off meant possibly running in very cold weather for the first half and then dealing with extreme heat for the second.
Jun Cruz, meanwhile, was Bull Session head and course manager. His was the unenviable task of organizing the five group runs, taking care of logistics and looking after every runner's safety.
And then there's Macel Janeo, who every TRBDM alumni knows. If not personally, then at least by e-mail. She's in charge of the secretariat, which keeps the multi-event undertaking going without any major hitch. The fact that that's all I can really say about her means she did a swell job, too.
That the program would test our bodies' limits was a given. It was really the rollercoaster of emotions that got to me.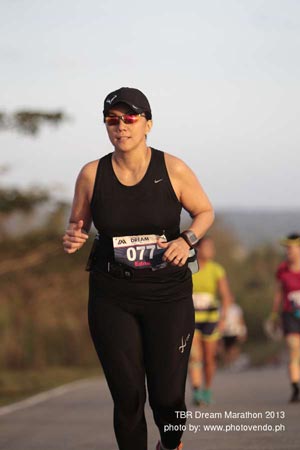 MIND GAMES
After our Bull Session at the New Balance Power Run, I quickly upped my game. It had taken me over five years to get to 15k at Run BGC. But from that point, it only took two weeks for me to do 21 kilometers at the National Milo Marathon in December. I didn't meet the official cut-off and didn't get the medal, but that was fine. As we were always being told, I focused on the real goal, and that was getting the endurance to finish 42 kilometers at TBRDM. I was ecstatic, albeit a bit disoriented from hunger because I had left my PowerBar in the car.
But then there was the Bull Session in Nuvali in early January – our first chance to acquaint ourselves with the course. We were to do a three-hour LSD, with the faster runners expected to cover 25-28 kilometers and the slower ones at least 18. I took four hours and covered only 22 kilometers, with the last five being pure tortured walking. My right knee hurt so bad, it took all my strength not to whimper with every step. When I got home, I curled up like a baby and cried.
I seriously thought of backing out. The fear of getting permanently injured hit real bad. And as luck would have it, I also had an asthma attack that forced me to skip the last Bull Session. I was getting more pessimistic each day about being at the starting line on race day. But I dragged myself to our last Bull Circle at the St. Luke's Medical Center. It was just four days before our last LSD – a 21-kilometer race at Condura Skyway Marathon and an additional nine kilometers on our own. After that would be a three-week taper before the big day.
It's not a very nice thing to say but I must admit that I started feeling better during that Bull Circle – I found out that there were many others like me who were struggling with a variety of aches and pains after Nuvali, the most common of which was a painful knee. "Par for the course," I told myself. And whether it was luck or careful planning on the part of the Dream Team, people from RockTape were also at the event that night and were selling their goods at a discount.
The very next day, my husband taped my knee as I got ready for work. I also made a quick trip to my pulmonologist who tweaked my maintenance medicines for asthma and signed my medical certificate. (TBRDM has a strict "no medical certificate, no race bib" policy.)
With the three-week taper, the program turned from physical to mental training. Less time running, more time thinking. On good days, I was looking forward to making a dream come true. On bad, that same dream became a fear I wanted to conquer. "What would I do if I couldn't finish? Surely, I can't survive that kind of disappointment. Better to deal with a bruised body later on than a crushed ego," I said to myself.When Sunday came, I managed to do a 1.6-kilometer warm-up, the 21k race on the Skyway and another 5.9 kilometers despite some intense leg cramps. I cried again because of the cramps, but it was mostly out of frustration with myself because it had never occurred to me until then that Ibuprofen and a menthol spray or balm should be on hand for such occasions. Once the cramps were dealt with, I was elated again and proclaimed to family and friends: "I can really do this!"
And then there was my conscience.
It's always a trade-off between family and work on one hand and the training program on the other. When you're not a pro athlete, putting family and work on hold so you can run can leave you feeling selfish. So it was really quite a blessing to have both my husband and my boss support this indulgence.
With kids, however, it's a different story. There really is no balancing act to speak of; the scale simply swings to your kid's favor. On the last Sunday before the big race, we were supposed to use our run to visualize our first 90 minutes. That meant at least a 10k for me, but my younger son wanted to join a one-kilometer fun run to raise funds for kids with cancer. As a result, I only managed less than half my target, sneaking out just before gun start and then running 1k with my son and his classmates.
As the big day drew nearer, the jitters naturally worsened. It got to the point where I was having chest pains at night just before bedtime. That could have been partly due to the extremely sad and shocking news that one of our batchmates had passed away in his sleep. There could have been many reasons for his heart attack but still I could not help worrying, specially since I had once spent three days in the ICU myself years ago after fainting due to hyperthyroidism-caused atrial fibrillation.
I immediately saw my cardiologist, who thankfully declared I was perfectly fine. But he also reminded me that I was no longer a spring chicken, and that a normal check-up was not a guarantee that I wouldn't have problems if I pushed myself too hard during the race. I'll stop or walk if it gets too hard, I promised.
Even with the best planning, something totally unexpected can also happen.
I tried to follow the bedtime schedule prescribed by Coach Jim. But on the Friday before the race, supposedly the most important night to get as much sleep as possible (most are unable to sleep on Saturday, with gun start only hours away), I had to drive Arnold to the Medical City emergency room as he had an excruciating ache in his left ankle. The doctors couldn't agree whether it was a joint/muscle injury or gout, and while we waited for his lab tests, I tried to sleep in the car.
The next day, I had one last brief moment of self-doubt while packing for the night we would be spending at Paseo Premiere Hotel (about a kilometer away from the course). And then Arnold, aching ankle and all, drove me and our younger son, Gabby, to Nuvali. It was the point of no return.
RACE DAY
TBRDM was truly a race like no other. The community atmosphere was so palpable that even a shy runner like myself couldn't help embracing it. Everyone was revved up at 1 a.m. on Feb. 24, a Sunday. After a prayer and some words of encouragement, off we went.
In most races I've been to, runners would be "galit-galit" as soon as they left the starting line. At best, small groups (mostly pairings) carried on some degree of camaraderie. With TBRDM, it felt like we were one big group that moved at the same rhythm. Someone quipped, "Ang babait! Ang babagal!" (Our training taught us to conserve energy during the first 21k so we could finish strong.) Everyone who could hear responded with a chuckle. It was that way for about two kilometers until everyone found his or her planned pace.
On the course, I was grateful to see the faces of fellow runners who kept me going during the 22 weeks of training. There was Jil Go, a friend from college at UP Diliman who I reconnected with during one of the Bull Sessions. A member of the Globe Telecom triathlon team, she was a TBRDM alumna and an official pacer of one of my batchmates, Ria Tangco. Aside from infecting me with her cheery disposition, Jil introduced me to SaltStick capsules, menthol sprays and her many friends at the race.
Lora Narciso, meanwhile, is someone I met during the Nuvali LSD. There we got lost together, separated from the 2:1 pack, and kept each other company until I asked her to go ahead because my painful right knee made it impossible for me to keep up. (My husband, who rode his bike that day to keep an eye on me, walked with me the rest of the way.) We found each other again during one of my Sunday LSDs in UP Diliman and had fun trying out less popular but more exciting routes in the campus (the Academic Oval can get unbelievably crowded on Sundays). We commiserated with and encouraged each other, being both longtime asthmatics.
And then there was this barefoot runner whose name I wasn't able to store in my really bad memory. (I have a particular weakness for names, which is partly to blame for my shyness.) I met him as I struggled with the extra distance I had to cover after Condura. He ran with me and we chatted to take our minds off the punishing mid-day sun.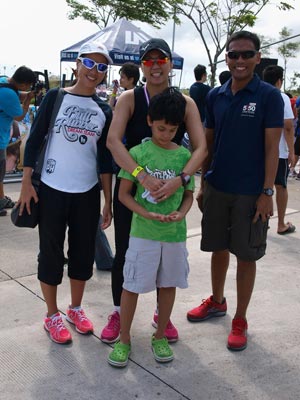 On race day, he finished way ahead of me and hung around the cheering area (a few meters before finish line). When he saw me being paced by a Dream Chaser (someone who has signed up to cajole runners to the finish line) near the 8th hour mark, he remarked to his friends "Sandali lang. Kilala ko 'to. Kasama ko 'to sa Alabang." Then he turned to me and said, "Edna, right?" Deeply embarrassed that I couldn't repay his kindness by calling out his name, I think I replied with a smile and an apologetic, "Yes." He then took over the Dream Chaser's job, running by my side until Gabby found me and yelled, "Mommy! Mommy!" near the finish. My son joined me on the course when people yelled, "Run with your mom!" And then, just like that, my nameless friend disappeared before I could thank him, quietly passing me on to my son.
At TBRDM, there's a lot of effort put into helping everyone finish strong. Or, at least, look strong at the finish line. There's a big difference between the two, I think, and the latter was true for me.
I was doing fine, running according to plan, for the first half. Met my targeted splits, even when my right foot started acting up at the 5-kilometer mark. (I developed a painful inflammation in my right foot after Condura, for which I occasionally took Celebrex after my subsequent runs.) Menstrual cramps came at kilometer 24, and then my left ankle suddenly became stiff and swollen at kilometer 28.
I made the mistake of rotating my left foot to ease the stiffness. This caused a shooting pain that almost brought me to tears. I froze, took a deep breath, and started to walk. Broke my 2:1 interval and walked longer. I stopped twice to have my leg cramps treated at a medic's post. Was tempted to take my shoes off to massage my aching feet. But I decided against it, having thought: "What if my feet look as bad as they feel? What if they're so swollen and blistered and have so many dead toenails that I won't be able to put my shoes back on? I'll never be able to finish!"
I eventually made it with a chip time of 7:53. Really struggled during the second half of the race but it's hard to tell from my pictures at the finish line. At TBRDM, everyone gets the chance to "cut the tape." Even the very last runner. It seemed like a funny, even corny, idea to me at first. Until I got to do it with Gabby at my side. Looking at the finish line photo courtesy of Photovendo, I said to myself: "Wow! Parang fun run lang. A 42-kilometer fun run."
If there was one thing that set TBRDM apart from all the races I've joined in the last five years, then that would be it.
NOT FINISHING
When I signed up for TBRDM, I thought of it as progressing the same way as most of my big undertakings: a lot of hard work, a sense of closure and accomplishment, and then moving on to the next big project. But closure never came. Even two weeks after being baptized a "marathoner."
For one, I feel the need to redeem myself and get a better personal record (PR, or finish time). There were many lessons learned, particularly from my second half struggle. One is that pain can really make you blow a problem out of proportion. When I eventually took my shoes off, I discovered that I only had the smallest blisters and my toenails were still intact, though bruised. And the most important thing was that the rest of my body, particularly my heart and my lungs, were perfectly fine. It was my sagging self-confidence that needed to be lifted by a Dream Chaser, a nameless friend, and Gabby.
Right off the bat, from the very first Bull Circle, Coach Jim admonished all of us to stop worrying about our time goals. The target is to finish, he said. Perhaps he was trying to set expectations low. The whole idea of training for a marathon can be daunting, particularly for non-athletes. Simply focusing on reaching that 42.198-kilometer mark probably increases the chances for most of us to actually make it to the starting line.
Or maybe, with all his years of coaching, he knew that we would all come to realize that there would be another time for working on that PR. Because when you cut the tape at TBRDM, you don't really finish. You're really just getting started.
My body knows it. And my mind can't ignore it.