WHEN Apollo 11 astronaut Buzz Aldrin, the second man on the moon, announced his name as the first Filipino bound for space, Chino Roque did a very Pinoy thing: he grabbed his teammates onstage and unfurled the Philippine flag in celebration.
In a country desperate for heroes, the 22-year-old Crossfit coach, selected to become the first Filipino astronaut after rigid training at the AXE Apollo Space Camp at the Kennedy Space Center, said he will try to become a source of inspiration for a nation sorely in need of one.
On Monday night, the recent De La Salle psychology graduate was presented to the nation in a homecoming event at Bonifacio Global City attended by members of broadcast, print and online media, a day after arriving from a rigorous five-day training process at Space Camp in Orlando, Florida.
They Said It!

"Right now the way I approach my mission to go to space is to bring hope and bring pride to the Filipino people. That to me is worth it. That carries my feet to any destination that I plan to set foot on." - Chino Roque on being selected as the First Filipino to reach space
Roque will join 23 other AXE Apollo Space Academy winners on a sub-orbital flight scheduled for 2015 onboard an XCOR Aerospace re-usable, rocket-powered space shuttle currently in development.
The former captain of the DLSU varsity football team, who described the experience "life-changing," admitted his good fortune has yet to sink in.
"(I feel) very overwhelmed. I don't know how to feel yet. (I'm) very grateful and trying to ready myself for the coming responsibilities," said Roque, who is actually the replacement for Air Force lieutenant Mario Mendoza Jr. after the pilot dropped out due to conflict with his flight training.
It was last January that fragrance brand AXE launched a campaign to take the first Filipino to space with over 20 others from over 160 countries worldwide to celebrate the launch of AXE Apollo, its newest product.
The Philippines was among the top countries that participated in the global campaign with over 28,000 applications for the opportunity to become the first Filipino to ever go to space. Three candidates were selected to represent the country at the international AXE Apollo Space Camp held at the Kennedy Space Center in the US where they underwent astronaut training with over 100 others from all over the globe.
Roque said his background as a crossfit trainer-coach helped him a lot in the selection process.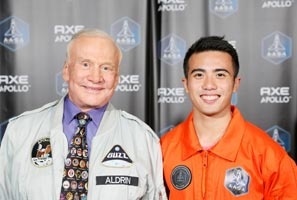 "The discipline is already there. The knowledge of the training, the schedules and nutrition was already present. Being a coach also helped out in the competition - I not only helped my own countrymen but also helped a delegate from the US who has never exercised in the last five years. It came naturally to me by not forcing the issue by not telling people what to do but instinctively I just had to do it, had to help them out," he explained.
It was this type of positive "can-do" attitude that got Roque noticed by the selection committee, according to AXE brand manager Gem Laforteza.
"Two or three hours before call time (Roque) would be up and warming up. He was bunked with a guy from the US who was having trouble with the challenges and he helped him out," Laforteza said based on reports he received.
The three Filipino representatives – Roque, Evan Rey Datuin and Ramil Santos – underwent training at the AXE Apollo Space Academy in Orlando, Florida. The three aspirants experienced Zero-gravity Parabolic Flights on board a Boeing 727, Air Combat Training on-board an SIAI Marchetti SF260 aerobatic-trainer plane, and Hyper-gravity G Force Training.
"At the awarding ceremonies, when they called my name, all I could think about is how fortunate I am. From the start, this had been the experience of a lifetime. I'm grateful to the team of admirable guys I went to Space Camp with – Ramil and Evan – as well as the support of family, friends, and my countrymen," said Roque.
Leave a man, come back a space hero
In an interview, Spin.ph asked the soft-spoken Roque to provide his definition of a hero.
"Someone who is very selfless. You never see a hero who's only thinking about himself in most of the stories in the comics you might have read before. He doesn't particularly have to be brave or strong but has compassion in helping people in his or her own way," he said.
Roque added that being a hero "is not actually a showcase of strength, of power, of papogi-an but instead being able to uplift other people's lives."
Asked if the risk involved in space travel was worth it, Roque paused for a moment before answering.
"Yes. I really don't think of the risk being involved but I am aware of its presence. Anything about (going to space) is a risk- there is no oxygen, there is no light, it is extremely cold and you do not have any control of your movements because there is no gravity so with that I am already aware of what can happen."
"Right now the way I approach my mission to go to space is to bring hope and bring pride to the Filipino people. That to me is worth it. That carries my feet to any destination that I plan to set foot on."
According to organizers, reaching a distance of more than 100 kilometers over the earth qualifies one to be classified internationally and scientifically as an astronaut.
Asked where he was most challenged in Space Camp, Roque delivered a modest answer.
"I'd hate to say that I wasn't really that challenged in Space Camp because I was enjoying the whole journey. I try to put joy, to see everything in a better light. I guess in each drill they were all equally challenging but if faced with enthusiasm you'll just have the best time of your life," he admitted.
Exactly the right attitude for the first Filipino to go to space.