Here's something not a lot of people know about Roger Casugay's rescue of Arip Nurhidayat.
When the Filipino surfer offered a ride to his Indonesian rival after Nurhidayat's board had been swept out to the sea, the two — who were good friends — rode back to the shore doing tricks. Having fun. Blowing off a little steam.
It's hard to tell from the now-viral photos, which just show the two standing on Casugay's board as they made their way back to the shore. But as the photographer who captured that moment — in pictures that would be shared by the official SEA Games Facebook account, numerous media outlets (including Spin.ph), and even Indonesian president Joko Widodo — described it:
"Yung nakatayo silang dalawang ganun sa picture ko? Nagti-tricks sila. Nagha-hang five po yung isa, si Roger naman nagko-control."
Continue reading below ↓
Recommended Videos
On the shore, photographer Jeff Ganuelas took snaps as the pair rode back to the shore — and into the biggest, most surprising story that would emerge from the 30th SEA Games.
Behind the lens
Like Roger Casugay, Jeff Ganuelas is a San Juan local. His long hair and lanky frame is a familiar sight in the surf competitions in town. He also runs an apparel shop called Promdisea, which makes board shorts — Casugay, who is a close friend, wears customized versions.
His grandfather was a police photographer for the La Union capital, San Fernando. "Dito sa buong Region 1, siya lang ang marunong magkumpuni ng mga SLR," Ganuelas told SPIN Life over the phone from his home in San Juan. As a result, he grew up in a house full of old cameras. He would comb over the discarded equipment, trying out what he could use, his grandfather teaching him how to use them.
In 2006, Ganuelas began taking photos of the growing surfing scene in his hometown. This was way before the boom that would transform the seaside town into a surfing hotspot. "Mostly I shared it with the locals, because they [didn't] have any surfing pictures," he recalled. "Yung mga may surfing photos yung mga nakaka-afford lang."
Even then, he was already making a bit of money from his hobby. "What I do, when surfers come and they contact me, I shoot them surfing, and I get paid," he said.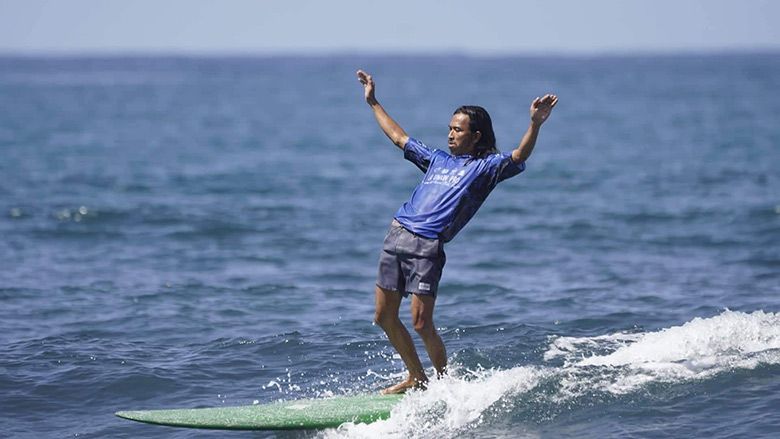 For the longest time, he saved every cent he got to buy better gear, though occasionally, kindly friends and business partners would gift him a used camera or set of lenses. In 2013, he sold his first surfing photos to an international magazine, when Australian legend Belinda Baggs convinced him to contribute to a British publication.
All this, while he rode the waves on 'logs' — classic single-fin longboards that sat on the water like a wide-body Cadillac. To be a good surf photographer, Ganuelas believes, "you yourself should be a surfer."
What he does, he stressed to SPIN Life, is not easy. A surf photographer needs to consider the light, the timing, the perfect wave that would create the perfect shot. "Dapat talaga surfer ka, para alam mo kung kelan ka magki-click."
Capturing the moment
To be honest, he almost didn't get those shots of Casugay and Nurhidayat.
"I was late. I was really, really late."
Jeff Ganuelas laughed just remembering it. It was the morning of Friday, December 6. Typhoon Tisoy had just left the Philippines the day before, but the tailwinds from the storm were whipping the waves into a frenzy. Swells almost ten feet high were crashing into the San Juan shore.
Still, the competitions were restarting in earnest, after a flurry of postponements that week because of the typhoon. As early as 6 a.m., other photographers were already staking out their positions on the La Union town's rocky beach, their cameras trained on Monaliza Point.
But Ganuelas? "Three minutes before na nangyari yun, saka lang kami dumating ng asawa ko," he said.
When Casugay turned around to pick up Nurhidayat, the photographer focused on his old friend and began taking his shots. He had watched Casugay grow up from being a "grommet", or a beginning surfer, under the tutelage of Luke Landrigan, into one of the country's best hopes for a surfing gold in the sport's first appearance in the SEA Games.
His camera was automatically linked to his phone, and he posted the photos on both his Instagram and Facebook accounts. The battery then died. When he got back to his house at night, he was surprised to find that his photos had blown up all over the internet.
His wife confronted him, irate. "Andami-daming tumatawag sa 'yo!" he remembered her saying. "Yung picture mo!"
"Bakit? Okay naman yung picture ko a!" he shot back.
"Vuma-viral daw!"
That night, he also got to briefly chat with Casugay. Over Facebook, his old friend told him about his nervousness and anxiety in the water.
"'Bro, kamusta ka ba?' sabi ko," Ganuelas recounted. "Sabi niya sa akin, pagod na pagod na ako, koy. Parang magkakasakit na. Tapos, nung nandoon daw siya sa laot, naiiyak na siya sa laki ng alon. Yun ang sabi niya sa akin."
Two days later, after yet another postponement due to bad weather, Casugay would face Nurhidayat again. This time, the win would be decisive. That same afternoon, the La Union local would go on to win gold medal in the men's longboard event. Of course, Ganuelas was there on the beach, taking pictures.
Looking back now, he realized now that perhaps he had captured Philippine surfing's biggest moment. Many surfing enthusiasts knew that the SEA Games would be the chance for their sport and its athletes to finally take its place in the national spotlight. But no one expected that anything like this would happen — that the hometown boy would become a national hero.
The longtime surf photographer is happy about the part his pictures played. "Yun ang pa-Christmas ko sa buong Pilipinas," he said.
But the story, Ganuelas stressed, is Roger's alone. "Nag-champion pa po siya!" he said. "Para sa kanya talaga ang gold na yun."
Ganuelas was just lucky enough to capture the moment that led up to it.