FORMER WWE Cruiserweight and Tag Team Champion Tajiri made a triumphant return to the Philippines, headlining Manila Wrestling Federation's (MWF) free Halalan Espesyal 2K19 event last May 18 at the Venice Grand Canal Mall.
The 48-year-old wrestling pro was obviously the biggest draw of the evening. Roaring chants of "TA-JI-RI" rocked the venue as soon as his theme music blared and he made his entrance into the arena for his match against one of the MWF's finest, Fabio Makisig.
Their bout was one of the nine matches featured in the promotion meant to showcase the MWF best and brightest. A Fatal-4-Way for the coveted MWF Championship was also up for grabs.
Continue reading below ↓
Recommended Videos
The Japanese Buzzsaw looked to please from the get-go, menacingly pacing around the ring like a predator eyeing his prey.
The match was a slow burn at the beginning, with the international superstar a little more methodical now than he was around 25 years ago. He was understandably more deliberate in his movements and not as bouncy as he once was, but his trademark kicks still looked like they're on a mission to torture his foes.
Much of the bout was dominated by the veteran Tajiri, who has had quite a few tours of duty with the WWE. His most recent comeback was to deliver some much-needed experience in the company's new version of the cruiserweight division.
He only had kind words for all the wrestlers he got to know during his time with the WWE. "Everybody is the best in the WWE," Tajiri claims. "Only the best can join."
But Tajiri made special mention of icons Triple H, Shawn Michaels, Ultimo Dragon, and the late Eddie Guerrero, calling them the best wrestlers he's ever faced in the WWE.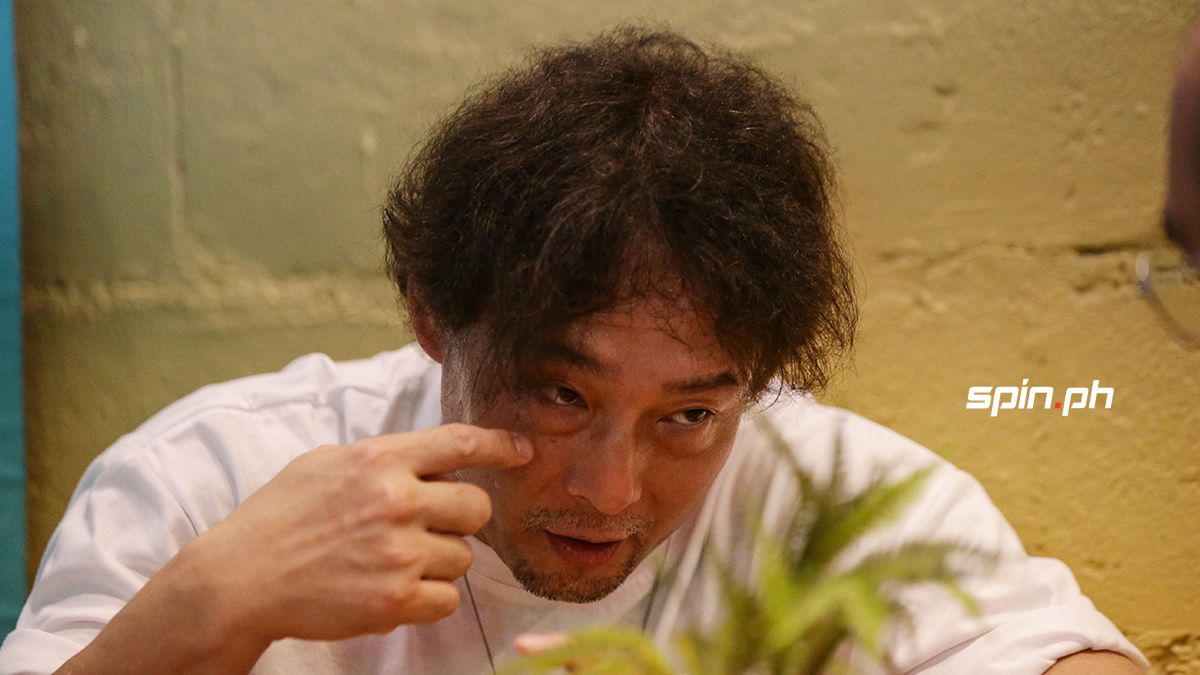 Tajiri entertained wrestling fans of all ages with his deranged and ruthless heel portrayal, focusing more on punishing his opponents than actually winning his matches. This approach made his matches a lot more compelling and significantly different from all the other WWE tussles at the time.
"I can't pick one favorite match," Tajiri insisted. "It was all memorable."
Nostalgia aside, the wrestling veteran said he has no plans of ever returning to the WWE, where he faced and teamed up with some of the biggest names in wrestling today like Rey Mysterio, Gregory "The Hurricane" Helms, Billy Kidman, Shawn Michaels, William Regal, and Triple H.
"I have already graduated from there," Tajiri said. "I always have to see something new."
During his time away from the mainstream wrestling promotion, Tajiri went on to take over SMASH, a Japanese puroresu and sports combat promotion. He would run it from 2010 to 2012 before reshaping it into Wrestling New Classic (WNC), which only lasted until 2014.
Asked if there's any chance he would head a promotion in the Philippines? His answer: "I'm tired. No more.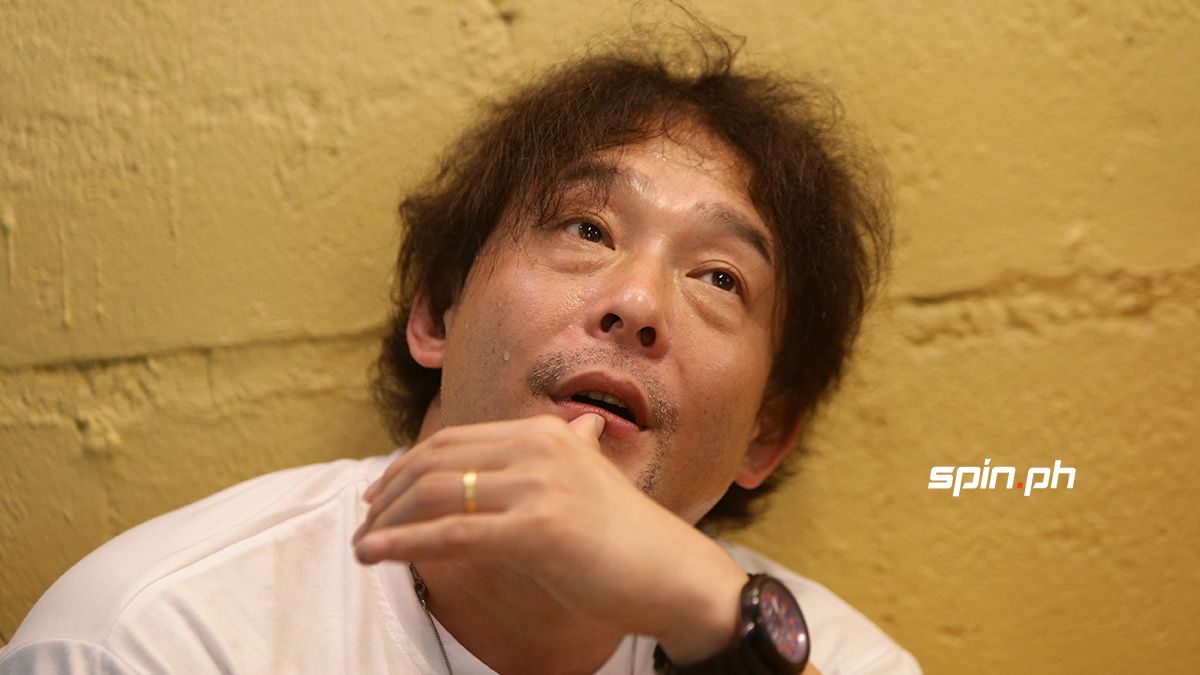 But did you know that Tajiri may very well be the person who breathed life into the wrestling scene here in the Philippines?
Five years ago, Tajiri and a bunch of his fellow Japanese wrestlers that included Filipina-Japanese Syuri invaded Manila for a show that bolstered the then-fledgling Philippine Wrestling Revolution's (PWR) rep. "And after that show, Philippine wrestling started—I'm their mother," Tajiri said. "I gave birth to Philippine wrestling."
That's the main reason he returned to the Philippines and why he had a grand time beating the holy hell out of Fabio Makisig. He wanted to teach the youngblood to show some respect.
Fabio, for a moment, turned the tables and took some semblance of control in the match. But it didn't take long for the Japanese Buzzsaw to mount a comeback. Desperate to defeat the wily veteran, Fabio needed the help of his Hypebeast protégé, Khayl Sison, who got a face full of Tajiri's patented Asian mist.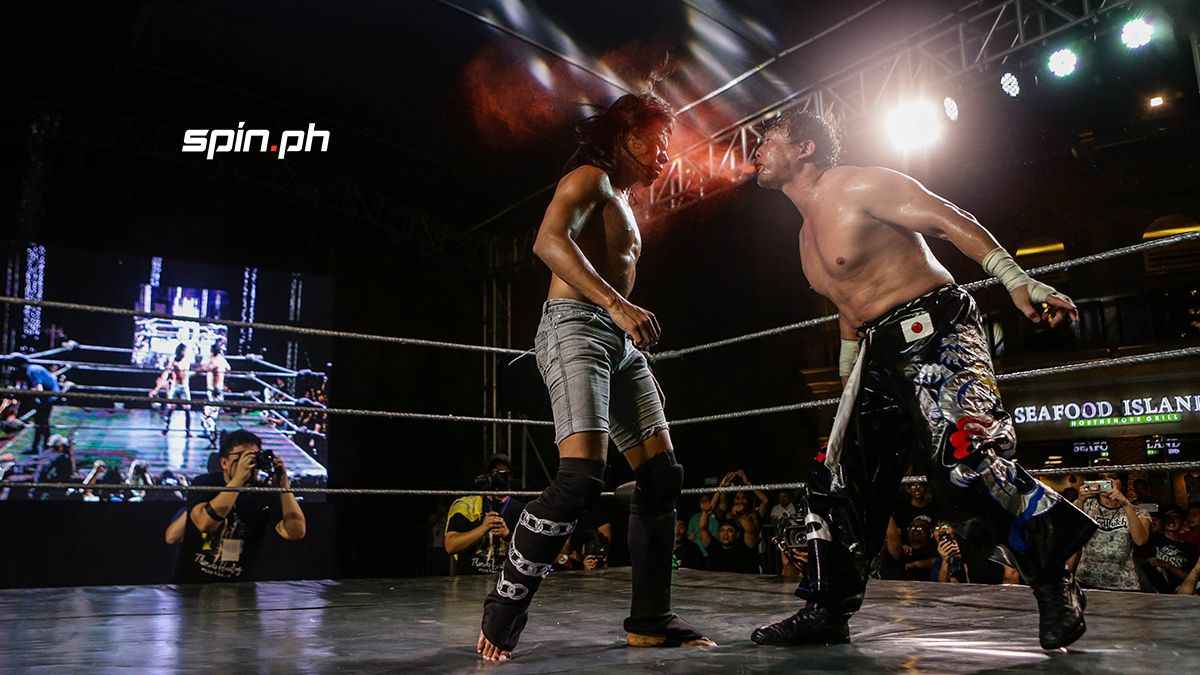 To everyone's surprise, the usually green-colored distractor was now red, which, as it splashed on Sison's face, painted a bloody visage. Fabio got a taste of it himself, leaving fans wondering where Tajiri kept all that juice.
Tajiri then hit Fabio with his world-famous Buzzsaw Kick, signaling the upstart's imminent end. It came seconds later in the form of a high-speed roundhouse foot to Fabio's face that sent him down the mat for the three-count.
This isn't, of course, by any chance, a good guy versus bad guy bout. Both have had their taste portraying either of those constant wrestling character beats. But Tajiri took this event as an opportunity to teach fresh talent.
"I like to teach young guys," Tajiri said. "So if somebody wants to hire me as a coach, I'm good anywhere."
He also offered some veteran advice: "Keep your head in the game if you want to be a wrestler. Just keep wrestling. Focus."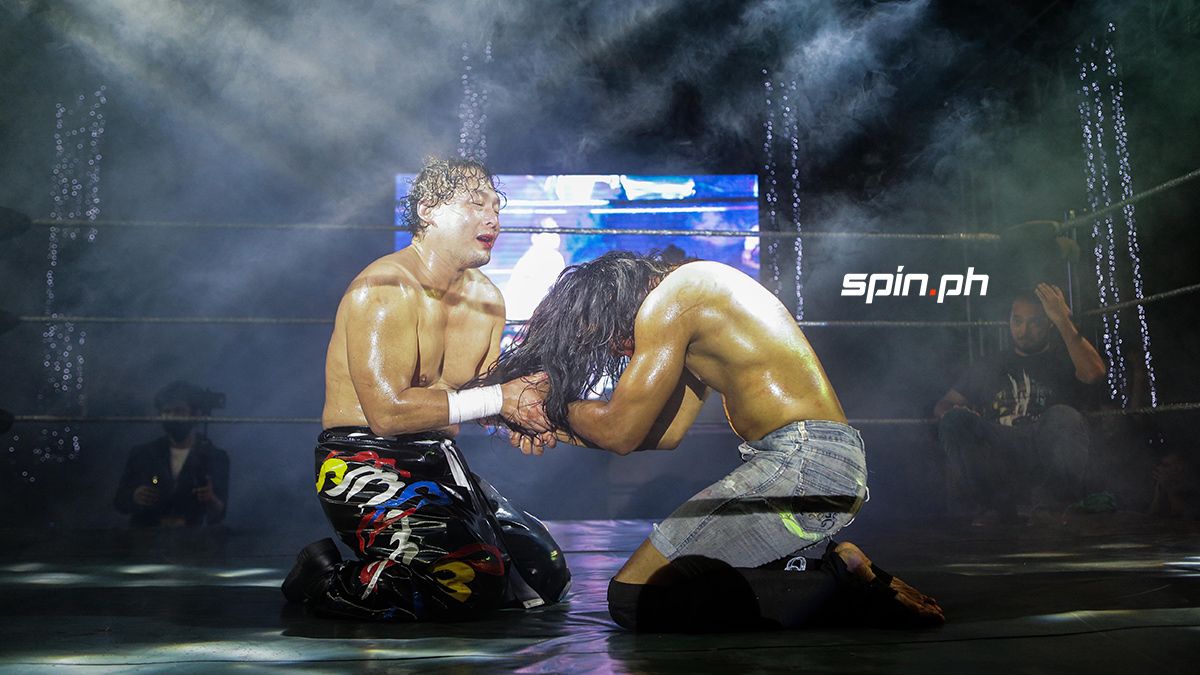 Apparently, Tajiri has grown fond of the Philippines and the Filipinos, and the likelihood of him returning could happen sooner than we think.
"I really like the Philippines. I can't tell you yet, but I'm already thinking about it," he said. "And it doesn't matter [who my next opponent will be]. I've already been wrestling for 25 years. I don't care who I face in the future. I'll just be myself. It doesn't matter."